Aug 30, 2019 - Sep 2, 2019
Isabella Freedman Jewish Retreat Center, Falls Village, CT
Ride for a great cause! Join us for a fully-supported ride and community experience over Labor Day weekend.
Enjoy an inspiring Shabbat Retreat with delicious, kosher, farm-to-table food, engaging educational workshops and fun outdoor activities.
Then, ride for two days around the beautiful Berkshires – people of all cycling levels and ages are welcome. Or, join the support crew, or come with your kids for our family ride.
The Cause
Over the past 19 years, Hazon has helped reshape what it means to be both Jewish and concerned with the health of our communities and our planet. Join us at the 2019 New York Ride & Retreat, where we'll celebrate how far we've come and raise vital funds for the work that still needs to be done.
When you join the New York Ride & Retreat you support Hazon's efforts to:
Significantly reduce the collective carbon footprint of the Jewish community. Through the Hazon Seal of Sustainability, which is directly supported with funds raised on the ride, institutions across the country are changing to more sustainable practices. Over the next five years, we will grow our influence from dozens to hundreds of institutions around the country, vastly increasing energy efficiency and the use of renewable energy, reducing waste, and most importantly engaging surrounding communities to become more resilient.
Create a cadre of environmental leaders who are informed, committed, and compassionate. Those who ride with Hazon also support our important Jewish, Outdoor, Food, Farming, and Environmental Education programs. Adamah, Teva, and JOFEE fellowships in specific are all creating a new generation of future educators, rabbis, and organizational leaders who bring an environmental ethos to their work.
Whether you cycle, crew, or donate to the New York Ride & Retreat, your participation makes a difference. Join us!
Hazon is making changes from the bottom up, with a hands-on approach to helping the earth.
I enjoyed being with like-minded, conscientious professionals of all ages that came with a vision larger than themselves of exploring new ways to heal the world. Isabella Freedman feels like a camp for adults – there were many activities to take part in, the chance to enjoy delicious wholesome food, form community and new friendships, and to worship and connect directly with nature. One feels a renewal of spirit after spending a few days in such beauty and with such visionaries.
Weekend Retreat / Shabbaton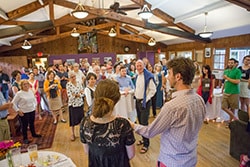 The New York Ride & Retreat Shabbat Retreat takes place at the beautiful Isabella Freedman Jewish Retreat Center in the Berkshires. In this stunning setting, participants celebrate, eat, relax, and learn together in a welcoming, inclusive, and open Jewish community of all ages.
You should expect to end Shabbat feeling full; not only with delicious food prepared from the Adamah farm, but also feeling satisfied from the rich conversations, brilliant sessions, and incredible community. It's an event you will not want to miss!
Highlights include:
Diverse Jewish community of all ages, backgrounds, Jewish observance, and practice
Soulful Shabbat services
Wellness sessions including yoga, hiking, meditation, and more!
Organic, kosher, and consciously-prepared farm-to-table food
Opportunities to learn about the relationship between Judaism and the environment and the inspiring work of Hazon and its partners
Musical havdalah dance party – bring your instruments!
Grab onto the last days of summer in a friendly environmentally-conscious Jewish environment and begin to contemplate changes in lifestyle for the coming year.
It is fantastic to spend Shabbat with an inclusive community from all branches of Judaism and all walks of life, where everyone can bond in a quiet setting away from modern distractions.
Food
Over Shabbat at Isabella Freedman: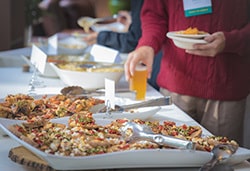 We are delighted to be working with the Adamah Foods dining hall staff, who will help us create a menu that is well balanced and plentiful. We try to source produce from local farms and use organic ingredients when possible. Meals are mostly vegetarian, although at times we will serve ethically sourced chicken or meat in addition to a vegetarian option. Isabella Freedman is a Glatt Kosher facility, under the supervision of the Hartford Kashrut Commission.
If you have any allergies or food concerns, please alert us to your sensitivities when you fill out your logistics form.
Participation Options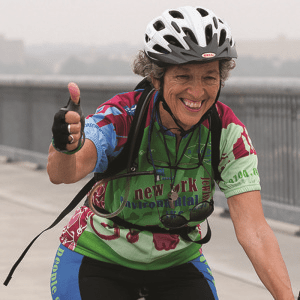 Riders
Searching for your next big challenge? Want to ride for something bigger than yourself? Look no further, because this is the participation option for you! Whether you consider yourself an avid cyclist or a casual rider, joining us as a Rider will help you realize that you are capable of so much more than you think, and will leave you feeling proud. For more on the route, fundraising, and the cause, click here.
Please note you must be at least 12 years old to participate as a rider.
The Ride is good for the world and good for you.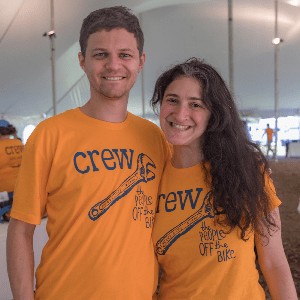 Crew
Crew members are essential to the success of the New York Ride & Retreat.  During the Ride, Crew members help in three ways: driving support vehicles, setting up/taking down rest stops along the route, and of course, cheering! Being on Crew involves important and hard work. Nonetheless, Crew members take great satisfaction knowing that through their efforts, they make the Ride possible and thus make a difference in furthering the Jewish environmental movement.
Families
Parents, you can relax into the retreat, knowing that your children are playing and learning with exceptional Jewish experiential educators.
We have an engaging, thoughtful, and fun Camp Teva program planned for children ages 5-12.
Gan Adamah is for children ages 2-4. Parents/Guardians can choose to drop off their children or stay with them. Gan Adamah provides a safe and engaging space for toddlers to play, explore, sing, and move. Programming is from 9am – 12pm each morning of the retreat, except arrival and departure days.
When you register kids during your event registration process, they are automatically enrolled in Camp Teva! All-inclusive kids' rates include Camp Teva programming.
more information about camp teva
We will also be doing a Family Ride for children ages 5-11 on Sunday of the Ride. This will be on a trail, with options to ride anywhere from 0-14 miles. All children riders must be accompanied by an adult.
Fees & Fundraising
Choose your participation type, then follow across for your housing options and fundraising commitment. All prices are per person.
Participation
Type

Registration + Housing Fees

Hover over housing types for details.

Fund-
raising
Goal

Due Oct. 31, 2019

Standard Plus
Standard
Basic
Own Tent/
Commuters
Adult Rider #1 (31+)

$420


$270


$230

$180

$1,200
Spouse/Domestic Partner #2
$1,000
Young Adult Rider (18-30)
$800
Avodah (working) Crew
None
Shabbat Only

Opens in August 2019

None
Youth Rider (12-17)

$150

will be housed in the same room as parents

$800
Youth Rider #2
$600
Non-Riding Child (5-17)
None
Toddler (0-4)
Free (but we ask that you register for our records)
None
* For those participating in the 2019 Israel Ride, the fundraising minimum will be 20% lower.*
Take advantage of this great deal and check out the Israel Ride here
!
Email ride@hazon.org for fundraising adjustments.
Costs &
Benefits:
The New York Ride & Retreat weekend costs Hazon about $400 per rider. This includes meals, lodging, transportation, snacks, bike and medical support and a weekend filled with programming. The rider participant registration fee does not cover that full cost, with the balance being covered by 20% of rider fundraising.
Like you, we want as much money as possible to go to the cause. You could just write a check to support Hazon and our partners, but the bike ride has many advantages that cannot be calculated financially. Through the Ride you are raising awareness, cultivating future riders and helping to build the Hazon community.
If you would like more of your fundraising to go towards the cause, we encourage you to sponsor yourself right on the registration form to help cover these costs. If you choose to do that, we encourage you to tell your donors that you covered your own participation with a personal donation. This act shows that you are serious about supporting your ride financially as well as physically. The registration fee is non-refundable and not tax-deductible, but any donations above the registration fee are acknowledged as contributions.
Registration fee includes:
All meals and snacks during the Shabbat retreat and Ride
Sleeping arrangements
SAG (support and gear) vehicles
Rest stops every 15-20 miles
Mechanical support
Additional Costs and Fees:
We organize bus and bike transportation to the retreat location for a small additional fee. We also may have bike rentals available. You have the opportunity to pay the additional fees on a logistics form which is emailed out before the ride. We also hope to have Hazon apparel and other merchandise for sale at the ride.
Fundraising Minimums
Hazon Rides are one of the largest sources of support for the Jewish Environmental Movement.
You must reach your minimum fundraising requirement by October 31, 2019. If you have not reached your fundraising minimum by the ride, we will collect your credit card information as a guarantee, but we will not charge the balance until October 31st.
To help you reach your fundraising goal, we strongly encourage you to set the goal on your personal web page above your required minimum (the goal you list has no bearing on your fundraising obligation; you are only responsible for the minimums listed above).
Fundraising:
Fundraising can seem like a challenge if you have never done it before. We believe you can achieve your fundraising goals just like you can achieve the mileage goal. Many riders from previous rides have told us over and over again, "It was easy." "Fundraising can be fun." "I reached, and even exceeded my goal." "People were happy to contribute!" Our co-chairs and Hazon staff are committed to helping you achieve your fundraising goals.
You will receive a Ride Guide after you register that includes tips on how to get started, whom to ask, information about where the money goes that you can share with your donors, and sample fundraising letters. We are happy to answer questions, coach you through personal solicitations and even read your fundraising letters before you send them out.
Apply for funding for your environmental project!
Hazon provides small grants to environmental projects across North America and Israel through our Bike Rides.
Projects may focus on any of the following areas:
the connection between Judaism and the environment
transportation alternatives to driving
climate change
food justice
sustainable food
farming and gardening
Examples of projects have received funding:
Food justice learning and programming
Recycling and composting programs
Renewable energy projects such as solar panels
Eliminating disposables from a school cafeteria
Installing gardens at a camp or JCC
Bike racks at schools and synagogues
Grant Details
In order to be eligible, you must have a team of at least four riders. The team will receive 20% of the fundraising minimum and 30% of all funds raised above the minimum. Fundraising from crew members on your team is included as money raised above the minimum team fundraising commitment. All grantees must complete our short application prior to the Ride.
How does it work?  
Step 1: The organization elects a team captain
Step 2: The team captain(s) registers for the Hazon Ride & Retreat and creates a team.
Step 3: The team captain, with help from Hazon, recruits 3 or more people affiliated with the institution to join in the excitement over Labor Day weekend.
Step 4: The grantee completes short application (below) so we can highlight the organization's project in our Ride materials.
Step 5: The participants fundraise, train, and prepare for the Ride, and then show up at Isabella Freedman on Labor Day for a memorable experience, with the knowledge that they've supported both Hazon and their own organization.
Support from Hazon
Hazon will help you market your team to your constituency, providing marketing materials and educators to help promote the Ride at your institution.
Each registered participant will receive a personal fundraising page. Participants may fundraise through their person page or through a dedicated team website.
Hazon will list all partners online and in the Ride program book, and each institution will be highlighted during the weekend programming.
For a comprehensive list of how to get your team up and biking, check out our Team Captain's Guide! Once we draw nearer to the Ride, we will also be sending out a monthly Team Captain's Newsletter to our inspirational captain community, including advice from some of the top fundraising teams, best practices on how to recruit new members, and potential grant ideas from previous years. 
Cancellations:
| | | |
| --- | --- | --- |
| DATE | REGISTRATION FEE | Fundraising |
| Through Feb | Refundable less $75 | Not responsible for meeting requirement |
| Feb – July 15 | Non-refundable | Not responsible for meeting requirement |
| July 15 – Aug 18 | Non-refundable | Responsible for 50% of required minimum |
|  Aug 18 – Sep 1 |  Non-refundable |  Responsible for 100% of required minimum |
There are no refunds or discounts given for arriving late or leaving early. Changing participation type may incur additional fees. Please note that donations are non-refundable and non-transferable.