The New York Ride & Retreat is currently on pause. Learn more
 about our planning process.

Contact us to help organize a local or virtual ride!
The Cause
Since 2000, Hazon has helped reshape what it means to be both Jewish and concerned with the health of our communities and our planet. Join us at the 2019 New York Ride & Retreat, where we'll celebrate how far we've come and raise vital funds for the work that still needs to be done.
When you join the New York Ride & Retreat you support Hazon's efforts to:
Significantly reduce the collective carbon footprint of the Jewish community. Through the Hazon Seal of Sustainability, which is directly supported with funds raised on the ride, institutions across the country are changing to more sustainable practices. Over the next five years, we will grow our influence from dozens to hundreds of institutions around the country, vastly increasing energy efficiency and the use of renewable energy, reducing waste, and most importantly engaging surrounding communities to become more resilient.
Create a cadre of environmental leaders who are informed, committed, and compassionate. Those who ride with Hazon also support our important Jewish, Outdoor, Food, Farming, and Environmental Education programs. Adamah, Teva, and JOFEE fellowships in specific are all creating a new generation of future educators, rabbis, and organizational leaders who bring an environmental ethos to their work.
Whether you cycle, crew, or donate to the New York Ride & Retreat, your participation makes a difference. Join us!
Hazon is making changes from the bottom up, with a hands-on approach to helping the earth.
I enjoyed being with like-minded, conscientious professionals of all ages that came with a vision larger than themselves of exploring new ways to heal the world. Isabella Freedman feels like a camp for adults – there were many activities to take part in, the chance to enjoy delicious wholesome food, form community and new friendships, and to worship and connect directly with nature. One feels a renewal of spirit after spending a few days in such beauty and with such visionaries.
Weekend Retreat / Shabbaton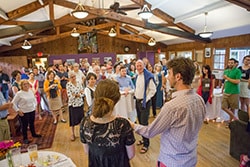 The New York Ride & Retreat Shabbat Retreat takes place at the beautiful Isabella Freedman Jewish Retreat Center in the Berkshires. In this stunning setting, participants celebrate, eat, relax, and learn together in a welcoming, inclusive, and open Jewish community of all ages.
You should expect to end Shabbat feeling full; not only with delicious food prepared from the Adamah farm, but also feeling satisfied from the rich conversations, brilliant sessions, and incredible community. It's an event you will not want to miss!
Highlights include:
Diverse Jewish community of all ages, backgrounds, Jewish observance, and practice
Soulful Shabbat services
Wellness sessions including yoga, hiking, meditation, and more!
Organic, kosher, and consciously-prepared farm-to-table food
Opportunities to learn about the relationship between Judaism and the environment and the inspiring work of Hazon and its partners
Musical havdalah dance party – bring your instruments!
Grab onto the last days of summer in a friendly environmentally-conscious Jewish environment and begin to contemplate changes in lifestyle for the coming year.
It is fantastic to spend Shabbat with an inclusive community from all branches of Judaism and all walks of life, where everyone can bond in a quiet setting away from modern distractions.
Food
Over Shabbat at Isabella Freedman: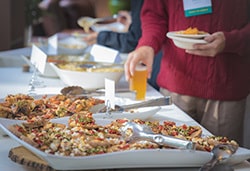 We are delighted to be working with the Adamah Foods dining hall staff, who will help us create a menu that is well balanced and plentiful. We try to source produce from local farms and use organic ingredients when possible. Meals are mostly vegetarian, although at times we will serve ethically sourced chicken or meat in addition to a vegetarian option. Isabella Freedman is a Glatt Kosher facility, under the supervision of the Hartford Kashrut Commission.
If you have any allergies or food concerns, please alert us to your sensitivities when you fill out your logistics form.