Throughout the year, join us for a variety of programs including cocktail hours, Shabbat meals, spin classes, and free bike rides. We have events for everyone – young professionals, families, experienced cyclists, and new riders.
Some events require registration beforehand (click below for details). We encourage you to RSVP to any bike rides, in case they are cancelled due to inclement weather.

Upcoming Events
Visit israelride.org/events for full list of Tribe Rides this summer.
Want to bring a Tribe Ride to your community? Email ride@hazon.org.
From May to September, Hazon and the Israel Ride host a series of Tribe Rides around the country. These Sunday/after work rides are an excellent way to meet new people, explore your city, or train for the Hazon/Israel Rides!


How to Prepare for a Tribe Ride
Rides will start from a central location. A leader will distribute cue sheets and will be able to guide you while riding, but will not provide water, food, or SAG (support & gear). You should prepare for these rides as you would for a ride completely on your own.
What you should bring on a Hazon Ride
A bike (ideally a road bike or hybrid)
A helmet (mandatory – no one will be allowed to ride without a helmet)
Water bottles or hydration system (Camelbak) – with at least 1.5 liters of water for longer rides
Sunscreen
Food or money for food – you should have something to eat about every hour – either a few bites from a sandwich, a Powerbar, etc.
Spare tubes – there are usually people on the rides who can help you fix flats, but you are responsible for having spare tubes.
Extra layers (recommended)
What you should do to prepare for the ride:
Eat a good breakfast with lots of carbs!
Fill up your water bottles
Stretch
Please come to the starting location with time to spare.
Tribe Ride Leaders
These rides are led by volunteer Ride Leaders. Ride Leaders should be familiar with the route and help direct the ride according to the cue sheet. Ride Leaders are not expected to provide food, water, or mechanical support, but are expected to lend a hand when possible and to provide encouragement and help less experienced riders.
If you are interested in becoming a Ride Leader, please contact us.

Tribe Rides FAQ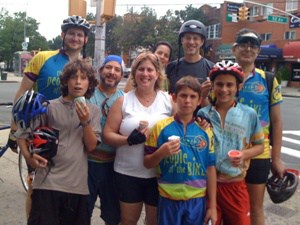 What if I'm not training for anything – can I still come?
YES! Everyone is welcome, whether you're getting ready to ride a century on the Hazon Ride & Retreat, gearing up for 30 miles in a day, or just want to ride a bike with new friends. Please respect ride level categorizations – a long ride is not appropriate for a beginner rider. However, there is no requirement that you be 'in training' for anything at all.
What if I am training for the Hazon Ride & Retreat- will training rides get me ready?
YES! Training on these rides is a great way to get in shape, get used to sitting on your bike seat for long periods of time, and slowly work your body up to a point where it can ride 100 miles in two days – or more!
If I have not been on a bike this season, can I come?
If you have not ridden in a while, we strongly suggest going out on your own to get your legs back in shape before joining us.
Where can I rent a bike?
If you do not have your own bike, most bicycle shops will rent a bike for a day.
What if the ride is canceled? How do I find out?
Check our online calendar to make sure that rides have not been canceled or rescheduled. If rides must be canceled last minute due to weather conditions, we will email everyone who has RSVPed for the ride.
Do I need to RSVP for the Tribe Rides or can I just show up?
While it is not necessary to sign up for rides in advance, we encourage you to RSVP to give us a sense of how many riders to expect, and so that you can be contacted in case we need to cancel the ride.