Ride for a great cause! Join us for a fully-supported ride and community experience over Labor Day Weekend. People of all cycling levels and ages are welcome. Enjoy delicious, kosher, farm-to-table food, an inspiring Shabbat, engaging educational workshops, fun outdoor activities, and two days of cycling around the beautiful Berkshires.
On the Road
Cycle anywhere from 35 to 160 miles over two days. We offer multiple route options each day to keep it fun and challenging for riders of all levels. Ride past sparkling lakes, through quaint towns, over rollings hills, along green pastures, and on rail trails. This Ride is fully supported; routes will be marked, cue sheets will be provided, mechanics and medics will be available, and each route will have sweep vehicles.
We plan rest stops every 15-20 miles along all routes. Each rest stop has a variety of snacks, typically including energy bars, granola, potato chips, and fruit, as well as water and energy drinks. We strive to provide organic and healthy snacks while recognizing the need for high-energy food for cycling. Each rest stop has shade and restrooms. One or two rest stops serve as a lunch stop, which also includes sandwiches and other food. All food and snacks served on the Ride are kosher.
Both Sunday and Monday routes are loops starting and ending at Isabella Freedman. Enjoy great food, drinks, music, and more at our incredible celebratory finish!
New this year: Family Ride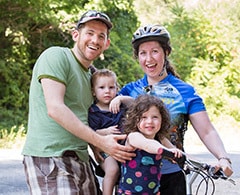 For the first time in NY Ride history, we will also be doing a Family Ride for children ages 5-11 on Sunday (September 2) of the Ride. This will be on a rail trail, with options to ride anywhere from 0-14 miles. Children are not required to fundraise. For more info, email ride@hazon.org.
Requirements
All kids must be accompanied by an adult (parents can sign a waiver designating a non-riding adult if both parents want to ride)
The adult must have a car and is responsible for driving to the starting location and back to Isabella Freedman post-ride
Must provide your own bike (or scooter, or balance bike, or tricycle)
No riding without a helmet!
At least one adult in the family is required to fundraise
The Ride is a platform for my children to see a diverse and engaged community of leaders who share a common interest in making the world a better place and who are willing to put themselves out there and push boundaries in that pursuit.
Choose your participation type, then follow across for your housing options and fundraising commitment. All prices are per person.
Prices go up June 1st
Participation
Type

Registration + Housing Fees

Hover over housing types for details.

Fund-
raising
Goal

Due Oct. 31, 2018

Standard Plus
Standard
Basic
Own Tent/
Commuters
Adult Rider #1 (31+)

$499

$345


$285

$220

$1,200
Spouse/Domestic Partner #2
$1,000
Young Adult Rider (18-30)
$800
Avodah (working) Crew
None
Shabbat-Only
Available August 2018
None
Youth Rider (12-17)

$150

will be housed in the same room as parents

$800
Youth Rider #2
$600
Non-Riding Child (5-17)
None
Toddler (0-4)
Free (but we ask that you register for our records)
None
* For those participating in the 2018 Israel Ride, the fundraising minimum will be 20% lower.*
Take advantage of this great deal and check out the Israel Ride here
!
Costs &
Benefits:
The New York Ride & Retreat weekend costs Hazon about $400 per rider. This includes meals, lodging, transportation, snacks, bike and medical support and a weekend filled with programming. The rider participant registration fee does not cover that full cost, with the balance being covered by 20% of rider fundraising.
Like you, we want as much money as possible to go to the cause. You could just write a check to support Hazon and our partners, but the bike ride has many advantages that cannot be calculated financially. Through the Ride you are raising awareness, cultivating future riders and helping to build the Hazon community.
If you would like more of your fundraising to go towards the cause, we encourage you to sponsor yourself right on the registration form to help cover these costs. If you choose to do that, we encourage you to tell your donors that you covered your own participation with a personal donation. This act shows that you are serious about supporting your ride financially as well as physically. The registration fee is non-refundable and not tax-deductible, but any donations above the registration fee are acknowledged as contributions.
Registration fee includes:
All meals and snacks during the Shabbat retreat and Ride
Sleeping arrangements
SAG (support and gear) vehicles
Rest stops every 15-20 miles
Mechanical support
Additional Costs and Fees:
We organize bus and bike transportation to the retreat location for a small additional fee. We also may have bike rentals available. You have the opportunity to pay the additional fees on a logistics form which is emailed out before the ride. We also hope to have Hazon apparel and other merchandise for sale at the ride.
Apply for funding for your environmental project!
Hazon provides small grants to environmental projects across North America and Israel through our Bike Rides.
Projects may focus on any of the following areas:
the connection between Judaism and the environment
transportation alternatives to driving
climate change
food justice
sustainable food
farming and gardening
Examples of projects have received funding:
Food justice learning and programming
Recycling and composting programs
Renewable energy projects such as solar panels
Eliminating disposables from a school cafeteria
Installing gardens at a camp or JCC
Bike racks at schools and synagogues
Grant Details
In order to be eligible, you must have a team of at least four riders. The team will receive 20% of the fundraising minimum and 30% of all funds raised above the minimum. Fundraising from crew members on your team is included as money raised above the minimum team fundraising commitment. All grantees must complete our short application prior to the Ride.
How does it work?  
Step 1: The organization elects a team captain
Step 2: The team captain(s) registers for the Hazon Ride & Retreat and creates a team.
Step 3: The team captain, with help from Hazon, recruits 3 or more people affiliated with the institution to join in the excitement over Labor Day weekend.
Step 4: The grantee completes short application (below) so we can highlight the organization's project in our Ride materials.
Step 5: The participants fundraise, train, and prepare for the Ride, and then show up at Isabella Freedman on Labor Day for a memorable experience, with the knowledge that they've supported both Hazon and their own organization.
Support from Hazon
Hazon will help you market your team to your constituency, providing marketing materials and educators to help promote the Ride at your institution.
Each registered participant will receive a personal fundraising page. Participants may fundraise through their person page or through a dedicated team website.
Hazon will list all partners online and in the Ride program book, and each institution will be highlighted during the weekend programming.
For a comprehensive list of how to get your team up and biking, check out our Team Captain's Guide! Once we draw nearer to the Ride, we will also be sending out a monthly Team Captain's Newsletter to our inspirational captain community, including advice from some of the top fundraising teams, best practices on how to recruit new members, and potential grant ideas from previous years. 
Cancellations:
| | | |
| --- | --- | --- |
| DATE | REGISTRATION FEE | Fundraising |
| Through Feb | Refundable less $75 | Not responsible for meeting requirement |
| Feb – July 15 | Non-refundable | Not responsible for meeting requirement |
| July 15 – Aug 18 | Non-refundable | Responsible for 50% of required minimum |
|  Aug 18 – Sep 1 |  Non-refundable |  Responsible for 100% of required minimum |
There are no refunds or discounts given for arriving late or leaving early. Changing participation type may incur additional fees. Please note that donations are non-refundable and non-transferable.
Email carlee.rosenthal@hazon.org for fundraising adjustments.
The Cause: Sustainability is a Jewish Value
Celebrating 18 years of sustainability… and supporting a more sustainable world for all
Over the past 18 years, Hazon has helped reshape what it means to be both Jewish and concerned with the health of our communities and our planet. Join us at the 2018 New York Ride & Retreat, where we celebrate what it means to be sustainable and raise vitally important funds that will support Hazon's work to:
Significantly reduce the collective carbon footprint of the Jewish community. Through the Hazon Seal of Sustainability, which is directly supported with funds raised on the ride, institutions across the country are changing to more sustainable practices. Over the next five years, we will grow our influence from dozens to hundreds of institutions around the country, vastly increasing energy efficiency and the use of renewable energy, reducing waste, and most importantly engaging surrounding communities to become more resilient.
Create a cadre of environmental leaders who are informed, committed, and compassionate. Those who ride with Hazon also support our important Jewish, Outdoor, Food, Farming, and Environmental Education programs. Our Adamah, Teva, and JOFEE fellowship programs held at Isabella Freedman Jewish Retreat Center are creating a new generation of future educators, rabbis, and organizational leaders who bring an environmental ethos to their work.
Whether you cycle, crew, or donate to the New York Ride and Retreat, your participation makes a difference.
Sunday Routes
For the first day of riding, we are offering four routes – 35, 52, 70, and 100 miles – and each route will be fully supported and have its own highlights. There are decision points throughout the day where you can decide how long you want to ride.
The 35-mile route (yellow) will split off from the other three at mile 3 and rejoin them at the Amenia Synagogue Rest Stop. This route will slowly gain elevation over the course of the first 10 miles, leading up to a large descent into the first and only rest stop of the day. After the first Rest Stop, all four routes will head north along a 7-mile rail trail, stop in the town of Millerton, and then split off once more to head straight back to Isabella Freedman.
The 52-mile (green), 70-mile (blue) and 100-mile (red) routes will make their way southwest through Sharon, CT before crossing the border into New York State. The first Rest Stop is at the World Peace Center, after which all three routes will continue southwest and to the southern tip of route in Dover Plains. They will then continue back north to the second Rest Stop at the Beth David Synagogue where they'll meet back up with the 35-mile route. Riders then cycle on the Harlem Valley Rail Trail for 7 miles between the Amenia Rest Stop and Millerton, NY.
At mile 45, the 52-mile route will split off and head back to Isabella Freedman, while the 70 & 100-mile routes will head north to the Massachusetts boarder. They will stop at their third Rest Stop at Bartholomew's Cobble, after which the 70-mile route will head back south to camp and the 100-mile route will make one more loop north to Great Barrington and back.
Click here to view an interactive map, with the individual routes in detail
Monday Routes
There will be three route options for the second day of riding – 30-miles (yellow), 45-miles (green), or 55-miles (blue).
All routes will begin the day riding southeast. The 30-mile route breaks off at mile 10 and will slowly gain elevation over the course of the first 10 miles, leading up to a large descent into the first and only rest stop of the day in Cornwall. Afterwards, the route heads back north along the river.
The 45 & 55 mile routes make their way south towards the town of Litchfield. There are two rest stops on these routes. The first is at a camp in Goshen and the second is with all three routes at a park in Cornwall. The two routes are together most of the day, but after the first rest stop, faster riders can choose to head further south for a bonus 10 miles before rejoining the 45-mile route in Bantam.
Click here to view an interactive map, with the individual routes in detail