The teaching that speaks to me most deeply, at the moment, is the one about having two pieces of paper in our pockets. One says, 'You are dust and will return to dust…" and the other says, "for you the world was made…"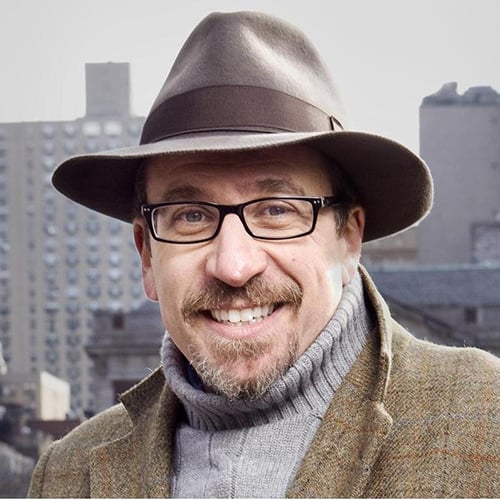 Nigel Savage
President & CEO
Nigel Savage, originally from Manchester, England, founded Hazon in 2000, with a Cross-USA Jewish Environmental Bike Ride. Since then, Hazon has grown the range and impact of its work in each successive year; today it has more than 50 staff, based in New York City, at Hazon's Isabella Freedman campus, and in other locations across the country. Hazon plays a unique role in renewing American Jewish life and creating a healthier and more sustainable world for all.
Hazon is one of only two groups to have been in the Slingshot 50 every year since inception, and in 2008, Hazon was recognized by the Sierra Club as one of 50 leading faith-based environmental organizations.
Nigel has spoken, taught, or written for a wide and significant range of audiences.  (A selection of his essays are at hazon.org/nigel). He has twice been named a member of the Forward 50, the annual list of the 50 most influential Jewish people in the United States, and is a recipient of the Bernard Reisman Award. He has given Commencement speeches at Wagner (NYU, in 2011) and at Hornstein (Brandeis, in 2014). In 2015 he was awarded an honorary doctorate by the Jewish Theological Seminary.
Before founding Hazon, Nigel was a professional fund manager in London, where he worked for NM Rothschild and was co-head of UK Equities at Govett. He has an MA in History from Georgetown, and has learned at Pardes, Yakar, and the Hebrew University.  He was a founder of Limmud NY, and serves on the board of Romemu.
Nigel executive produced the British independent movies Solitaire For 2 and Stiff Upper Lips and had an acclaimed cameo appearance in the cult Anglo-Jewish comic movie, Leon The Pig Farmer.  He is believed to be the first English Jew to have cycled across South Dakota on a recumbent bike.
New York, NY
| 212.908.2503
| nigel@hazon.org
Nigel Savage on Hazon Mission Statement
Nigel Savage on Hazon Pedagogy