Oct 11, 2018 - Oct 14, 2018
Tamarack Camps, MI, Ortonville, MI
Register today! registration rates and scholarship details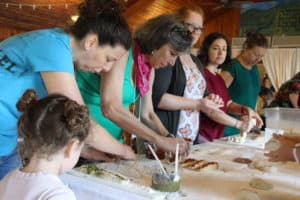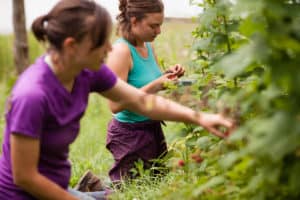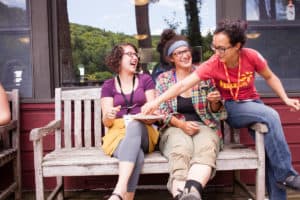 The most powerful moment for me was sitting around the fire with everyone on the last night, singing songs together. After being a part of so many sessions that brought Judaism to life in a way I had not experienced before and feeling so connected to all others at the conference, it was at the fire that I had this a-ha moment — that this is the field where I belong and will continue on in life.
Overview
There's a lot going on in the world these days – are you ready to make positive change? Let's start by "Transforming Ourselves to Transform the World".
Experience the world of professional Jewish outdoor engagement like never before at the third annual JOFEE Network Gathering. Professionals, Families, Community Members, and Students are all welcome!
We will:
Engage with pressing issues around sustainability, food systems, gender, and Jewish connections to the land.
Dive deep into JOFEE teachings, wisdom, and emerging innovations.
Explore Detroit and the surrounding area while learning from local leaders dedicated to reviving land and neighborhoods.
Experience Shabbat together, as one community, in the beautiful woods of  Tamarack Camps.
Expect:
Unique opportunities to explore Detroit through Pre-conference tours (Social Justice Tour of Detroit, Urban Farming Tour of Metro-Detroit area, Urban JOFEE experience in the heart of the city)
Exceptional speakers, teachers, leaders, and participants from all around the world
To experience community like never before on the 1250 Acre Tamarack Camps property
A memorable Shabbaton filled with good friends, great vibes, and engaging content.
The JOFEE Network Gathering is the annual gathering place for thought leaders, enthusiasts, and program professionals throughout the Jewish Outdoor, Food, Farming and Environmental Education world. Explore new opportunities for networking, coalition-building, and hands-on activities to engage youth, young adults, families, and more with meaningful Jewish experiences.
See below for our partners and our amazing speakers.
Partners
This year, we are so excited to be partnering with
Tamarack Camps:

 the host site for JNG this year is also an incredible partner leading the JOFEE movement forward in camping and wilderness adventures.

Hazon Detroit Regional Office:

 this group of social justice advocates is building relationships between urban Detroit neighborhoods and suburban Jewish communal institutions. This work is heavily influencing our pre-conference and conference activities. 

Farber Family Foundations: we are so grateful for the support provided by the Jeffery Farber Family Foundation and the David and Nanci Family Farber Foundation for their financial support in bringing the JNG to Tamarack this year.
Jim Joseph Foundation: the founding supporter of the JOFEE Fellowship and JOFEE Network Gathering we are pleased to thank the Jim Joseph Foundation again for their support of our programming this year
Jewish Community Farming: 

supporting the emerging and ongoing education and engagement of Jewish Farmers and Educators, JCF will once again be partnering with JNG to offer Farmer specific sessions and learning opportunities in a unique track facilitated by Jewish Farm School. 

Speakers
We are delighted to announce this year's JOFEE Network Gathering speakers. These are thought leaders and field builders from around the world and we can't wait for you to hear them teach!
Speakers / Panelists:
Keynote – Elizabeth Andre Ph.D. – Professor of Outdoor Education
Keynote – Mark Morey – Environmental Healing and Cultural Consciousness
Keynote –Rabbi Arthur Waskow – the Shalom Center
Deborah Newbrun – Go Set Go Community Adventures
Rabbi Zelig Golden – Wilderness Torah
Amy Meltzer – PJ Library
Jerry Ann Hebron – Oakland Avenue Urban Farm
Heidi Gantwerk – Jewish Communal Farming Gender Dynamic Consultant
Joanne Martin – East Vision Partners
Lynne Iser – Joanna Macy Facilitator
Phyllis Berman – Spiritual Director
Nathan Wright – Herbal Lodge, Owner/Founder – Sault Tribe Chippewa Indians
Jory Hanselman – Director, BaMidbar Jewish Wilderness Therapy
Shamu Sedah – Director, Adamah
Rabbi Arianna Silverman – Downtown Synagogue, Detroit
Yoshi Silverstien – Director, JOFEE Fellowship
Alex Cicelsky and Maya Galimidi – Kibbutz Lotan
Rabbi Nate DeGroot – Hazon Detroit
Rates and Registration
Registration fees are per person and include lodging, meals, pre-conference tours, and Shabbaton programming. REGISTRATION CLOSES October 5
Multiple Occupancy Bunkhouse
We will place 3-8 guests in each of these bunkhouses. Each cabin has ~20 twin bunk beds. Bathrooms are shared in a common area. Cabins are a 7-10 minute walk from program spaces.
$350
Double Occupancy Bunkhouse 
We will place 2 guests in each of these bunkhouses. Each cabin has ~20 twin bunk beds. Bathrooms are shared. Cabins are a 7-10 minute walk from program spaces.
$425
Single Occupancy Bunkhouse 
We will place 1 guest in each of these bunkhouses. Each cabin has ~20 twin bunk beds. Bathrooms are shared. Cabins are a 7-10 minute walk from program spaces.
$600
Single Occupancy Queen Room 
These rooms are a 3-5 minute walk from program areas and include 1 queen bed.
$855
Children 5-11 
This per-child rate applies to children aged 5-11 years old staying in the same room as their parents/guardians. Children's programming will be provided during program sessions with prior registration. Children 0-4 are welcome at no cost with prior registration. 
$230
Commuter
The commuter fee includes all meals, programming, and use of the facility for the entirety of the Gathering. This rate does not include any overnight lodging.
$230
Commuter – Single Day
The single day commuter fee includes all meals, programming, and use of the facility for ONE day of the Gathering. This rate does not include any overnight lodging.
$120
FAQ
What's the deal with the Pre-Conference Tours?
Pre-conference tours are included in the cost of registration. They are a chance to explore the city of Detroit through three very specific lenses. These tours will allow you to engage with content and community on Thursday, October 11.
Tours leave either from Tamarack Camps at 9:30 am or meet in Detroit at 11 am. You will return to Tamarack no later than 4 pm. More information will be provided after registration, closer to the conference.
YES! We will have childcare (during sessions) for infants to teenagers. For older kids, exploratory/learning activities have been planned on Tamarack grounds.
Price is included in your child's registration – please contact hannah.henza@hazon.org for more information.
Do you have to be a "JOFEE person" to come to the JOFEE Network Gathering?
NO! There will be professionals, lay people, and other enthusiasts from all backgrounds at the conference – if you are interested, you are welcome!
All-inclusive rates for the JOFEE Network Gathering start at $325.
When is check-in and check-out? 
Check-in begins at 2:00 pm Thursday and check-out is by 11 am Sunday.
Join us for our pre-conference tours starting at 11:00 am on Thursday for a full JNG experience!
Where is Tamarack Camps located?
Tamarack is located at, Ortonville, MI, just 45 minutes from Detroit.
Click here for driving directions to Tamarack Camps.
If you are flying we recommend either Flint Bishop International Airport (FNT) or Detroit Metropolitan Wayne County Airport (DTW).
Amtrack trains run into Detroit on W. Baltimore Ave.
Upon registering for the Gathering, you will receive access to a digital rideshare board. Offering a ride in your car will help reduce carbon emissions, cut down gas costs and make new friends! If you are looking for a ride, adding yourself to the waitlist (on the right-hand side of the page) is the best way to be notified when movements occur.
Parking is free for all guests. Driving to cabins and rooms will be limited to those who require mobility assistance.
What are the accommodations like?
Tamarack features accommodations in summer camp cabins and staff housing. This variety accommodates a range of preferences and budgets, but is not hotel style. Think summer camp!
We have partnered with Kandle Dining Services to create healthful, delicious, Orthodox Union certified kosher food at each meal. Where possible we will be using farm-to-table produce from Tamarack's Farber Farm and local Michigan Farmers. Kandle can accommodate most dietary preferences and restrictions with advance notice. You will have an opportunity to indicate your dietary needs when you register. Please contact us at registrar@hazon.org or (860) 824-5991 ext. 0 to discuss your needs.
You should bring:
bedding
flashlight
toiletries
over-the-counter and/or prescription medications
layers for fall weather
You might want to bring:
Chargers for electronic devices
Sun protection
Rain gear
Ritual wear
Closed-toe shoes
Hiking boots to enjoy the woods
Can my child/children attend?
Children are welcome to attend. All attendees, including children, must be registered in advance. We offer reduced rates for children in the same room as their parent(s).
Are the facilities accessible?
All of Tamarack's public and common areas are accessible for individuals with physical disabilities. Please contact us at registrar@hazon.org or (860) 824-5991 ext. 0 if you have accessibility needs.