[blue_message]In order to help us finalize our planning for the weekend, we will e-mail a logistics form to all participants two months before the Ride. The form asks about transportation, housing, food concerns, and other details. Please contact us if you have any specific concerns regarding  your housing or food needs.[/blue_message]
Isabella Freedman Jewish Retreat Center
We're delighted to be returning to Isabella Freedman, Hazon's home in the Connecticut Berkshires.  Home to the Adamah Fellowship, one of the NY Ride's largest grantee programs, Isabella Freedman offers delicious sustainable food, rustic cabins set amidst the beautiful hills of the Southern Berkshires.  At Freedman, you'll be able to enjoy a visit to the goats and chickens, a tour of the organic farm, a peaceful walk around the lake or an invigorating climb to the Overlook for a dose of morning inspiration.
   
Accommodations
Housing options include rustic cabins and our NY Ride Tent Village.
Cabins house 2-4 people per room, with semi-private or private baths.  Since we expect to fill up the site, single-occupancy rooms will be very limited.  Isabella Freedman provides blankets, sheets, towels and soap for everyone staying in cabins.

Experience Isabella Freedman at its fullest by bringing your own tent and camping on the grounds.  We will provide you with a $50 credit to your fundraising.  People who bring their own tent must bring their own sleeping gear as well.
Food
On Shabbat at Isabella Freedman: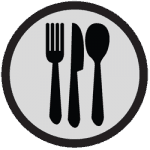 We are delighted to be working with the Adamah Foods program at Isabella Freedman, who will help us create a menu that is well balanced and plentiful. We try to source produce from local farms, and use organic ingredients when possible. Meals are mostly vegetarian, although at times we will serve ethically sourced chicken and meat in addition to a vegetarian option. Isabella Freedman is a Glatt Kosher
facility, under supervision of the Hartford Kashrut Commission.
We eat all meals at Isabella Freedman except Sunday and Monday lunch, which are served at rest stops on the route. If you have any allergies or food concerns, please alert us to your sensitivities when you register.
On the Route:
We plan rest stops every 15-20 miles along all routes. Each rest stop has a variety of snacks, typically including energy bars, granola, potato chips and fruit, as well as water and energy drinks. We strive to provide organic and healthy snacks while recognizing the need for high-energy food for cycling. Each rest stop has shade and rest rooms.
One or two rest stops serve as a lunch stop, which also includes sandwiches and other food.
All food and snacks served on the Ride are kosher.