We work with local leaders and organizations to seed and support Jewish Outdoor, Food, Farming and Environmental Education (JOFEE) programs.  In order to make that work happen we:
offer $25k per year in mini-grants to support JOFEE programs
offer scholarships to attend national Hazon programs
provide consulting to help bring JOFEE into organizations through programs like the Hazon Seal and our educational resources
foster connections between Colorado and the growing Jewish environmental community throughout the country
and host the annual Colorado Jewish Food Fest
I am excited, as a member of this community, to be one piece of this movement"
learn more about jofee
read about jofee in colorado (case study)
Staff
Becky O'Brien
Director of Food & Climate
Becky O'Brien is Hazon's Director of Food & Climate. Prior to that, she was Hazon's Director of Boulder for nearly 9 years. She has worked in the nonprofit sector for more than 20 years. She is passionate about Hazon's mission and brings to her work her experience in project management, volunteer coordinating, programming, advocacy, fundraising, communications, and nonprofit administration. She received a Bachelor's Degree in Religious Studies from the University of South Florida and a Master's Degree in Religious Studies from the University of Colorado. She enjoys spending time with her family, hiking and camping in the beautiful Colorado outdoors, knitting, and volunteering to make the world a better place.
Boulder, CO
| 303.886.5865
| becky.o'brien@hazon.org
Colorado Advisory Board
Cece Bloomfield
Josh Dinar
Bryan Goldstein
Paul Gillis
Sandra Guidicelli
Noah Herreid
Susan Kodish
Brett Robbins
Caron Robinson
Kira Rukin
Shari Blake Schnee
Julie Shaffer
Rabbi Marc Soloway
Helaine Unger
Michele Weingarden
Cece Bloomfield moved with her husband, Tom, and their kids, Abby and Sol, to Boulder in 2003, lured by the great outdoors, terrific schools, and friends in the local Jewish community. Grateful for the opportunity to be a stay-at-home mom and to volunteer in her community, Cece kept herself busy with kids' activities and passion projects. After attending the first Hazon Jewish food festival in Boulder, Cece was recruited by Rabbi Bronstein to help Congregation Har HaShem set up its composting program. That conference also sparked Cece's interest in meat by-products, animal welfare, and agriculture's impact on the environment. Cece's "aha moment" came while organizing a Tu b'Shvat teaching session on soil and the role animals play in soil carbon sequestration. Cece is Co-Founder of Farm Leather, a sourcing and marketing company for traceable, ethical, sustainable leather.
Boulder, CO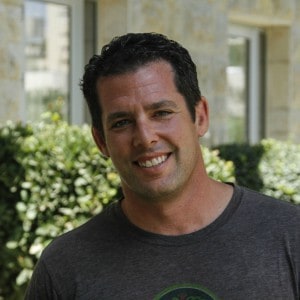 Josh Dinar is the co-founder of Pearl Publishing Media Group, which publishes, among other things, DiningOut Magazine, a national network of dining publications and the DiningOut Passbook series. DiningOut Events produces large scale festivals including Top Taco in Denver and New Orleans, Chicken Fight, and the Velorama Food Park. He has authored a pictorial history of Denver, entitled Denver Then & Now and co-authored the book, The Conscious Cleanse: Heal Your Body and Transform Your Life in 14 Days. He is also an owner of both River and Woods and T/ACO restaurants in Boulder and a forthcoming concept in Golden. Josh is on the board of Lighthouse Writers and the Boulder Food Film Festival. He is the vice president of the Board of the Boulder JCC, and sits on the Jewish Life Committee and the Board of Trustees at Rose Community Foundation and is an alum of the Wexner Heritage Program. And, Josh is a founding member of Hazon's Colorado Advisory Board.
Boulder, CO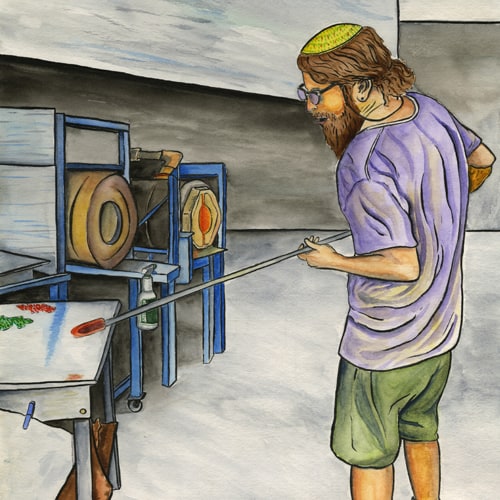 Bryan Goldstein has been active in the Denver music scene for the past 10 years, and upon last year's graduation from the CU Denver Music Business program (upright bass), he set out to be a farmer and Shepard of the earth. "They kept asking me how I am going to eat, being a musician and all" which is the question that we as a society continually have to face. As a current Moishe House Boulder resident, Bryan brings food consciousness, community gardening, and sustainable solutions to the young "professional" Jewish community in Boulder and abroad. While Bryan is still active on the music scene with Hadgaba, a Balkan-style Klezmer band, the honey comes from his employment at Highland Honey where he processes raw, local, real honey to share powerful food and healing herbal blends with the people. Bryan also works at a glass blowing studio teaching classes and creating hand blown custom works, including a series called "Sukkot," which was all sorts of realistic veggies and "Yadim" consisting of hand washing cups. Through working with various Hazon mini-grant projects and larger Hazon programs, Bryan has been inspired by the mission and is excited to be part of the team.
Denver, CO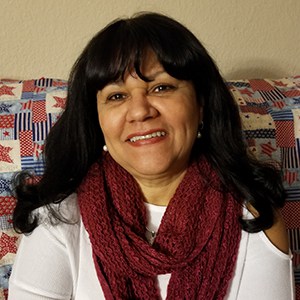 Sandra Guidicelli was first introduced to Hazon in 2015 when she attended the Hazon Food Conference, which she again attended in 2018. There, she was inspired by other women to pay more attention to food and the environment. She completed a 9-month Permaculture Design Course, which taught her to bring sustainability thinking into her home. She is currently a Bilingual Transitional Housing and Property Manager for a non-profit working with 20 families. She is an active member of Congregation Har HaShem and a life member of the Boulder chapter of Hadassah.
Boulder, CO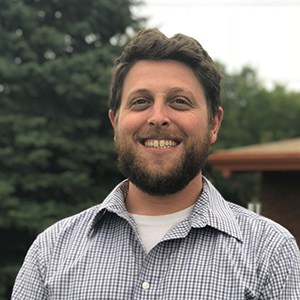 Noah Herreid grew up in Boulder and has been active in the Jewish community from a young age. After graduation from the University of Colorado – Boulder, Noah began working at CU Boulder Hillel and is currently the Program Director. Working towards living a more sustainable lifestyle is a driving value in Noah's life and he has spearheaded initiatives at Hillel to implement sustainability at an institutional level. After discovering Hazon, Noah felt a natural fit with its work and sought out more ways to be involved, including attending the 2018 Hazon Food Conference. Noah lives in Lafayette with his girlfriend and their dog and cat and enjoys spending time with his family, many of whom also live in the area. Noah looks forward to diving in deep with Hazon and contributing to the health of this community and our planet as a whole!
Boulder, CO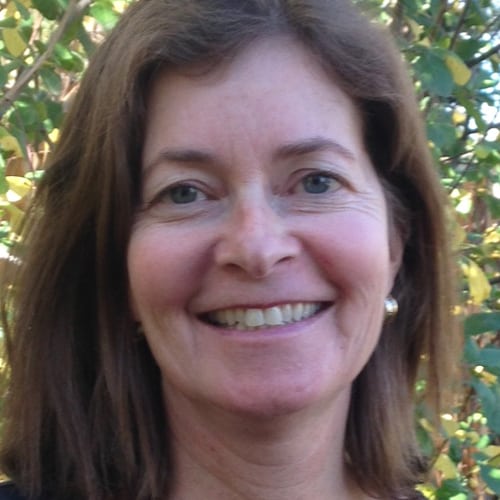 Susan Kodish moved to Boulder from Youngstown, Ohio in 1982 to go to the University of Colorado. Susan and her husband, Jeff, and their daughters, Lucy and Molly, share a love of the outdoors and being in the mountains. They are members of Congregation Har HaShem. Susan has worked as the Coordinator of Volunteers for Eco-cycle and as a Paralegal for The Nature Conservancy. Since 2011 she has worked for African Market Baskets. Her work provided her with the opportunity to visit Ghana, meet many weavers and their families and better understand the connection between weaving, food and community. She served on the District Attorney's Victim Compensation Board, helping distribute court ordered funds to victims of crime. She also volunteered with Jewish Family Services for four years. She has been a member of the Red Wagon Organic Farm Tuv Ha'aretz CSA for several years. She is excited about combining her interests in sustainable food production and the environment with her inherent Judaism to contribute to Hazon.
Boulder, CO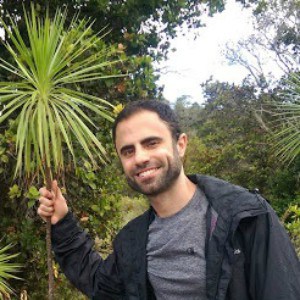 Brett Robbins is passionate about Judaism and the environment. Since graduating from the University of Vermont with a major in Resource Ecology and studying abroad in the rain forest of Australia, he's become an accomplished entrepreneur with 15 years combined experience in finance, real estate and environmental business sectors. His passion for helping people and the environment has resulted in environmental leadership through professional and personal ventures including solar finance consulting, organizing local community programming as a Board Member for the San Diego Jewish Federation, and being chosen to represent the environmental track in ROI 120; a global Jewish leadership conference in Jerusalem. He's extremely excited and honored to be part of the Colorado Advisory Board, an opportunity that truly brings his two passions of Judaism and the environment together!
Boulder, CO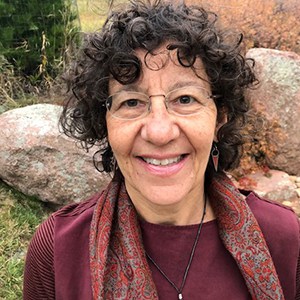 Caron and her husband moved to Boulder from Dallas in 2017. Caron taught at Akiba Academy, a Jewish day school, for ten years. During her time as a middle school math teacher, she created a Chesed program in the middle school, infusing Jewish values while cooking with the students to serve residents in local shelters. Since moving to Boulder, Caron has continued to be a CASA advocate, volunteers at the amazing Milk and Honey Farm at the Boulder JCC, cooks and serves breakfast weekly at the Boulder Homeless Shelter, and is the Chesed Committee Chair at her wonderful synagogue, Bonai Shalom. Caron is an avid cook (vegetarian) and loves the ability to be so connected to local produce and seasonal eating in beautiful Boulder. She is excited to be part of the mission of Hazon.
Boulder, CO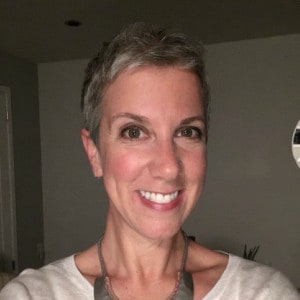 Kira Rukin grew up in Chelmsford, Massachusetts, a small town northwest of Boston. As a young girl of 13, on a business trip with her father, she became curious about food scarcity after seeing a homeless person living on the streets of Washington, D.C. With a degree in Hotel and Food Management from Boston University and a Garden Design degree from London, England, Kira combines her passion for food and the earth by teaching vegan cooking workshops in her home and designing whimsical gardens for clients. She relocated to Boulder, Colorado in 2016 after selling all of their belongings and taking a year-long journey with her children around the U.S., living in a 30' Airstream. She looks to Judaism to inform some of her life decisions, but enjoys a secular life where hiking, cycling, baking, and exploring create a very rich life!
Boulder, CO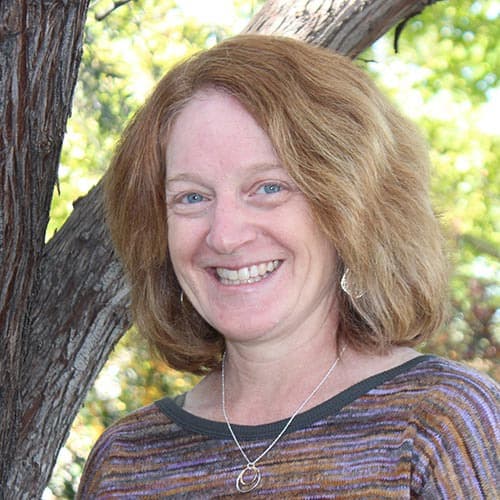 Shari Blake Schnee has been involved in the Boulder Jewish Community for almost 20 years and is currently the Specialty Camps Director at the Boulder JCC. Shari first became involved with Hazon through her job, but it immediately became a personal passion after attending a local Hazon Food Festival. It was inspiring for her to see the food and environmental movement through a Jewish lens. Shari and her family are members of Congregation Har HaShem and she is a past member of the Tuv Ha'Aretz CSA Steering Committee. She is a member of the Tuv Ha'Aretz Red Wagon Organic Farm CSA. Shari lives in Louisville with her husband Jonathan and her two teenage children, Jared and Mollie. She is excited to be part of the Advisory Board and to help Hazon create a healthier and more sustainable community in Boulder.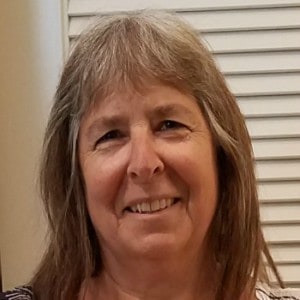 Julie Shaffer is the Executive Director of the Oreg Foundation in Boulder. She has been involved in Colorado's non-profit world as a professional and lay leader for over 20 years. Julie serves on Hazon's national Board and is a member of the Board of Directors of Encounter and the Jewish Studies Program at the University of Colorado. She serves on several committees of the Boulder JCC where she was the honored for her leadership at their annual gala. Julie was a founding board member of the Boulder Jewish Community Foundation and was honored by them for her dedication and extraordinary work in the Boulder Jewish Community. Julie and her husband, Bruce, raised their three kids in Boulder.
Boulder, CO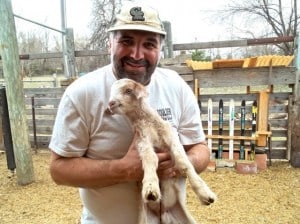 Rabbi Marc Soloway has served as the rabbi of Congregation Bonai Shalom in Boulder, Colorado since 2004. He has always loved food, perhaps a little too much, and in recent years has thought more deeply about where this food comes from, how it is produced and how all of that fits with deep Jewish obligations and values. Marc has ridden twice in the Hazon-Arava Institute Israel Ride in 2008 and 2010. Marc co-chaired two Hazon Food Conferences on the west coast in 2010 and 2011, he is on the Hazon Steering Team in Colorado as well as the Jewish Life team for the Rocky Mountain Jewish Food Summit in April 2012. Marc was instrumental in bringing Boulder's first Jewish CSA through Hazon, which is now a collaboration of five synagogues and the JCC with two weekly drop-off sites. Marc is also a proud member of a Jewish goat and chicken co-op across the street from his synagogue. Marc was very active with the Limmud Conference in the UK, serving as co-chair in 1996 and 1997 and he was a founding board member of Limmud Colorado in 2008, which has informed his work with Hazon. He was in Ghana as part of the second AJWS Rabbinic Delegation, volunteering with a grantee in the south, as well as a fellow of the Rabbis without Borders program with CLAL. Marc is also a graduate of the 5th Rabbinic Cohort of the Institute of Jewish Spirituality. Before becoming a rabbi, Marc was an actor, storyteller and massage therapist in his native London and currently is the narrator of a documentary film about the Baal Shem Tov.
Boulder, CO
Helaine Unger lives in Boulder with her partner, Jed. Together they have 5 children and 3 grandchildren. Helaine enjoys many outdoor activities including hiking, skiing, biking and traveling. She is a retired early childhood special educator and is always looking for interesting activities to participate in. Her youngest daughter works for Hazon in Detroit and inspired her to join the board in Boulder.
Boulder, CO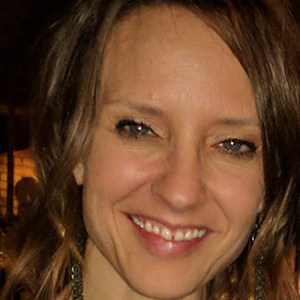 Michele Weingarden is a Jewish mom out to make the planet a better place for her children. She has been connected to Hazon for several years, previously serving on the Colorado Advisory Board once before. She is honored to have come in second place for her challah during a Hazon Jewish Food Festival! Michele works for JEWISHcolorado in communications and public affairs. She also works in magazine production, currently serving as managing editor for Real Producers Denver. Michele has been involved in environmental activism for decades, working for CALPIRG, the Sierra Club, Save the San Francisco Bay, U.S. Senator Barbara Boxer as statewide environmental advisor, and Denver Mayor John Hickenlooper's Greenprint Denver office. She is newly relocated to the Boulder area with her husband, David, and children, Sabine and Gideon. Returning to the Colorado Advisory Board is a great step back into environmental advocacy!
Boulder, CO
Our work is made possible through the generous support of:
Jared Polis Foundation Gift Fund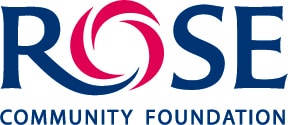 And numerous generous individual donors!
Grants
Hazon grants up to $25,000 total to seed, expand and support both new and existing programs that help create a healthier and more sustainable Colorado.
The purpose of this grant opportunity is to inspire and grow a range of programs and initiatives in the Denver/Boulder area that utilize Jewish food, outdoor, and environmental education. This work in aggregate will strengthen and support the JOFEE (Jewish Outdoor, Food, Farming & Environmental Education) movement. It will support existing Jewish institutions and leaders, and bring new people into Jewish life, thus renewing Jewish life overall. To qualify, every project must help to create healthier and more sustainable communities in the Colorado Jewish community and individual Jewish lives.
2018-2019 Mini Grant Recipients
2017-2018 Mini Grant Recipients
Scholarships
Hazon is pleased to offer scholarships for people from the Denver and Boulder areas to a selection of multi-day Hazon events happening around the country and in Israel.
As a scholarship recipient, we ask that you will identify specific ways to "pay it forward" and use your experience at the Hazon event to grow and strengthen the local Colorado Jewish outdoor, food, farming, and environmental movement.
Scholarships are first come, first served, and applications are accepted for all events at all times, though events do often sell out and applications aren't accepted for sold out events. You can receive up to $500 in scholarship. We have a limited pool of scholarships available, so please apply today.
Adamah Fellowship Scholarship amount available: $500
The Hazon Food Conference Scholarship amount available: $500
JOFEE Network Gathering Perfect for educators! Scholarship amount available: $500
Israel Ride Automatic $360 fundraising contribution from Oreg Foundation for Colorado riders (no need to apply for a scholarship).
These scholarships are made possible through the generous support of Rose Community Foundation, Oreg Foundation, and other generous donors. [/hide-this-part]
apply for a scholarship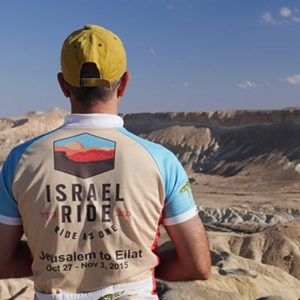 Oct 25, 2020 - Nov 1, 2020
Join the 2020 Virtual Israel Ride, an opportunity to bring our community together and support the crucial work of the Arava Institute and Hazon.
Hazon Colorado in the Media
2019
2018
2017