Carlebach-style Orthodox Minyan
Rabbi Avraham Arieh and Rachel Trugman
have thirty-five years of experience in Jewish education. They were a founding family of Moshav Modiim (the Carlebach Moshav) in 1976. From 1988-95, they served as Regional Directors of NCSY in Denver, Colorado. Upon returning to Israel they created
Ohr Chadash: New Horizons in Jewish Experience
, a dynamic educational program centered in Israel, which has run programs for tens of thousands of people of all ages and backgrounds.
Rabbi Trugman has published seven popular books on Jewish spirituality and mysticism and has produced four music discs of original music. Rachel Trugman, along with being an educator, is also a family therapist with a private practice and an artist who has published a coloring book.
The Trugmans have lectured in forty cities world-wide and have run and participated in hundreds of Shabbat programs. Learn more at thetrugmans.com.

Hazzan Dov Rosenschein
is an American-Israeli musician, trained in all aspects of Jewish music. Over the last 15 years, he has served as an experienced cantor at a number of communities in Israel and the United States. He is currently living in Highland Park NJ, where he is advancing his academic knowledge at the Westminster Choir College, one of the most formidable schools for vocal music in the United States. Among Rosenschein's musical achievements of the last ten years are countless settings of Jewish liturgical music, and an opera in Yiddish, Der Mashgiah's Meshüges ("The Supervisor's Madness"), the first of a planned trilogy of operas highlighting the cultural clashes between Jewish and Christian communities.
In addition to his compositions, Rosenschein is also trained in every aspect of Jewish musical life, as a cantor, Torah reader and shofar blower. Rosenschein has been trained by some of the finer traditional singers of the communities of Pressburg (Bratislava) living in Jerusalem, in the hopes of preserving all that is unique in the great tradition of Jewish music.

Renewal-style Davennen'
Rabbi Andrew Hahn, Ph.D., is known as both the Kirtan Rabbi and — depending upon which phone booth he exits — also as the Tai Chi Rabbi. He has pioneered Kirtan in the Jewish world, criss-crossing the country to offer communal call-and-response chant concerts and meditation seminars. Rabbi Hahn earned a Ph.D. from the Jewish Theological Seminary (Conservative) and holds ordination from HUC-JIR (Reform), both in New York City. He has been teaching tai chi and related arts for almost forty years. In his workshops, he seamlessly combines chant, movement, meditation and psycho-acoustical exercises to offer a grounded encounter with ecstatic consciousness. He is resident faculty at Clal: The National Jewish Center for Learning and Leadership in New York, working actively with Rabbis without Borders, and has served as Visiting Rabbi for Metivta: a center for contemplative Judaism in Los Angeles. Rabbi Hahn has three musical CDs: Kirtan Rabbi: Live!, Achat Sha'alti, and the just released Nondual. KirtanRabbi.com
The Renewal Minyan uses a "four worlds" model of prayer, engaging body, heart, mind, and spirit. The service focuses deeply on core phrases and themes from the traditional service, rather than using the entire liturgy. A Renewal Torah service provides spiritual intentions for each of the aliyot that are read, inviting anyone who wishes to express that intention to come up for that aliyah. Musical Instruments, including guitar & drums, may be utilized in joyous prayer.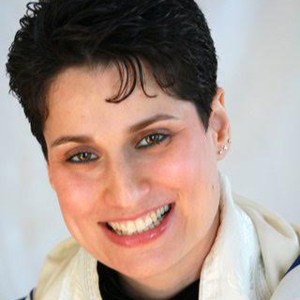 Chani Getter is an ordained One Spirit Interfaith Minister who was raised in an ultra-orthodox Chassidish Jewish home. Today she is a spiritual leader and teacher who combines personal development, spiritual learning and age-old wisdom to create courses and ceremonies that are welcoming and meaningful to all people. She blends the discoveries of her personal growth with the ancient teachings from the Jewish tradition that were such a meaningful part of her youth. She brings a non-judgmental approach to important contemporary topics. Her work is far reaching, touching individuals and professionals in North America and Europe. She provides safe spaces for individuals to be in the in-between places while keeping their center and speaking their truth.