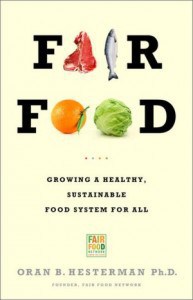 Fair Food is an enlightening and inspiring guide to changing not only what we eat, but how food is grown, packaged, delivered, and sold.
A host of books and films in recent years have documented in great detail the dangers of our current food system, but advice on what to do about it largely begins and ends with the admonition to "eat local" or "eat organic." This advice is not helpful if, as Chicago Congressman Bobby Rush once pointed out, you can buy ketchup where you live, but no fresh tomatoes. Just as you can't impact the course of climate change by simply switching to CFL bulbs, you can't fix the broken food system by simply growing a backyard garden. It requires redesigning our food system. Enter Fair Food, an inspiring guide to changing not only what we eat, but how our food is grown, packaged, delivered, marketed and sold.
In partnership with the Fair Food Network, Hazon has developed a Book Club Guide for your Jewish organization or institution that helps frame conversation around Fair Food through a Jewish lens.

[green_message]
Share Your Stories:
Have you used the Fair Food Book Club Guide in your community? Did you have a great conversation or did it inspire you to take action? Send an email to foodeducation@hazon.org with your story and you could be featured in an upcoming Hazon blog post.
[/green_message]
The Fair Food Network is a leader in the vision of a more sustainable and just food system. Their work focuses on improving healthy food access, informing public policy, strengthening funding strategies, and expanding & sharing knowledge. Find out more information about the Fair Food Network and what they do.