Earth Day Shabbat and the People's Climate Shabbat
A Week of Action for the Earth, April 22-29
Join Hazon and other Jewish communities as we celebrate a week of action for the Earth, from the Shabbat of Earth Day, April 22, to the following People's Climate March & Shabbat, on Saturday, April 29, 3 Iyyar 5777, the 18th day of the Omer.
As we make our journey from Pesach to Shavuot, from freedom to responsibility, we'll speak out for a world safe from the ravages of climate change – a world with good jobs, clean air, and safe communities for everyone. Some of us will be boarding buses to march in Washington, DC, as part of a strong faith contingent at the climate march, alongside justice and environmental groups in the People's Climate Movement.
For others, it's too far to travel, or Shabbat is not a time for marching. So we will stand in solidarity with the marchers by raising up climate justice wherever we are, delighting in a People's Climate Shabbat that proclaims the goodness of Creation and affirms our responsibility to till and to tend it.
Jewish participation in the People's Climate March & Shabbat is being coordinated by Hazon, Jewish Climate Action Network and Interfaith Power & Light (MD.DC.NoVA), with support from many other caring Jewish communities.
JEWISH ENVIRONMENTAL ADVOCACY DAYS, April 26-27
A Partnership of Pearlstone Center & Hazon
Just before the People's Climate March, we will gather to raise our Jewish voices in our nation's capital on behalf of sound environmental policy—for our future and for our children.
Meet fellow Jewish climate change activists from across the country
Learn about the state of environmental policy in Washington DC
Receive training on how to effectively lobby your representatives
Share your knowledge and know-how and learn about advocacy initiatives in other communities
On April 27, lobby your elected officials in Washington, DC on climate-related policy in collaboration with state chapters of Interfaith Power & Light.
TENTATIVE SCHEDULE  
Wednesday, April 26 at Pearlstone Center
11:00 – 12:30 PM: Registration
12:30 PM: Lunch
2:00 PM: Opening Circle/Training Begins
5:00 PM: Earth-based activity / Explore Pearlstone
6:30 PM: Dinner (& Discussion)
7:30 PM: Training
9:00 PM: Nighttime activity
Thursday, April 27 in Washington, DC

7:30 AM: Depart Pearlstone for Washington, DC
9:00 AM: Arrive in Washington, DC for lobbying in conjunction with Interfaith Power & Light state chapters
Following your lobbying appointments in Washington, DC, the Jewish Environmental Advocacy Days gathering is concluded.
Jewish communities will begin gathering in Washington the following day, Friday April 28 in advance of the People's Climate Mobilization. A special climate-themed Shabbat service will be held on Friday night. Jewish community members will march together in the climate mobilization in the late morning of Saturday, April 29th. 
Cost: $100/person, includes:
2 meals on Wednesday & breakfast on Thursday (OU-certified kosher)
One night lodging in dormitory style rooms (Note: Guests will share rooms with other Lobby Days participants. Some rooms have bunk beds.)
One-way transportation to Washington, DC
 Register by April 10th
Commuter Option: $50/person
Wednesday at Pearlstone and meet us in Washington, DC
No Events
This year, Earth Day falls on Shabbat. In synagogues across the country, of all denominations and backgrounds, we as Jews will spend this Shabbat celebrating the natural world and examining our role as shomrei adamah – keepers of the planet.
Be part of the movement. Organize an Earth Day event at your synagogue, school, or community center. Questions? New ideas? Contact advocacy@hazon.org.
Organize a sustainability event during Earth Week, from Earth Day (April 22) through the People's Climate March & Shabbat on April 29.
Ask your rabbi to give a d'var torah about Judaism and climate change. Download these sermon bullets to get started.
Contact a local climate justice group for advocacy opportunities, such as a 350.org or Sierra Club chapter.
Organize a service for the Earth, or reach out to others in your community to host an interfaith service.
Green your Shabbat:
Organize a Hebrew school program, such as a garden planting. Use this resource bank to find lesson plans and ideas.
Earth Week Resources
Advocacy Resources
Why Advocacy?
Out current president is the first one elected since 2004 who is on record opposing a range of environmental protections that many of us see as vital to this country and world.
Like all people of goodwill, we wish the new administration well. Since the days of the Talmud, Jewish communities have inserted prayers into our Shabbat morning services for the welfare of the government – that it be just; that it treat minorities well (Jews amongst them); that it ensure the peace within the nation. We share those prayers – now more than ever.
But we're a generation that doesn't just believe in prayer by itself. Since 2004, Hazon — and the JOFEE space — has grown quite strongly. Hazon invites you to make your voices heard.
Hazon's theory of change follows what we have internally called the "3 x 3 grid" .
On one axis we have Education; Action; and Advocacy. On the other we have the Individual (or the nuclear family); an Institution; and the Wider Community. It looks like this: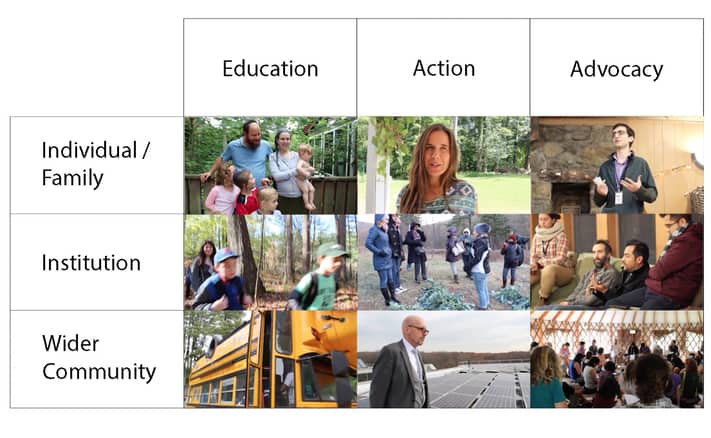 Hazon as an organization works in all nine boxes, and is building multiple synapses between them and between the work represented by each of them. As part of our desire to act in the third column, Hazon has been involved in advocacy initiatives since our founding, including the following campaigns:
Hazon as an organization has added our name to sign-on letters, including:
FixFlintNow: Support congressional funding for those impacted by the Flint water crisis
Boulder Sugar Tax: Supported a tax on sugary beverages in Boulder
Combined Faith Letter on Food Waste
JOFEE Advocacy
Hazon, in partnership with COEJL, Pearlstone Retreat Center, Wilderness Torah, and Urban Adamah, are creating space to discuss potential next steps for the Jewish environmental movement.
If you are interested, please email JOFEEadvocacy@hazon.org and ask to join this listserv.