This recipe comes to us from 2019 Hazon Food Conference Presenter Regina Mosenkis.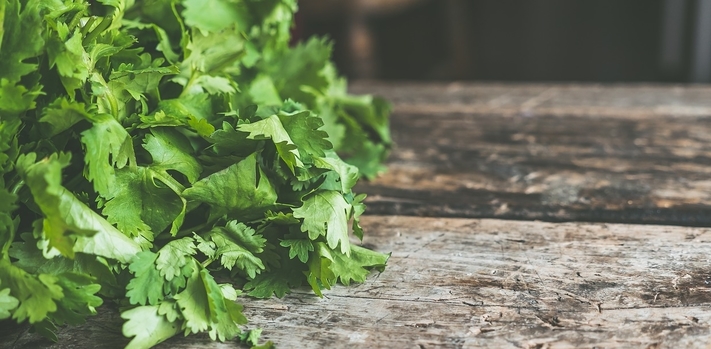 Recipe from What to Eat for How You Feel: The New Ayurvedic Kitchen by Divya Alter (Rizzoli, 2017)
This chutney and its variations are my favorites for improving any type of indigestion. Cilantro is a super food and a heavy metal detoxifier, but it's hard to get enough of it just as a garnish. Blending this potent herb into chutney is a delectable way to have more.
You can serve this bright green sauce as a digestive aid with every meal. It will freshen up and invigorate basically everything savory: lentil soups, grains, vegetables, breads, cutlets. If possible, make the chutney just before serving, as its flavors and healing properties fade with time, even if refrigerated. The recommended serving is 2 to 3 tablespoons per person.
Gluten free, Dairy free
Makes ½ cup
Prep: 5 to 10 minutes
Ingredients
2 ½ cups coarsely chopped packed cilantro with stems
3 tablespoons water
2 tablespoons fresh lime juice
1 tablespoon peeled and minced fresh ginger
1 green Thai chile, seeded
1 teaspoon honey, maple syrup, or a pitted chopped date
½ teaspoon salt
1 tablespoon olive oil
Preparation
In a blender, combine all the ingredients except the olive oil and blend to a creamy sauce. Add the
olive oil and briefly pulse to mix it in. To store, refrigerate covered for up to 24 hours.Note: Add quick-cooking vegetables such as zucchini, asparagus, or leafy greens 20 minutes into the
Variations: Try any of these add-ins (adjust salt to taste and water to a creamy sauce consistency):
1⁄4 cup coconut milk
1⁄4 cup soaked, blanched almonds or 1⁄4 cup pulp from making almond milk
1⁄4 cup shredded dried or fresh coconut
1⁄4 cup soaked and drained cashews
1⁄4 cup chopped avocado
Fully or partially chopped mint (hard stems removed) instead of the cilantro (for those who cannot tolerate the taste of cilantro)
The Healing Benefits of Cilantro: With its sweet, pungent, astringent taste and cooling effect, cilantro is always balancing no matter how you feel. It also: Strengthens digestion, Calms hyperacidity in the stomach, Relieves coughs and fever, Acts as a powerful binder of environmental toxins especially heavy metals, Thins the blood, Works as a mouth freshener.