In This Email
Not receiving our newsletters? Join our mailing list.

[line]
New York
August 30th 2012 / 12th Elul 5772
Dear All,
Jewish tradition is scrupulous about citation. In that spirit, I want to share with you not exactly a citation, but a throwaway remark, three weeks ago, which has already changed my life, and is likely to do so for quite some time to come.
It was from David Rendsburg, a friend and colleague who is widely admired and respected for being, in a way, the very model of a contemporary ish hazon: a fourth-generation Jewish cyclist, son of a phenomenal Bible scholar, gabbai extraordinaire. Both in his day-job and in his spare time, David is engaged quite explicitly in doing good for others. But this was simply a water-cooler comment: have you seen the new Steinsaltz?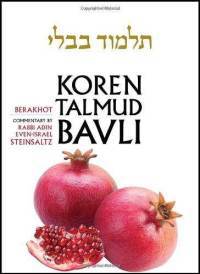 He was referring to the new Koren edition of the Babylonian Talmud, which he proceeded to show me. It marries Rav Steinsaltz's English-language translation (which has been underway for more than 40 years) with a layout that I saw immediately was beautiful and accessible, and which subsequent use (more on that in a moment) has shown to be both useful and neutral. (By neutral I mean that, insofar as possible, the translation is seeking straightforwardly to elucidate the text, and not to drive meaning or understanding in a particular or skewed direction. If you want to understand the extreme opposite of Rav Steinsaltz's approach, compare the Hebrew text of Shir HaShirim/Song of Songs with its Artscroll "translation."
And then David added this casual remark, "I missed the start of the new Daf Yomi cycle, but I've decided I'm going to try to do it anyway – I reckon I'll catch up by September…"
Like lots of people, I saw coverage in the media about the end of the most recent cycle of learning the Talmud. "Daf yomi" literally means "page-a-day" and if you learn a page a day, it takes about 7½ years (2,711 days, to be precise). The coverage focused mostly on the haredi community, but I only recently discovered that two people I know, neither of them ultra-orthodox, completed this most recent cycle.
So when David showed me the new Koren/Steinsaltz Talmud, and added that he was starting the daf yomi cycle, on a whim I decided to do the same. I ordered it a few minutes later on amazon and it showed up two days later – this strange combination of the contemporary-fastest-of-the-fast, with the oldest-and-slowest-of-the-slow.
Learning it has already become a remarkable, fascinating, delightful, experience: indeed one of the reasons I'm writing this now is that I want to say, if you are minded to, go get yourself a copy of this edition and get started: better late than never…
It perhaps will not appeal to, or be accessible, to everyone. In some ways I'm the ideal user of this text. I can't read Aramaic, the language in which much of the Talmud is written, and a traditional page of Talmud would take me… I can't begin to imagine how long. But my contextual understanding is decent, and my sympathy is considerable. (Contextual understanding: I have a sense of the world of the rabbis, the prayers and rhythms of Jewish tradition, the nature of the questions being asked, the historical context. Sympathy: I'm willing to take the text as it comes, with curiosity and respect, and without needing to fight with it if my own world-view is radically different, which not infrequently it is.) Follow this link to continue reading about the power of a casual remark…
Shabbat Shalom,
Nigel Savage
Executive Director, Hazon
---
The Next Big Thing in Jewish Food Education
This article was originally posted on The Jew and the Carrot

By Daniel Infeld

In the past few years, the world of Jewish food education has grown by leaps and bounds. People around the world are thinking about the connections between Jewish tradition and contemporary food issues, and working hard to help their communities see these issues through a Jewish lens. Hazon stands at the forefront of these conversations. Over the past year, we have created a number of new educational materials, program guides, and source books that you can use to help make your community healthier and more sustainable.

Gan Nashim: Growing Strong Jewish Girls, generously supported by the Hadassah Foundation, was piloted in three camps this summer. Gan Nashim is a health and cooking program which draws upon Jewish tradition to address contemporary challenges of having and maintaining a healthy diet in today's world…

Home for Dinner, funded by the Covenant Foundation, brings families of 5th graders together to think about two of the most important aspects of daily life: family and food. It's designed to make participants think about how both family and food are woven together as bright thread in the fabric of Jewish life…

Continue Reading "The Next Big Thing in Jewish Food Education…"

Daniel Infeld is a Program Associate at Hazon responsible for educational resources and community programming. Daniel is a graduate of Clark University in Worcester, MA and has spent time working at Jewish summer camp and at Walt Disney World.
---
New York Ride This Weekend
Join us at the finish line at JTS!
The 2012 Hazon New York Ride is this weekend. Over 200 people are coming and have raised over $150,000 in support of healthier and more sustainable communities in the Jewish world and beyond.
All are invited to join us for closing ceremonies Monday, September 3rd at the Jewish Theological Seminary, 122nd Street and Broadway, on the Upper West Side of Manhattan. Line the street and cheer riders on as they climb 122nd Street and turn into the private JTS parking lot. We suggest you arrive at 3 PM. Riders are expected to arrive at JTS between 2 PM and 4 PM.
There is a parking garage across the street from JTS on Broadway, and on 122nd Street east of JTS. Predictions say the sun will be shining; consider taking a bike ride up to JTS!
It's not too late to sponsor a rider! Learn where the ride proceeds go.
---
What Are You Doing for Hanukkah?
Food Conference Registration Increases September 5th
Come to Isabella Freedman Jewish Retreat Center and the Hazon Food Conference –light in the darkness! Good food, jelly donuts from around the world, and more.
The Food Conference will take place over Shabbat Hanukkah, December 6th-9th. Space is extremely limited, and we will sell out. Register today!
---
Bike Israel from Top to Bottom
The Arava Institute Hazon Israel Ride
October 30 – November 6, 2012
Israel is beautiful this time of year and there's no better way to see it than by bike. There are routes for all levels of riders which are fully supported with rest stops, mechanics, and lead riders.
We offer the best overnights, food, and support of all the Israel bike tours!
---
Healthy and Sustainable Rosh Hashanah Resources
The holiday of Rosh Hashanah is the perfect time to open up to new possibilities and be grateful for everything you have. It's a time to let the blasts of the shofar awken you to the world around you. And more than anything, Rosh Hashanah offers the opportunity for tshuva(returning/repentance) – to return to our best, most full versions of ourselves. As we turn inward, we have the chance to ask, "what impact do our actions have on our friends and family, our communities, and on the earth?"
In celebration of this time of turning and returning, Hazon created a list of healthy, sustainable resources that will help you welcome Rosh Hashanah with mindfulness, sustainability, and joy.
---
Honor Your Loved Ones with a Tribute Gift
Help build a healthier and more sustainable community.
This Rosh Hashanah, consider making a tax-deductible donation to Hazon in honor of those in your life who care about creating healthier and more sustainable communities in the Jewish world and beyond.
We'll send a card to your loved one in honor of another individual or special event. Simply fill out the "honoree details" at the bottom of the donation form.
Support Hazon and Honor Someone Today
---
Living the Seasons:
Jewish Families in Nature
Developed for families with children ages 5-13 of all Jewish backgrounds and experiences, this new series allows families to connect to each other, theDenver Jewish community, and nature, through Jewish tradition and values. All families will receive a copy of Spirit in Nature: Teaching Judaism and Ecology on the Trail, by Matt Biers-Ariel, Deborah Newbrun, and Michal Fox Smart, which will be used as a guide for this series.
This four-part series begins September 23rd.
Part 1, September 23rd – Fall Harvest
Part 2, January 26th – Winter: Tu B'Shvat Havdalah
Part 3, May 5th – Spring: Garden Experience
Part 4, August 9th-August 11th – Summer: Family Camp
---
How Sweet it Is: Four-Part Series
Rosh Hashanah Program Series to Celebrate and Educate about Bees and Honey
Rosh Hashanah (the Jewish New Year) is approaching. Staff at Ekar Farmhas collaborated with Mizel Museum and Hazon in Colorado to provide a month-long series of programs to celebrate and educate the community about the importance of bees, beekeeping and the pleasures of honey. Highlights include a Beekeeping and Honey Panel, Beehive Build, Family Movie Night and Rabbinic Panel.
Part I: Salon Night: Bees and Honey 101
Colorodan and former Israeli bee keeper Norm Klapper will school us in the art and science of beekeeping, and Hazon in Colorado in the nuturitional, environmental, and purely pleasurable benefits of honey (and the bees that make it!). The evening will conclude with a honey tasting, courtsey of Ekar.
Thursday September 6th 5:30-7:30 PM Mizel Museum. $12 Members/$16 non-members
Upcoming Sessions: Community Hive Build, The Bee Movie: Family Film Screening, L'Daber al D'vash: A Talk on Honey