In This Email
Not receiving our newsletters? Join our mailing list.

Tisha B'Av: from Mourning to Celebration
By Nigel Savage, Executive Director, Hazon
Hazon's theme quote, from the late Reb Shlomo Carlebach z"l, is "The Torah is a commentary on the world, and the world is a commentary on the Torah." It's a quote that means, essentially, if Jewish tradition matters at all, it has to be in a relationship with the world in which we live. We see this easily in relationship to Passover – themes of slavery and freedom are on the one hand traditional ideas in Jewish liturgy, and also animate contemporary discussions about food justice or Darfur or women's rights. But it's more of a challenge to see this play out 365 days a year. In what ways is the Torah a commentary on our daily lives, and how does the world we live in shift our understanding of Jewish teachings and Jewish ideas?

We're now in the period of the Three Weeks, a period of mourning between the 17th of Tammuz and the 9th of Av. It's a part of the Jewish calendar that is only minimally observed in the non-Orthodox Jewish community today. At a basic and traditional level, the period is marked by restrictions on eating meat and drinking wine. Most Jews haven't heard of it, and for those who have it is often not a deeply meaningful part of the tradition. How could or should we make sense of it?

Continue Reading "From Mourning to Celebration…"

Join us in Chicago for Tisha B'Av at the Gan Project for "Feasting / Fasting" an afternoon of interactive learning about Jewish traditions around food, eating, fasting, celebrating. Learn more.
---
Join us for Shabbat at the New York Ride
Labor Day Weekend, August 31-September 3, 2012
The programming for this year's New York Ride Shabbat Retreat is better than ever. Come with your family and enjoy scavenger hunts and art projects for kids ages 0-4, night hikes, family Shabbat service and art projects with Teva Educators for kids ages 6-12, family housing, and early mealtimes for families. Learn more about bringing your family to the New York Ride.
For teens and adults, our Planning Team has put together a fun-filled and educational program. Get your hands on a project making challah and pickles, tour the Adamah farm and visit the goats and chickens, learn about the 2012 Farm Bill at our Keynote, and prepare for a holistic ride with cycling nutrition and mindbody health classes from experienced riders. Or just relax at the beautiful Isabella Freedman Jewish Retreat Center, where you can enjoy hiking trails, boating and swimming, and delicious farm-fresh food.
Shabbat registration is just $299 for adults and $165 for kids until August 5th. Register today!
Sign up to ride and support Hazon and sustainable food systems across the country and in Israel. The New York Ride is the perfect place to challenge yourself and see what you can do in a supportive friendly environment! Use the code "summer" for $75 off your registration for riders; expires August 1st, 2012.
Learn More About Shabbat at the New York Ride
---
Cross-USA Ride Appears on TV in Minnesota!
Riding across America for sustainable food
Cyclists on the Hazon Cross-USA Ride woke up earlier than usual to pay a visit to KARE 11, the NBC affiliate in the Twin Cities. They spoke with Sven Sundgaard about where they've been, why they're riding, and how they'll be spending their time in the cities.
Watch the Video!
---
Cross-USA Ride Week 6
From the Twin Cities to Madison
This week, the ride began in the Twin Cities and ends in Madison, WI for Shabbat. See the itinerary.
Next week, the riders make their way to Chicago for a slew of events on Jewish Farms. See the itinerary.
Highlights, live from the road:
| | | |
| --- | --- | --- |
| | | |
| Adi drinks milk straight from the source at Nelson's Dairy Farm in Altura, MN | Serene utilizes the bike rail system that the Minneapolis/St.Paul area built for cyclists crossing the Mississippi river | Riders officially reach their halfway point at the Mississippi River |
| | | |
| Erik Esse of the Land Stewardship Project explains the impact of the Finnish Civil War on the cooperative economy of the twin cities. | Sunrise over the Mississippi River from Hager City, WI | A 50 foot viking statue in Alexandria, MN |
See more photos and video from the ride as it happens.
[blue_message]
Day 38 of 68
12 Riders and 3 Staff currently on the road.
$101,388 Raised to Date
Support a Rider | Make a General Donation
[/blue_message]
Join the Ride for a Segment
It's not too late to sign up for parts of the ride!
3 weeks: Chicago to Washington DC • 2 weeks: Chicago to Pittsburgh • 1 week: Pittsburgh to Washington DC
---
Join Us in Chicago, July 26th-29th
Come learn and celebrate at these great free community events in Chicago as the Hazon Cross-USA Ride bikes through!
7/26 – Fermentation Frolic at Pushing the Envelope Farm
7/27 – "Cycling for Change / Eating for Change" with Nigel Savage at Mishkan Chicago
7/27 – Wine & Cheese with the Cross-USA Riders at Temple Sholom
7/28 – "Shabbat Hazon: Visions of Destruction / Visions of Hope" at Anshe Emet
7/29 – Community Harvest at KAM/Isaiah Israel Garden
7/29 – FEASTING / FASTING at the Gan Project
Join the Hazon Cross-USA ride in Chicago! 2 weeks from Chicago to Pittsburgh or 3 weeks from Chicago to Washington, DC.
Thanks to our friends at the Chainlink for spreading the word about our programs in Chicago. Chicagoans can check out the Chainlink's calendar of bike events, form riding groups, swap gear, find advice, and learn about sustainable transit campaigns at thechainlink.org.
[yellow_message]
Double your impact. Donate now.
One Chicago-based Hazon donor is matching donations to Hazon up to $12,500. The match applies to any amount above and beyond your gift from last year. For first-time donors, your entire gift will be matched.
[/yellow_message]
---
Hazon Happy Hour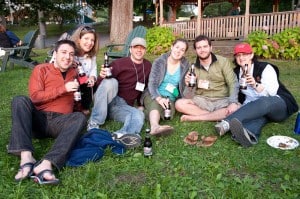 Join Hazon for Happy Hour at The Crooked Knife. Connect with old friends and meet new ones, it will be a highlight of the summer!
July 24th from 5:30 PM to 7:30 PM
232 West 14th St, New York, NY
Whether you're a bike ride alumnus or just hearing about Hazon for the first time, we hope you will join us at this fantastic summer event. Prizes will be given away in a FREE raffle and the first 20 drinks are on us. Don't miss out.
We can't wait to see you there! Join the event on Facebook.
---
Local Events and Features
from our Partners and Friends
---
Register for Camp Ekar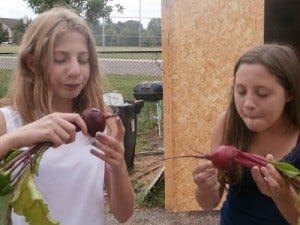 This summer, Ekar will host their first summer camp program for children ages 7-11.
Camp Ekar, held August 6th-9th, invites Denver youth to participate in a week of exciting educational activities including farm work and gardening, environmental education, Jewish learning, music, stories, games, farm-to-table snack preparation, science, and arts & crafts.
---
Ekar Farm's Tour De Farm 2012
Sunday, August 5th, 8 AM – 1 PM
Ekar Farm and Community Gardens, a communal urban farm inspired by Jewish values, invites everyone in the Denver Area to this year's Tour De Farm. Join others on a 16-mile ride from Ekar Farm to Delaney Farm and back along the Highline Canal Bike Path. Stops along the ride include Sprout City Farm at Denver Green School for a tour, Delaney Farm for a tour and fresh peaches, and back to Ekar for grilled Colorad Olathe corn, and live bluegrass music!
Full Family scholarships available to first 25 registered families. Enter Code: FamilyScholarship
Hey teens, do the ride for free! Just register for the Tour de Farm through Hazon in Colorado and join other teen riders for a morning of delicious fun!
---
Matt Biers-Ariel Tours Bay Area REI Stores
Hazon California Ride Keynote Speaker Shares His Cycling Story
Join Matt Biers-Ariel, author of The Bar Mitzvah and The Beast: One Family's Cross-Country Ride of Passage by Bike, as he tours Bay Area REI stores to give a humorous and poignant talk and slide show about the book.The book's genesis came from his son's refusal to have a Bar Mitzvah. Instead, the 13-year-old rode a bike across America to deliver a petition to Congress on global warming. Mountaineers Press recently published the book which has garnered excellent reviews from both mainstream and Jewish press.
Matt will be at the Saratoga REI on July 31st, Santa Rosa REI on August 7th, San Francisco REI on August 8th, and the Berkeley REI on August 9th. All events begin at 7:00 PM.