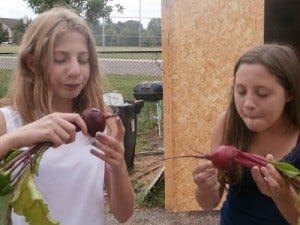 This summer, Ekar will host their first summer camp program for children ages 7-11.
Camp Ekar, held August 6th-9th, invites Denver youth to participate in a week of exciting educational activities including farm work and gardening, environmental education, Jewish learning, music, stories, games, farm-to-table snack preparation, science, and arts & crafts.
Campers will tend, water, harvest and plant fall crops while helping to harvest Ekar's twice-weekly donation to the Jewish Family Service Weinberg Food Pantry. Campers will also learn about bees at our two honeybee hives, explore the significance of top-soil and compost, practice and delve into Jewish values related to charity and our relationship to the earth and have fun with art projects, solar ovens, games and stories.
"Camp Ekar is going to be a fun experience that enriches kids' connections to Judaism, the Earth and their community," says Sam Krentzman, Ekar's Director of Operations and Education.
This half-day camp will provide an immersive experience at the intersection of service learning, environmental education, philanthropy and urban farming, all deeply rooted in an explicitly Jewish context of tzedekah (charity, acts of righteousness), tuv haaretz (care for the earth), tikkun olam (repairing the world), baal tashchit (not wasting), l'ovda U'l'shomra (to work and keep the land), and Shomrei Adamah (Guardian of the Earth).
"Like Ekar itself, the activities and experiences had at Camp Ekar will be designed for take-home, to be shared and seed new habits for the entire family," says Aaron Ney, Executive Director of Ekar.
Camp Ekar was made possible in part by a grant from the local Hazon Steering Committee.
Contact Sam@ekarfarm.org for information or registration.