Representatives from the Jewish Farm Bill Working Group, of which Hazon is a member, ascended the capitol last Thursday to present over 18,000 signatures received on the Jewish Petition for a Just Farm Bill. With them, they carried nine giant jars containing about 18,000 seeds to represent each of the signatories.
American Jewish World Service (AJWS) has posted photos from the event! Take a look.
Ruth Messinger, Executive Director of AJWS and Hazon Board member, received the following thank you note from the White House. The note thanks Jewish Americans for voicing their support for "feeding their neighbors, whether around the block or around the world" and to those "working to fight hunger around the globe."  Click the image to view a larger version: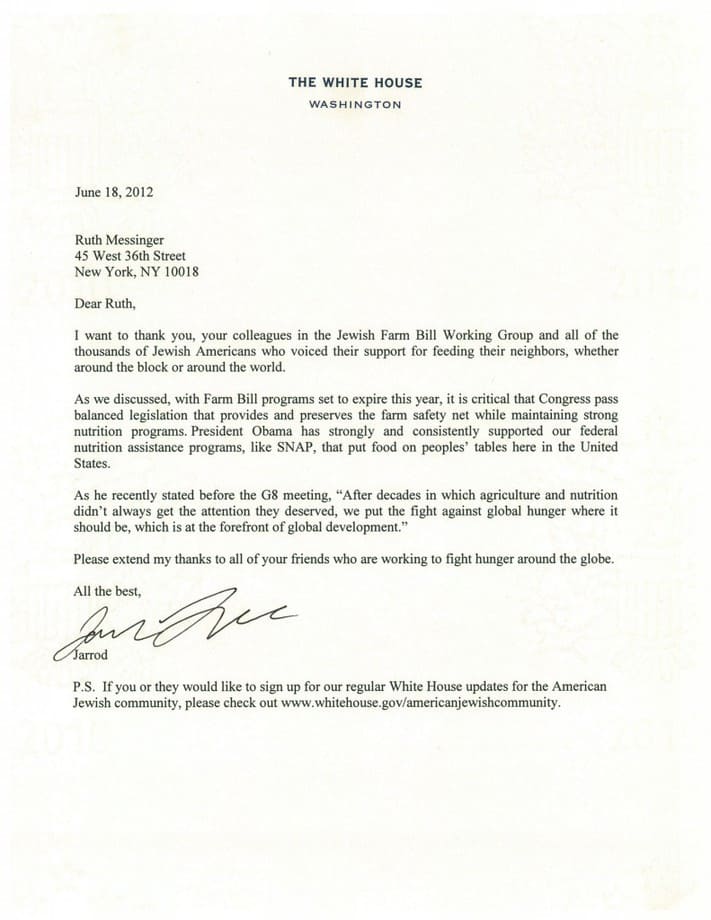 Learn more about the visit to Washington.
Hazon is collecting signatures to let President Obama and the members of Congress know that we support healthy and sustainable food systems. Cyclists on the Hazon Cross-USA Ride will deliver the full list of signatories to the USDA at our closing ceremony in Washington. Whether the Farm Bill passes this week, in 10 weeks when riders arrive in DC, or next year, it's important that you think about these issues and add your name.
Further reading:
[ahs_callposts category="farm-bill" numberposts="4″ content_style="title" order="DESC" separator="list"]