Dear Hakhel Communities,
It's hard to believe that it was a month ago that Hakhel community leaders gathered together in Israel for our Trip & Summit! We toured Israeli intentional communities for in-depth learning; and gathered at the Summit to learn and dialogue together, celebrate Shabbat and discuss Israel-Diaspora relations, and build connections with one another. Following these experiences, we took practical tools and insights about community-building back to our home communities. Some of these are summarized in this newsletter for the benefit of all, including those who weren't able to join us in Israel.
The 5 Pillars of Hakhel which were addressed during the Summit and which will continue to be Hakhel's focus areas are:
Community Development and Building
Leadership Development
Jewish Life and Literacy
Israel Connection
JOFEE (Jewish Outdoor, Food, Farming & Environmental Experiences)
According to the exit survey following the Summit, the overall experience was quite popular, with a rating of 5/5 by 63% of respondents and 4/5 by 30%. 53% responded 5/5 that they will utilize what they gained, and 36% responded 4/5. In other feedback, we heard that we shared very relevant tools and practices to take back; that it was great to have real life examples shared by communities; and that many connections were created between communities.
We are now considering the suggestions for improvement that we heard from the survey and other conversations. Regarding the trip, we heard that we should create more joint experiences with the communities we visit that promote the mutual exchange of knowledge, in addition to hearing from their representatives. Regarding the conference, suggestions for improvement included slowing down the action-packed schedule, with more time to process, and that there is a demand for more subnetwork time and more one-on-one time with other communities.
We look forward to the next time we are able to join our network together!
Until then, yours truly,
Deborah Fishman, Hakhel Network Manager
Taken during the Hakhel Israel Trip 2022. Photo courtesy of Ruti Plistiev (Instagram: @ruti_pv)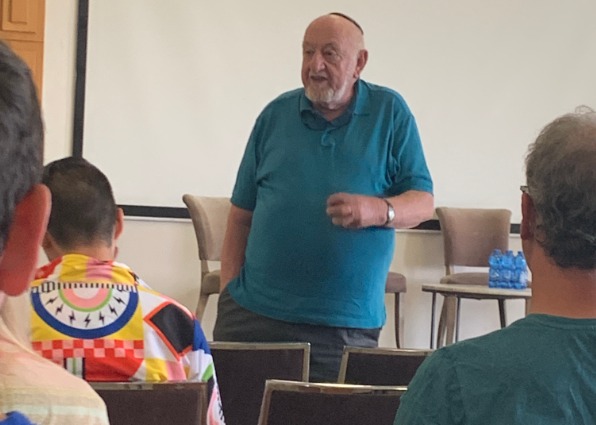 At the Summit, we were privileged to be addressed by Avraham Infeld, President Emeritus of Hillel International, an education pioneer and expert in Jewish peoplehood.
Watch a Talk on "The Five-Legged Table" by Avraham Infeld Here.
Dr. Sara Shadmi taught us important principles of community-building, including what is a community, 10 community-building principles, and how to create a culture of belonging.
View Dr. Shadmi's presentation ("Our Groups as Strong Communities") and other presentations from the Summit here.
We heard two outstanding case studies of how Hakhel community leaders have created successful events in their communities – from Samuel Botbol of LAZOS Costa Rica and Sarah Bendetsky from Subbotnick in Melbourne, Australia.
Here is a document with principles for community-building events that you can apply.
Ukraine Update
The war in Ukraine is not over yet, however its form has definitely changed.
After millions of refugees left the country the flow of refugees dwindled, and we stopped sending delegations to the borders. However, we continue our work inside Ukraine, delivering supplies and building communities.
Almost four months into this crisis, we think now is a good time to summarize the first phase. Click here to read our full, yet brief, activity report:
Together, between late February 2022 and late June 2022, we have been able to:
Send over 20 delegations with over 250 volunteers. These delegations supplied medical, humanitarian, educational and logistical/technological support in Poland, Moldova, Hungary and Romania.
Deliver over 10 tons of food and medication, using our network of communities and over 100 volunteers.
Absorb hundreds of refugees in Melbourne, Australia, through Hakhel's Russian speaking community in the city.
Deliver 60 laptops to refugees, in partnership with AirBnb, so they can continue studying and working while away from home.
Provide additional support for refugee absorption in Berlin, Amsterdam and other places, as well as to people who made Aliyah to Israel.
Build a leadership group of young adults who had to leave Ukraine
Click here for the full report: https://tinyurl.com/muuvcw58
From the Desk of Hakhel Advisor Craig Oshkello
Hakhel's parent organization, Hazon, has been leading the way towards taking action in the face of the existential threats associated with climate change. What was once called global warming, thereafter global climate change, more recently a global climate crisis, has undeniably reached the level of a global climate emergency. Jakir Manela, Hazon's new CEO, attended the 2021 United Nations last global climate summit, dubbed COP26, "conference of the parties," in Glasgow, Scotland, where this message was consistent and resoundingly clear. It was impressed upon Jakir, and the other conference attendees, that we need to understand what's at stake, organize in unprecedented ways, and take unified action to have any hope for our common future. In his keynote address to this spring's Hakhel Israel Summit, Jakir framed his experiences in terms of our shared Jewish context.
This is the year 5782 in the Hebrew calendar. It is a shmita year and this means many things to the myriad of Jewish cultures in Israel and throughout the Diaspora. With regards to the global climate emergency, it is a time for us to reflect on the past six years and how we have gone about our life and its relationship to the social and ecological web of life in our homes, communities and bioregions. It is a time to learn more about the role of shmita in preparing for cultural disruption and the promise of what a jubilee might mean for the reinvention of just and holistic models of property ownership, community care and environmental stewardship. The next few months offer us the time to integrate our learning and reflection into a plan for action for the next six years.
Jakir will be returning to the UN Global Climate Summit in November of 2022, in the month of Cheshvan, in Sharm el Sheik, Egypt on the Sinai peninsula. It is our hope that we can activate our global Jewish community to bring a unified, inclusive and illuminating perspective to this conference. Our Hakhel communities network represents over 40 countries across the globe. It is my hope that we can organize both within our communities at home, as well as united as a network of communities, to articulate our commitment to climate action. I hope we are able to let Jakir, and other global leaders know that we are organized, we care and are willing to work together for the change we envision.
As the Hakhel sustainability coordinator, I will be working with you in your efforts to create this change in your community and in the world. In the coming weeks I will lay out a conceptual framework for organizing this effort. Please keep in touch with any questions you may have and get ready to inspire your community members to take on leadership roles in our efforts to manifest our collective vision for the future.
You may contact Craig at craig@craigoshkello.com.
Arts & Culture @ Hakhel
Written Collaboratively: In the last Summit session, when everyone spoke within their projects/ countries/ communities, the Arts & Culture group came up with an exciting idea for continued collaborations that extends into all of the Hakhel communities. We would like to include ALL of you who are active leaders of Hakhel communities (including relevant leaders in your communities who were not at the trip/Summit). We are creating a working group and everyone is invited.
The idea is to run a "Hakhel Creative Gatherings" in South Africa in Nov/ Dec. The goal of the gathering is to unearth our individual and collective creativity and to use that energy to advance our collaborative work and to bring Arts & Culture to life in our communities.
If YOU are Arts & Culture inclined—special shoutout to the dancers, writers, actors, animators, singers, musicians, visual artists, photographers, theatre kids, poets… PLEASE JOIN our WhatsApp group. We are calling you!!! Anyone who is interested can join the group. Everyone will have a voice.
From Portland to Argentina, South Africa to France, Israel to Mexico, Hungary to Costa Rica…. Let us gather.
Love the Arts and Culture folks 😊
Update from the Sister Community Beit Midrash
Our latest conference in May served as a perfect opportunity to launch the Sister Community Beit Midrash, a global initiative which serves as a platform for encounters between members of intentional communities from all over the world. The program participants study texts together, meet inspiring Jewish leaders, and engage in conversations that highlight both our differences and our communalities. The hope is that this meaningful encounter will lead to future collaborations between communities in different countries, and help bridge the growing gap between World Jewry and Israeli Jews.
During the Hakhel conference, we hosted more than a dozen of our Israeli counterparts who are members of the Makom regional Beit Midrash programs. This in-person event was followed by our first online Beit Midrash session, where we explored some fundamental differences in how Jews in Israel and around the world define "being Jewish". We discussed how our communities relate to this question, and how we create access points for our members to "plug in" to their Jewishness. The session was attended by participants from 5 different continents and demonstrated both Hakhel's diversity, and its commitment to Jewish Peoplehood around the world.
The next three online sessions will be dedicated to the three pillars of Hakhel: 1) Social Action (Tikkun Olam), 2) Jewish Life and 3) Israel; how they can serve as building blocks to shape our community's identity, and how they can serve as common denominators for our network that will allow us to form partnerships with other communities around the Jewish world. These sessions will include exciting and inspiring guest speakers. We will have another opportunity to meet in person as part of the Z3 Conference in Palo Alto in December.
If you are interested in joining the cohort, please fill out the following short form: https://forms.gle/B2GroFJLVuDLzTWQA and reach out to Moshe Samuels at: moshe.samuels@hazon.org
Bnai Mitzvah Program
We are initiating an innovative enrichment project for boys and girls, for a significant bar and bat mitzvah process.
The goal of the project is to upgrade the bar and bat mitzvah experience, to deepen the connection between the event and the child's Jewish identity.
We have an interactive idea for children aged 10-13 and we are currently in the development and accuracy stage.
We are looking for parents of boys and girls who are in the period before the bat/bar mitzvah and children who can share with us a bit about their experience, answer some questions and test the product.
We will be happy to tell you more about it!
Noa Kohai 0586465656
Naomi Frumin 0506761412