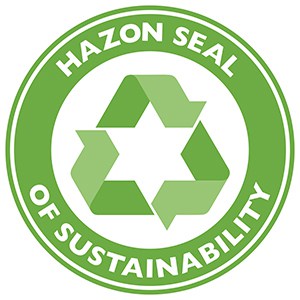 The Hazon Seal of Sustainability cohort in Chicago held an in-person training day on June 30th, 2019 – and boy it was a good one! 
Shout out to our awesome cohort members who made this a priority and came to learn: Skokie Valley Agudath Jacob, Spertus Institute for Jewish Learning and Leadership, Beit Yichud, Northwestern Hillel, and SketchPad!
Curated by our very own local coordinator Asia Sageman, the training included a series of three talks, a DIY upcycle activity using old Hazon Ride T-shirts, and a vegetarian-vegan lunch. Jeff Henderson from the Institute for Sustainability and Energy at Northwestern University (ISEN) gave a talk on sustainability policy at large institutions. Participants also heard from Brad Sageman, Professor of Earth and Planetary Sciences, on the science of climate change. Ilana Braverman from Jewish Initiative for Animals (JIFA) also taught the Chicago cohort about how to create a sustainable food policy at their respective organizations. Talks were recorded and will be added to our resource bank, to be shared with the Hazon Seal network. Want to join our awesome network of Jewish institutions and communities dedicated to respond to the environmental crisis? Learn about the Hazon seal of Sustainability program here: Hazon.org/seal
Big thanks to reps from The Institute for Sustainability and Energy at Northwestern – ISEN and Jewish Initiative for Animals for their inspiring talks. We also thank Al from our cohort for hosting us at Beit Yichud, and the Jewish United Fund of Chicago – JUF for making it all possible with its generous support.
As you can see, it's challenging to avoid plastics when catering and not preparing the food ourselves. Our lunch, however, was mostly vegetarian/plant-based, no food was wasted, and all plastic-looking items were either composted or recycled. This is a journey, and we plan to work as a cohort to move the needle on sustainable packaging and increasing plant based options among Chicagoland Kosher food providers. Want to help? Contact us at seal.chicago@hazon.org
 Check out the sustainable DIY project that we did as a group! This activity is a great idea for reusing a beloved shirt that you outgrew or is no longer in good-enough shape, while providing a perfect replacement for terrible plastic grocery bags!
Also, our Chicago coordinator Asia Sageman made cool wax food wrapping cloths and gifted them to our hard-working environmentalists (thank you Asia!). This is a great alternative to plastic food wraps, check out these bees-wax and bee-less options in this online DIY guide! Here's a great website for buying your own.
This cohort of sites participating in the Hazon Seal of Sustainability program is made possible thanks to the generous support of the Jewish United Fund.