June 1-3, 2012
Camp Shomria, Liberty, NY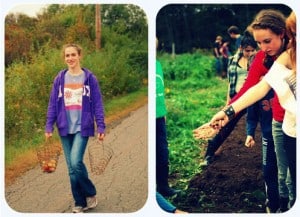 Camp Shomria is the flagship program of Hashomer Hatzair USA. Through this program they teach the values of secular humanistic Judaism, as well as social justice and equality. Camp Shomria is place of community, where fun is to be had and life long friendships are made. Want to get a taste of what Camp Shomria is all about?
Join Camp Shomria for a  weekend in the Catskills, where new people and new experiences await.  In a celebration of Lag B'Omer, participants will begin working on organic garden for the summer season.  In addition to working with goats and chickens, campers will gain hands on experience in the organic garden planting new seeds and tending to those already growing. It is the hope of Camp Shomria that campers will come to understand the role and importance of nutrition in our lives. Participants will also be celebrating the Jewish holiday of Lag B'Omer. They will learn about it, specifically by gathering around a bonfire together, a space used for campers' self expression through song, poetry and more. The weekend will end with an  Israeli Day Parade.  Come check it out!
Register for Lag B'Omer weekend, June 1st-3rd, today for just $100.
For more information, call their office at (212) 627-2830, or email them at info@campshomria.org.