Nov 4, 2014 - Nov 11, 2014
Jerusalem to Eilat
Enjoy five glorious days of riding on the 2014 Israel Ride. The Israel Ride includes routes for beginner, intermediate, and advanced cyclists. All routes are fully supported with rest stops, mechanics, and lead riders. We offer the best overnights, food, and support of all the Israel bike tours! Options available for two-day riders, all-day touring, or half-riding, half-touring participation.
Israel Ride in your Community
Mar 16, 2014
Samberg Home San Francisco, CA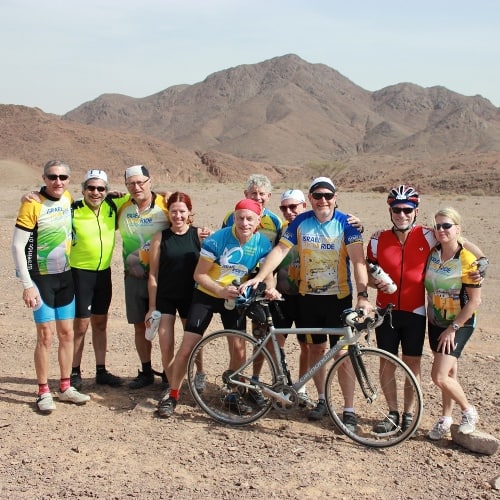 Mar 20, 2014
Home of Lynne Tapper West Hartford, CT
Mar 30, 2014
College Park Bicycles College Park, MD
Mar 30, 2014
Hosted by Sherry Winston Beverly Hills, CA
Apr 1, 2014
Marcus Home Englewood, CO
Apr 1, 2014
Reckess Home Poughkeepsie, NY
Apr 8, 2014
Home of Nigel Savage New York, NY
Apr 9, 2014
Race Pace Bicycles Owings Mills, MD
Israel Rider Blog
Special Recent Posts
January 21st, 2014
Lori Weinreich, first-time Israel Rider from Poughkeepsie, was featured in a local Westchester paper discussing the Arava Institute for Environmental Studies and the Israel Ride.  By Kenneth Freeman, The Mahopac News While we read about the repeated formal political Middle East peace[...]
November 14th, 2013
Elisa Deener-Agus, first-time Israel Rider from the Boston area, summed her experiences to her donors in the letter below. Thank You! To my amazing Israel Hazon Ride supporters: It was an experience of a lifetime. Five days of riding from Jerusalem to Eilat,[...]
November 12th, 2013
Although the Ride already a week ago, more riders are sending in their final thoughts and reflections. The following post is by Mel Simon, cross-posted from Mel's Blog that he kept throughout the ride. The Ride To Remember The memories and friendships created[...]
Future Israel Ride Dates:
Oct 27 – Nov 3, 2015   |   Sep 20 – Sep 27, 2016   |   Oct 31 – Nov 7, 2017
Registration opens during the previous Ride.