The information I am learning and the programming the Jewish Greening Fellowship inspires has had a greater impact on my community and my personal life than any other kind of management oriented training I have had before. It has inspired me to action, and to bring others to action, and it has made me a better citizen of the Earth.
Sign up for the JGF newsletter
Overview
Click on the video to meet Jewish Greening Fellows and learn what your community can gain from greening!
---
Climate change presents one of the greatest challenges to Hazon's vision of creating a healthy and sustainable future.
As individuals what each of us can do to address climate change is a drop in the bucket. But as communities working together we can fill the bucket.
Since 2009, more than 55 JCCs, camps, schools, congregations, and social service organizations participating in the Jewish Greening Fellowship have cut their energy use,  reduced waste and pollution in operations, and engaged their constituents in Jewish environmental education.
With the generous support of the Jewish Community Development Task Force of the Commission on Jewish Identity and Renewal of UJA-Federation of New York, Jewish Greening Fellows at these institutions received intensive training in environmental change leadership and their organizations received funding to achieve their greening goals.
Going green enriches Jewish learning and living, builds community, and strengthens operations. Your community can do it too. We invite you to learn from our experience and start filling up the bucket.
FAQs
Frequently Asked Questions
JGF Network
The following organizations have made a commitment to environmental change leadership and Jewish values of stewardship by participating in the Jewish Greening Fellowship:
Staff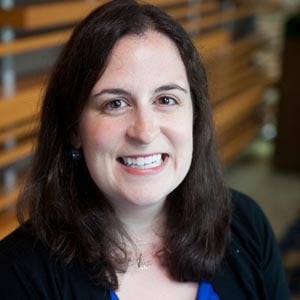 Meredith Levick
Director of Community Engagement
Meredith Levick is the Director of Community Engagement at Hazon. She values Jewish communal work as an opportunity to weave together her interests in building transformational learning experiences for a variety of populations and strengthening the collective Jewish community via innovation, adaptability, and thoughtful communication. Meredith received her Master's degree in Jewish education with a focus on experiential education from The Jewish Theological Seminary. Additionally, she completed a Master's concentration in Israel education via the iCenter. She holds a Bachelor of Arts degree in English Literature and Spanish from Northwestern University in Evanston, Illinois. Meredith lives in New York City with her husband, Danny, a fellow Jewish communal professional.
New York, NY
| 212.644.2332 x360
| meredith.levick@hazon.org