Cohort Process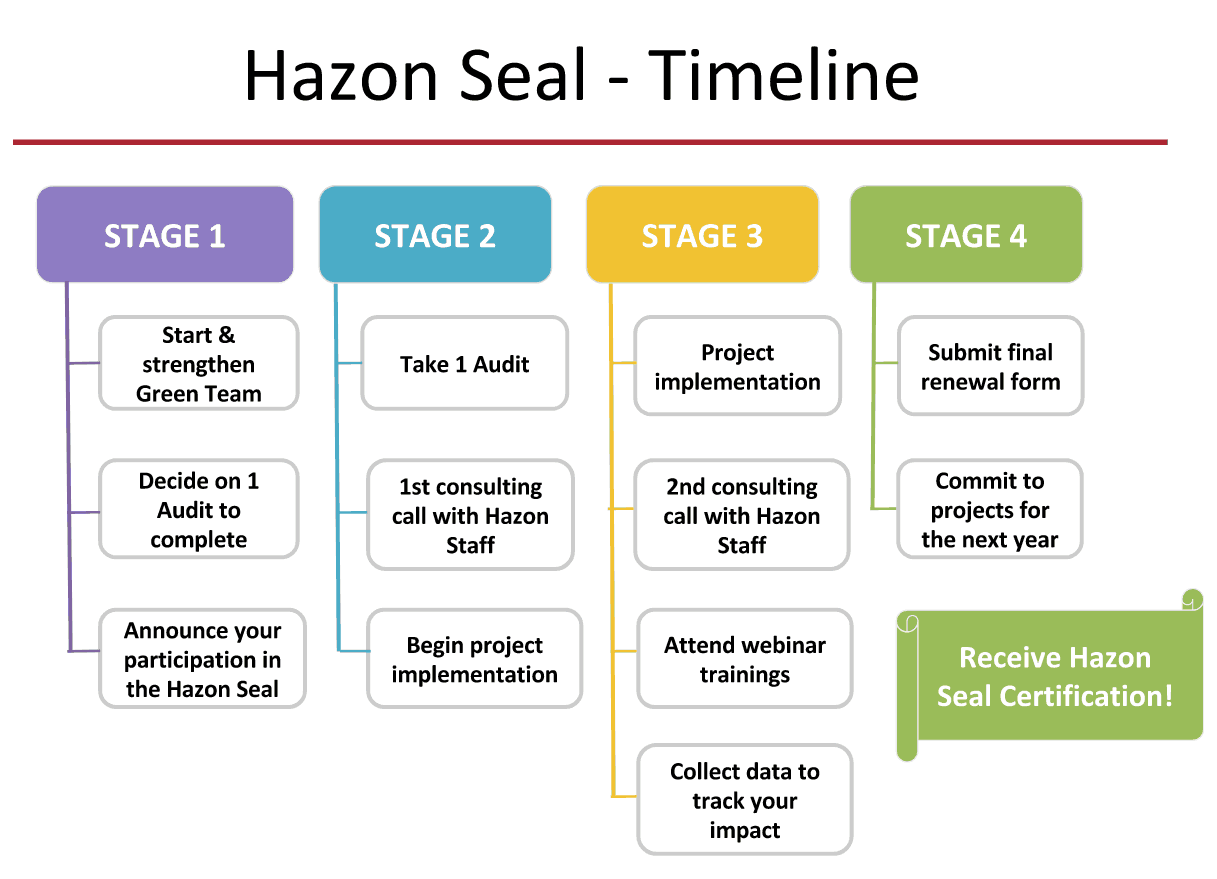 Detailed Process
Pay a Sliding Scale Fee to Hazon to Offset Program Cost
Form a Green Team  

– Build a green team, or strengthen an existing team. The green team should include one specific Hazon Seal point person who is ideally a staff member

.

Choose an Audit

– The green team and/or leadership choose which of the three audits (food, energy, or ecosystems) will be most helpful to the institution, based on its needs and goals. Of course, you may take two or three, but you are only required to take one.

Take an Audit

 – The audit benchmarks the institution's current performance and highlights its stronger and weaker areas, while providing ideas and inspiration for new sustainability projects. Each audit has 50-75 potential activities/projects.

Consulting Calls with Hazon staff

– The organization participates in at least two phone calls with Hazon staff t

o review progress and receive support and resources.

Publicize your participation

– An executive leader (rabbi, ED, principal, etc) announces participation in the Hazon Seal to members, the board, and other constituencies. Organization publicizes its participation and sustainability work, including posting the Hazon Seal logo, to community via social media, website, and/or newsletter. Organization commits to writing 1-2 blog posts for publication on Hazon website and beyond.

Implement three substantive sustainability projects

– The green team, in conjunction with institutional leaders, commits to and executes at least three substantive sustainability projects

.

Cohort training webinars

– Join greening support and training webinars with other Seal institutions to learn about a variety of sustainability topics.

Track impact

– Collect statistics on project impact, such as number of people affected, amount of food composted, etc. Document your work through photos and video

.

Renewal and Evaluation  

– Submit an end-of-year progress report (with photos) to confirm that you have successfully completed your projects, or made substantive progress in executing them. Your organization commits to three sustainability projects for the following year, and has the opportunity (strongly encouraged) to

continue participating in the Hazon Seal of Sustainability.
Frequently Asked Questions