Our current president is on record opposing a range of environmental protections that many of us see as vital to this country and world.
Since the days of the Talmud, Jewish communities have inserted prayers into our Shabbat morning services for the welfare of the government – that it be just; that it treat minorities well (Jews amongst them); that it ensure the peace within the nation. We share those prayers – now more than ever.
But we're a generation that doesn't just believe in prayer by itself. Since 2004, Hazon — and the JOFEE space — has grown quite strongly. Hazon invites you to make your voices heard.
Open Letter in Support of the Paris Accord
To leaders within the American Jewish Community:
Dear Friends,
We are Jews, organizational leaders and rabbis, teachers and students who work passionately towards a bright American Jewish future.
We are also human beings who care deeply about all life.
And from this integrated Jewish and universal perspective, we are shocked by the US government's decision to withdraw from the Paris Climate Accord.
This decision stands against common sense. Across the whole world, governments, corporations, non- profits, religious communities, and families and individuals are doing the hard work of slowly trying to wean ourselves from our own unhelpful behaviors and our fossil-fuel based economy, and toward a brighter future that better protects our planet and all its inhabitants.
The Climate Accord is a voluntary framework, signed by every country in the world except for Syria and Nicaragua. The signing was one of the largest gatherings of world leaders in human history. The withdrawal of the United States is tragic, and deeply problematic. As Jews living in a free society, we know the power of a shared framework which, even without legislative sanction, has a huge influence on the world. That's what the Torah is; that's why the Jewish people for twenty centuries have been on the right side of critical issues; and that's why it is so critical that the Jewish community now stand up not merely to advocate for the Paris Climate Accord, but also to help implement it.
As Jews, we are also proud of our long history of economic innovation and entrepreneurship, so we are baffled by the false premise that withdrawing from the Paris Accords somehow prioritizes American jobs; on the contrary, our 21st century economy is driven by new energy technologies and our solar sector already far surpasses coal. Even so, we empathize with workers in the fossil fuel industry fearful of the changing energy economy, and strongly support business innovation and public policy to assist these workers during the transition to clean energy. Our nation's economic interests are far better served by investments in this new energy economy than by the denial of climate science. Many experts agree that withdrawing from the Accord will weaken our economy – and threaten vulnerable populations both here at home and across the world.
In the face of this unfortunate decision, we applaud the leadership of mayors, governors, and businesses across the country who are taking responsibility for working towards the goals of the Paris Climate Accord. The US federal government is a vital actor when it comes to fighting climate change, but there is much that we can do ourselves, as institutions and individuals. Our children's future demands that we do all we can.
Today, therefore, we call upon all Jewish federations, JCCs, synagogues, camps, day-schools, Jewish organizations, leaders, businesses, and community members to identify ways in which we, the organized and powerful American Jewish community, can and must respond to this climate crisis. There could not be more urgency at this moment, and our moral courage and bold leadership is needed on a national and global scale.
Here are some of the things that you can do:
Commit yourself and your organization to the Paris goals, as Hazon, Pearlstone and a growing number of Jewish organizations have done. Amongst other things, that means reducing your carbon emissions by about a quarter (26 to 28%) over the next seven years.
Make sure your institution has a Green Team, to develop a multi-year process to work on sustainability. More than three dozen organizations have so far joined the Hazon Seal of Sustainability, and we invite you and your institution to join the Seal.
Encourage your people – members, participants, staff, kids – to take some steps to live more lightly – ride your bike, or eat less meat, or eat more local produce. And if you can switch to solar or wind power, do so.
We are committed to working with interested parties within and beyond the Jewish community on this critical issue that will define our generation's legacy.
In the Mishna, Hillel teaches us, "When no one else is acting, act." We stand together, united in our commitment to a sustainable future.
Judith Belasco, Nigel Savage (Hazon)
Jakir Manela, Sara Shalva (Pearlstone)
Adam Berman (Urban Adamah)
Zelig Golden, Nancy Shaw (Wilderness Torah)
Robert Bank (American Jewish World Service)
Rabbi Steven Wernick, Margo Gold (The United Synagogue of Conservative Judaism)
Charlene Seidle, Jim Farley (Leichtag Foundation)
Aaron Dorfman (Lippman Kanfer Foundation for Living Torah)
Sharon Alpert (The Nathan Cummings Foundation)
Adam Simon (Aviv Foundation)
Stefanie Rhodes (Slingshot Fund)
Cheryl Cook (Avodah)
Reuben D. Rotman (Network of Jewish Human Service Agencies)
Judith Levey (Jewish Council on Urban Affairs)
Rabbi Fred Scherlinder Dobb (Coalition on the Environment and Jewish Life)
Jeremy Burton, Alex Goldstein, Charles Koplik, Samuel Gechter, Howard Brick (Jewish Community Relations Council of Greater Boston)
Elana Kahn (Jewish Community Relations Council, Milwaukee Jewish Federation)
Marc N. Blattner (Jewish Federation of Greater Portland)
Rabbi Aaron Panken (Hebrew Union College-Jewish Institute of Religion)
Rabbi Asher Lopatin (Yeshivat Chovevei Torah)
Rabbi Jeffrey S. Fox (Yeshivat Maharat)
Rabbi Yitz Greenberg (Jewish Life Network, retired)
Rabbi Sharon Cohen Anisfeld, Rabbi Arthur Green (Hebrew College)
Rabbi Deborah Waxman (Reconstructionist Rabbinical College/Jewish Reconstructionist Communities)
Rabbi Elyse Wechterman (Reconstructionist Rabbinical Association)
Ruth Messinger (Hazon Board Member)
Rabbi David Ingber (Romemu, Manhattan, NY)
Rabbi Sid Schwarz (Kenissa: Communities of Meaning Network)
Rabbi Arthur Waskow, Ph.D. (The Shalom Center)
Rabbi Ari Hart, Rabbi Dr. Shmuly Yanklowitz, Rabbi Mike Moskowitz (Uri L'Tzedek: Orthodox Social Justice)
Daron "Farmer D" Joffe (Coastal Roots Farm)
Rabbi Sharon Brous, Melissa Balaban (IKAR)
Rabbi Amichai Lau-Lavie (Lab/Shul)
Rabbi Katy Allen, Fred Davis, Andy Oram (Jewish Climate Action Network)
Idit Klein (Keshet)
Yoni Stadlin (Eden Village Camp)
Rabbi Roly Matalon, Rabbi Felicia L. Sol, Colin A. Weil (B'nai Jeshurun-NYC)
Josh Hanft (Ansche Chesed, Manhattan, NY)
Mirele Goldsmith, Adriane Leveen, Wendy Seligson (Jewish Climate Action Network-NYC)
Rabbi Joshua Ratner (JLens)
Ann Toback (Workmen's Circle)
Sarah Chandler, Melissa Hoffman (Jewish Initiative for Animals)
Rabbi Yosef Kanefsky (B'nai David – Judea Congregation)
Ora Sheinson (Canfei Nesharim)
Rabbi Jeremy Gerber (Congregation Ohev Shalom, Wallingford, PA)
Jessica Haller, Hody Nemes (Hazon Seal of Sustainability Advisory Board)
Rabbi Fred Greene, Rabbi Deborah Ruth Bronstein (Congregation Har HaShem, Boulder, CO)
Rabbi Ellen Lippmann, Franny Silverman (Kolot Chayeinu / Voices of Our Lives, Brooklyn, NY)
Sabrina Malach (Shoresh)
Trisha & Fred Margulies (Pushing the Envelope Farm)
Joelle Novey (Interfaith Power & Light, DC.MD.NoVA)
Rabbi Glenn Jacob (New York Interfaith Power & Light)
Rabbi Moti Rieber (Kansas Interfaith Action)
Chaim Seidler-Feller (UCLA Hillel)
Adrienne Krone (Allegheny College Hillel)
Rabbi David Seidenberg (neohasid.org)
David Krantz (Aytzim: Ecological Judaism)
Nati Passow (Jewish Farm School)
Yosef Gillers (GrowTorah)
Devorah Brous (Netiya)
Rabbi Linda Motzkin & Rabbi Jonathan Rubenstein (Temple Sinai, Saratoga Springs, NY)
Rabbi Jill Jacobs (T'ruah)
Chana Finman (Jewish Ferndale)
Rabbi Ruhi Sophia Rubenstein (Temple Beth Israel, Eugene, OR)
Jhena Vigrass (Repair the World NYC)
Rabbi David Kalb (Jewish Learning Center of New York)
Rabbi David Shneyer (Am Kolel Jewish Renewal Center of Greater Washington)
Spiritual Leader Barbara J. Cohen (Congregation Ahavath Sholom, Great Barrington, MA)
Ilana Schatz (Fair Trade Judaica)
Amy Randel (Bay Area Jewish Community)
Rabbi Yitzchok Adler (Beth David Synagogue, West Hartford, CT)
Rabbi Paula Jayne Winnig (Bureau of Jewish Education)
Rabbi Dan Ornstein (Congregation Ohav Shalom, Albany, NY)
Jack M. Gorman MD (Critica LLC)
Rachel Benaim (Muslim Jewish Conference)
Rabbi Steven Exler (Hebrew Institute of Riverdale – The Bayit)
Adam Royce (Jewish Collaborative, San Diego)
Susan Freudenheim (Jewish World Watch)
Rabbi Zari Weiss (Kol HaNeshamah)
Ellen S. Friedman Krieger (Schechter Day School)
Eric M. Leiderman (Masorti on Campus)
Samuel I. "Sandy" Rosenberg (Member, Maryland House of Delegates)
Rabbi Shawn Zevit (Mishkan Shalom)
Aviva Golbert (Pardes Institute of Jewish Studies)
Abigail Woloff (Pearlstone Center)
Wendy Ferguson (P'nai Or)
Matthew Kritz (Princeton Center for Jewish Life Social Justice Committee)
Rabbi David A. Teutsch (Reconstructionist Rabbinical College)
Dr. Cindy Dolgin (Schechter School of Long Island)
Rabbi Bill Kaplan (Shalom Institute)
Ben Rosenthal (Sustainable Computing)
Wendy A. Rabinowitz (Temple Anshe Amunin)
Rabbi Noa Kushner (The Kitchen)
Rabbi TZiPi Radonsky (The Society of the Vav)
Adam Peck (Western Massachusetts Jewish Federation)
Rabbi Tiferet Berenbaum (Congregation Shir Hadash)
Jeffrey Cohan, Richard H. Schwartz (Jewish Veg)
Rabbi Julie Pfau (Temple B'nai Abraham, Bordentown, NJ)
Rabbi Warren Stone (National Religious Coalition for Creation Care, Cochiar)
Jerry Rivers (North American Climate,Conservation and Environment)
Holli Berman (Congregation Har HaShem)
Marion Stein (Hannah Senesh Community Day School)
Dr Stephan M Funk (NatureHeritage, Jersey & Chile)
Renanit Levy (R. Levy Consulting)
Rabbi Marc Soloway and Michelle Goldman (Congregation Bonai Shalom)
Rabbi Samuel Weintraub, Lisa Smith (Kane Street Synagogue, Brooklyn, New York)
Susan Goldman (Congregation Tehillah)
Raphael Frieder (Temple Israel of Great Neck)
Karin Susskind (Colorado Acadamy of Family Physicians)
Jason Weiss (Teachers College)
Jonathan Lev (Boulder JCC)
Ari Weil (Repair the World Detroit)
Lauren Edelstein Park (Congregation Har HaShem)
Rabbi Lester Bronstein (Bet Am Shalom Synagogue)
Susan Silverman (GARDEN, Inc.)
Sheila Malcolm (Beth Ami – Humanistic Judaism)
Bryan Goldstein (Moishe House Boulder)
Dr. Sally Charnow (Hofstra University)
Chris Arielah Joseph (Highland Park Minyan & Higland Park Conservative Temple CAE)
Rabbi Lisa Goldstein (Institute for Jewish Spirituality)
Rabbi Lizzi Heydemann, Daniel Sucher (Mishkan Chicago)
Rabbi Jacob Fine (Abundance Farm)
Rabbi Jonathan Leener (Base Hillel)
Shelley Chamberlain, Janine E. Pratt, Mark Kaplan (MD, PhD) (Congregation Kol Ami, Elkins Park, PA)
Rabbi Michael E Feinberg (Greater New York Labor Religion Coalition)
Mark Dwortzan (Temple Beth Zion Climate Action Group)
AJ Lilian Menashe (Community of Living Traditions, Stony Point Center, NY)
Nancy Ginsberg (Carroll Hospice)
Jack Gorman MD (Critica LLC)
Sheila Decter (Jewish Alliance for Law and Social Action)
Rabbi Ronne Friedman (Temple Israel of Boston)
Rabbi David Lerner (Temple Emunah)
Naim Edwards (Voices for Earth Justice)
Ellen Weininger (Grassroots Environmental Education)
Rabbi Howard A Cohen (Burning Bush Adventures)
Hinda Blum (Elders Climate Action)
Jen Kiok (Boston Workmen's Circle Center for Jewish Culture & Social Justice)
Rabbi Kenneth Kaufman (Kulanu)
Steve Fox (Temple Isaiah Green Team)
Rabbi Shoshana Friedman (Temple Sinai, Brookline, MA)
Fran Adams (Temple Beth Zion, Brookline, MA)
Rachel Hersh (Adat Shalom Reconstructionist Congregation)
Eve Ilsen (Aleph Alliance for Jewish Renewal)
Rabbi Justus Baird (Auburn Seminary)
Rabbi Susie Tendler (B'nai Zion Congregation, Chattanooga, TN)
Rabbi Marion Lev-Cohen (Central Synagogue)
Rabbi Carnie Shalom Rose (Congregation B'nai Amoona)
Batsheva Meiri (Congregation Beth Hatephila)
Rabbi Steven Folberg (Congregation Beth Israel)
Jill Borodin (Congregation Beth Shalom, Seattle, Washington)
Barry Dolinger (Congregation Beth Sholom)
Rabbi Susan Falk (Congregation Kehilat Shalom)
Chai Levy (Congregation Kol Shofar)
Elizabeth Goldstein (Congregation Ner Shalom, VA)
Rabbi Daniel J. Isaak (Congregation Neveh Shalom, Portland, OR)
Rabbi Andrew Hechtman (Family Resolutions)
Cantor Abbe Lyons (Gilat Rina)
Hazzan Eliot Vogel (Har Zion Temple Penn Valley, PA )
Rabbi David Adelson (HUC-JIR)
Brooke Wirtschafter (Ikar)
Rabbi Marc Margolius, Rabbi Sam Feinsmith (Institute for Jewish Spirituality)
Rabbi Doris Dyen (Makom HaLev)
Talia Orencel (Maryland Hillel)
Rabbi Rain Zohav (Ohalah, Association of Rabbis for Jewish Renewal)
Rabbi Amy Small (Ohavi Zedek Synagogue)
Rabbi Debra Kolodny (Portland's UnShul)
Rabbi Deborah Waxman (Reconstructionist Rabbinical College/Jewish Reconstructionist Communities)
Rabbi Joshua Levine Grater (T'ruah Board Member)
Rabbi Suzanne Singer (Temple Beth El)
Mark Elber (Temple Beth El, Fall River, MA)
Rabbi Claudia Kreiman (Temple Beth Zion, Brookline MA)
Rabbi Jonathan Freirich (Temple Beth Zion, Buffalo, NY)
Rabbi Tara Feldman (Temple Beth-El of Great Neck, NY)
Randy Ellen Sheinberg (Temple Tikvah)
Rabbi Jonathan Sadoff (The Masorti Conservative Movement)
Cantor Eric Schulmiller (The Reconstructionist Synagogue of the North Shore)
Mark Kaiserman (The Reform Temple of Forest Hills)
Elizabeth Shammash (Tiferet Bet Israel)
Rabbi Karen Fox (Wilshire Boulevard Temple)
Cantor Aviva Rosenbloom
Cantor Israel & Robin Rosen
Kohenet Gail Tishman
Kohenet Mei Mei Miriyam Sanford
Rabba Kaya Stern-Kaufman
Rabbi Aaron Potek
Rabbi Ari Lucas
Rabbi Ari Weiss
Rabbi Ariel Evan Mayse, PhD
Rabbi Arthur Green
Rabbi Birdie Becker
Rabbi Brian Field
Rabbi Daniel Goodman
Rabbi Daniel Landes
Rabbi David Klatzker
Rabbi David Rosen
Rabbi Dr. Ariel Burger
Rabbi Eliot J Baskin, D.Min.
Rabbi Elliot J. Holin
Rabbi Garth Silberstein
Rabbi Joshua Hammerman
Rabbi Julie Benioff
Rabbi Kerry Chaplin (Lab/Shul)
Rabbi Laura Geller
Rabbi Lee Moore
Rabbi Marc Soloway
Rabbi Mel Gottlieb
Rabbi Melissa Crespy
Rabbi Micah Peltz
Rabbi Miriyam Glazer
Rabbi Mordechai Liebling (Reconstructionist Rabbinical College)
Rabbi Myriam Klotz
Rabbi Nina Beth Cardin
Rabbi Phyllis Berman
Rabbi Rachel Blatt
Rabbi Ramie Arian
Rabbi Reena Spicehandler
Rabbi Robert Rubin
Rabbi Sara Zacharia
Rabbi Shuli Passow (B'nai Jeshurun)
Rabbi Simkha Y. Weintraub
Rabbi Steve Greenberg
Rabbi Steven Chatinover
Rabbi Rain Zohav
Rabbi Leonard Levin
Rabbi Shayna Rhodes
Rabbi Phyllis Berman
Rabbi Anthony Elman
Rabbi Jeffrey M Marker
Rabbi Miriyam Glazer
Rabbi Brian Besser
Rabbi Rena Blumenthal
Rabbi Nancy H. Wiener
Rabbi Sue Levi Elwell
Rabbi Lina Zerbarini
Rabbi Eva Sax-Bolder
Rabbi Peg Kershenbaum
Rabbi Michael Ross
Rabbi Aderet Drucker
Rabbi Carol Glass
Rabbi Rebecca Ben-Gideon
Rabbi Serena Eisenberg
Rabbi Laura Geller
Rabbi Debra Rappaport
Rabbi Pamela Jay Gottfried
Rabbi Leah Novick
Rabbi Debbie Stiel
Rabbi Simkha Y. Weintraub
Rabbi Bob Gluck
Rabbi Toba Spitzer
Rosh Kehillah Dina Najman
Aaron Potek
Abigail Rasminsky
Adam Arenson
Adam Grannick
Adam Wergeles
Adam Marks
Adrianna Bailey
Ailsa Hermann-Wu
Alexander Eisen
Alisa Schulweis Reich
Alison Pepper
Alison C. Brown
Aliza Gans
Allison Topilow
Alvin Blyer
Alyson Bonavoglia
Amalia Haas
Amanda Monaco
Amy Hannes
Amy Cohen Anneling
Amy Grossblatt Pessah
Andrea Neufeld
Andrea Schwartz
Andrew Mirer
Andrew Chalnick
Andrew Poretz
Anita Altman
Anita Siegman
Ann H. Kahan
Ann Eisenstein
Anna Spier
Anna Gusel
Annabelle Chapel
Annette Zygmunt
Annie E. Fox
Ariella Nadler
Arielle Shanok
Arlene Bernstein
Aryela Zulman
Audrey Melkin
Barbara Bibel
Barbara Gould
Barbara W. Friedman
Barbara Liberles
Barbara Federlin
Barbara Allan
Barbara Posnick
Barbara F. Stein
Barbara Frank Michaelsen
Barbra LIeberstein
Barbralu Cohen
Batya Bauman
Becca Heisler
Becky O'Brien
Ben Rosenthal
Ben Pearlman
Betsy Imershein
Betsy Uhrman
Bobbie Shkolnik
Bonnie Streigold and Moshe Zakarin
Brenda Berry
Brett E Cohen
Brian Kabcenell
Bruce Solomon
Bunny Blattner
Camille Shira Angel
Carol Moses
Carol Kort
Carole Sher
Carole Rubin
Caryn Davis
Caryn Huberman Yacowitz
Cathy Cummings
Chava Nesher
Chelsea Garbell
Cheri Weisshaut
Claire Hertz
Clarita Kaufman
Connie Gruber
Constance Moffett King
Cory P. Tynan
Curtis Aubry
Dana Stein
Danid and Ann Nathan
Daniel Bloom
Daniel Gildesgame
Danielle Smith
Danny Ginzburg
Dara Frimmer
Darya Watnick
David Silver
David Tencer
David Kantor
David Punia
David Nathan Goodman
David Bernard
David Chamberlain
David Slavin
David Gaskill
David Jaffe
David Chiu
David Reed
David Seligman
Debbie Schmill
Deborah Meyer
Deborah Swirsky-Sacchetti
Deborah Greene
Deborah Polinsky
Deborah Newman
Deborah Weiss
Debra Kalmuss
Dede Adika
Diane Glass
Dianna Fine
Dorit Harverd
Dorothy Papo
Dorothy Tydings
Dr. Valerie Yasner
Dr. Marya Pollack
Dr. Ellen Schecter
Dr. Marcia Grossman
Edward Fener
Edwin E. Bobrow
Edwin Andrews
Elaine Klein
Elan Margulies
Elana Katz
Eli Saper
Eliana Scott-Thoennes
Eliot Baskin
Elisa Liker
Elisa McCool
Elisheva Massel
Ellen Friedman
Ellen Harrison
Ellen Tickner
Elliott Rabin
Elliott Rabin
Elyse Buchman
Emily Sellman
Emily Winograd
Enny Melman
Esther Azar
Esther Krauss
Ethan Dobres
Ethan Dobres
Eugene Nadel
Evan Lowenthal
Eve Ilsen
Eve Friedman
Evelyn Eskin
Faith Schwartz
Fawn Chapel
Faye B Diamond
Felissa Rubin
Gabriella Meltzer
Gail Schorsch
Gail Chudrn
Garrett Adler
Gerrie Weinstein
Gerson and Margery Sher
Gil Kulick
gloria frisch
Gustine Matt
Guy Felixbrodt
Guy Felixbrodt
Hanan Harchol
Hank Orenstein
Hannah Henza
Hannah Dresner
Hannah Baxter
Harriet Gottesman
Harriet R. Goren
Hav Vog
Heidi Cohen
Helaine Eisler
Helen Lehrman
Hetty Hall
Hody Nemes
Holly Wolf
Howard Katz
Ida Unger
Ilana Barach
Ilene Nadel
Ivy J. Dyckman
Jack David Marcus
Jacob Ruden
Jacqueline Royce
James Zisfein
Jan Borstein
Jane Sobo
Janet Lowe
Janet Berger
Janet Gold
Janet Kolodner
Janet Krasner Aronson
Janice Tannin
Janice Friedman
Janna Siller
Jeanne Kolodner
Jeff Levy-Lyons
Jeff Wallace
Jeffrey Axelbank
Jeffrey Kehl
Jeffrey S. Cohen
jena hall
Jenn Queen
Jenna Weinberg
Jennifer Clark
Jenny Golub
Jerald Kreppel
Jeremy Edelman
Jeremy Schwartz
Jerome Kraus
Jessica Berlin
Jessica Rodas
Jill Goldenberg
Jill Hammel
Joan Plisko
Joan Nagel
Joan Cardell
Jody Prusan
John Alfaro
John Weiss
Jonathan Woocher
Jonathan Lopatin
Jonathan Klein
Jonathan Fiskus
Joni Daniels
Jordan B. Warner
Joseph M Schmidt
Joseph G. Rosenstein
Joseph Ornstein
Joseph M. Varon
Joseph M. Varon
Joseph Schwartz
Joshua Rabin
Joshua Caleb Ezrin
Joyce Bressler
JR Rich
Judith Edelstein
Judith Geller
Judith Felsenfeld
Judith Trachtenberg, Renie Rutchick
Judith Plaskow
Judith B Edelstein
Judy Meltzer
Julie Sissman
Julie Rezmovic-Tonti
Julie Klein
Julie Newman
Karen Gurmankin
Karen R. Klestzick
Karen Silverman
Karen Hillman
Karol Appel
Kate Hermann-Wu
Kathy Kobayashi
Katie Sanders
Kayla M. Weiner, Ph.d.
Kenneth Chapel
Kwasi Gee
Larissa Wohl
Lauren Greenberg
Laurie Keleti
Leah Oppenzato
Leah Rosenberg
Leora Cockrell
Les Judd
Lesley Inker
Lewis Daniels
Liana Goldman
Linda Kane
Linda Marshall
Linda Blyer
Lior Melnick
Lisa B Shapiro
Lisa Kagel
Lisa Kaplan
Lisa Baum
Lisa Shillan
Liz Galst
Lizzy Cantor
Lois Darnell
Lois Segel
Louise Myotai Dasaro
Luba Alperovich
Lucie Schwartz
Lynda Bussgang
Lynn Weiss
Lynn Dennis
Lynne Haber
M. Cecilia Rothschild
Maggi Gaines
Marci Dickman
Marcy Einhorn
Margaret Puddington
Margaret Sunners
Margie Stern
Marilen Pitler
Marion M. Stein
Marissa Gee
Mark Greenspan
Marla Moiseev
Marla Alt
Marlene Schoen
Marlene Goldstein
Marshal & Tamar E. Granor
Martha Kransdorf
Martha Kransdorf
Marti Michael
Martin Westerman
Martin A. Dyckman
Marty Longbine
Mary Krieger
Maryan Jaross
Matthew Romm
Matthew Liebman
Mel Shuman
Melanie Yukov
Melanie Kaplan
Melanie Harris-Kaplan
Meredith Levick
Meredith Levick
Merrill Glustrom
Merry Atinsky
Meryl M. Crean
Michael Berkowitz
Michael Wolk
Michael Papo
Michael Yoeli
Michael Lebowitz
Michael Brochstein
Michael Aronson
Michael Jofe
Michael Rosenthal
Michal Bowen
Michele Rifkin
Michele Wolfman
Michelle Malis
Michelle Joanna Miller
Michelle Kuchinsky
Mickey Langsfeld
Milton Adesnik
Mimi Weinberg
Mindy Fink
Miriam Perrin
Miriam Herscher
Miriam Leeser
Miriam Leichtling
Misha Askren
Mitch Rosenberg
Mollie Andron
Molly Weingrod
Monica Ibacache (Beyond Organic Design)
Murray Sacks
Nancy B. Gertner
Nancy Eppler-Wolff
Naomi Schwartz
Naomi Herman
Nat Pernick, M.D.
Nathan Martin
Nathan Rothstein
Nikki Endsley
Noa Freudberg
Noam Kogen
Noam Kogen
Noam Raucher
Nora Gaines
Norma Sax
Nurit Levi Shein
Orly Klein
Pamela Wax
Paula J Young
Paula Bloom
Paula Wisnik
paula mazur
Peggy Samuels
Penelope Raphaely
Peninnah Schram
Penny Roberts
Peter Ornstein
Peter L. Reich
Rachel Aronson
Rachel Binstock
Rachel Jacoby Rosenfield
Rachel Kriegsman
Rachel Shaffer
Rachel Kaufman
Rachel Cominsky
Rachel Brown
Rachel Hertzman
Rebecca Bloomfield
Rebecca Eisen
Rebecca Rehr
Rebecca Shahmoon Shanok
Rebecca Chynsky
Rebecca Hecht
Reid Milburn
Rich Kronfeld
Richard Mandell
Richard Stern
Rick Kahen
Ricki Lieberman
Risa M Mandell
Rivka Haim
Rob Kutner
Robert Tabak
Robert M. Miller
Roberta Spivak
Roberta Reinfeld
Robin Mallor
Rona Conrad
Ronnie Cohen
Rosalind Hanckel
Rosemary Hutzler Raun
Roy Levinson (Hazon Philadelphia Advisory Board)
Ruth Matilsky
Ruth Wolman
Rutie Havazelet
Ryan Brenner
Sally Koris
Samara Stern
Sandra Zylberman
Sandy Soffin
Sara Lynn Newberger
Sarah Wolk
Sarah Lanzman
Sarah Kornhauser
Sarah Bunin Benor
Sari Kutch
saundra madoff
Scott Fields
Seapora Phyllis Harlem
Shamu Fenyvesi Sadeh
Shana Rapoport
Sharon Green
Sharon Katz
Sharon Berlin
shelley english
Sheridan Gayer
Sherri Erlichman
Shira Wolf
Shira Berger
Shira Arcus
Shoshana mitrani kbaop
Shulamit Reinharz
Sonia Cummings
Stacey Meadowx
Staci Steinberger
Stephane Acel-Green
Stephanie Jofe
Stephen S
Stephen Baum
Steve Dunsky
Steven Larky
Steven Raber
Stuart Henry
Susan Freudenheim
Susan Levine
Susan Slesinger
Susan Lieberman
Susan Thal
Susan Grodnick
Susan Blattman
Susan Baker
Susan Winzelberg
Susan Kodish
Susan Pavane
Suzanne Levin-Lapides
Suzanne Weissman
Sylvester Darnell
Sylvia Vogelman
Syma Echeandia
Tania Erlij
Tracie Burns
Tracy Escobedo
Trisha Arlin
Victoria Schonfeld
Yaron Schwartz
Yasha Magarik
Yekaterina Gluzberg
Yishai Cohen
Yoshi Silverstein
Zachary Goldberg
Zachary Eagen
We applaud the leadership of mayors, governors, and businesses across the country who are taking responsibility for working towards the goals of the Paris Climate Accord. The US federal government is a vital actor when it comes to fighting climate change, but there is much that we can do ourselves, as institutions and individuals. Our children's future demands that we do all we can.
Here are some of the things that you can do:
Hazon is 

the

 leading Jewish partner in 

Living

 

the

 

Change

, a global multi-faith campaign to encourage thousands of diverse religious and spiritual people around 

the

 world to make an individual commitment to live more sustainability, which will be presented in leading global summits.  Please take a few minutes to 

make your own commitment

.

Make sure your institution has a Green Team, to develop a multi-year process to work on sustainability. More than three dozen organizations have so far joined the Hazon Seal of Sustainability, and we invite you and your institution to join the Seal.
Encourage your people – members, participants, staff, kids – to take some steps to live more lightly – ride your bike, or eat less meat, or eat more local produce.
If you can switch to solar or wind power, do so.
Check if your city or state has committed to meeting the Paris goals; if not, contact your elected representatives and ask them to sign on.
Get involved with campaigns for the climate in your community! Join a local chapter of a national climate organization like 350.org or the Citizen's Climate Lobby.
Advocacy Resources
News Coverage
Why Advocacy?
Hazon's theory of change follows what we have internally called the "3 x 3 grid" .
On one axis we have Education; Action; and Advocacy. On the other we have the Individual (or the nuclear family); an Institution; and the Wider Community. It looks like this: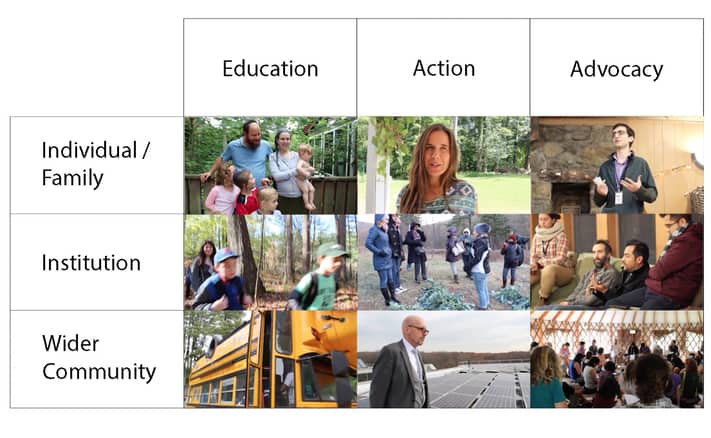 Hazon as an organization works in all nine boxes, and is building multiple synapses between them and between the work represented by each of them. As part of our desire to act in the third column, Hazon has been involved in advocacy initiatives since our founding, including the following campaigns:
Past Campaigns
People's Climate March and Shabbat
In 2017,  Hazon and other Jewish communities celebrated a week of action for the Earth, from the Shabbat of Earth Day, April 22, to the following People's Climate March & Shabbat, on Saturday, April 29.
Hundreds of Jews marched for the climate in Washington, DC with Hazon and other Jewish organizations. Over 20 Jewish communities organized solidarity events across the country.
Jewish Environmental Advocacy Days
Before the Climate March, Jewish activists convened at the Pearlstone Center for the first- ever Jewish Environmental Advocacy Days. Participants learned how to advocate and met with their elected representatives to ask for action on climate.
JOFEE Advocacy
Hazon, in partnership with COEJL, Pearlstone Retreat Center, Wilderness Torah, and Urban Adamah, are creating space to discuss potential next steps for the Jewish environmental movement.
If you are interested, please email advocacy@hazon.org and ask to join this listserv.