Hazon Educational Library: Hazon Publications
Hazon has developed a diverse library of curricula, source books, and other resources that can be used in the classroom, at home, or as experiential programs. Our tools are geared towards various age groups and have been used in synagogues, day schools, JCCs, and camps around the world. For additional educational resources from Hazon, check out the menu to the left.
download educational materials for free purchase materials from our online store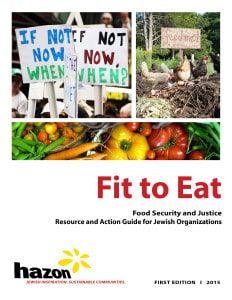 by Alli Rosen and Liz Traison
Hazon
This guide provides a framework for Jewish institutions to learn more about our food system and Jewish traditions surrounding food justice; to identify challenges specific to your local community; and to create a plan for action that builds on the existing programs, skills, and assets of your Jewish institution.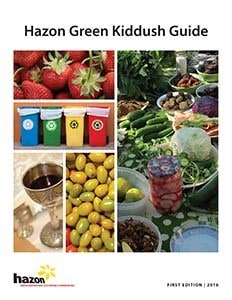 by Becca Linden and Becky O'Brien
Hazon
Included in this guide for synagogues are specific suggestions on how to schedule and promote a vegetarian Green Kiddush, a list of concrete ways to make it "green," tips associated with each suggestion, and templates of educational signage.