Emily Blustein
Jewish Federation of Greater Atlanta – Atlanta, GA
Emily Blustein is elated to be a JOFEE Fellow in Atlanta. She has always learned the most through experiential programs and can't wait to offer that type of education to others. Since a young age, Emily loved teaching herself how to grow vegetables and attended multiple nature-based Jewish summer camps. Emily's love of food led her to pursue baking and pastry arts at Madison College, and her love of nature led her to a National Outdoor Leadership (NOLS) semester in the Southwest. Emily brought her passion for experiential education to MASA Israel's Eco-Israel semester at Hava ve'Adam Farm, during which she lived, worked and studied permaculture design on an ecological-educational farm in Israel. After returning to Boston, Emily was involved with the Jewish Community Relations Council, volunteering at a Jewish retirement home providing activities and preparing/serving meals at soup kitchen. Emily spent the past year as a Farm to School Americorps educator in Wisconsin teaching and coordinating programming in schools about nutrition, cooking, gardening, and the importance of knowing the origins of one's food. Fostering a positive and enriching learning environment, Emily believes that being outside with our hands in the dirt is where we all can learn not only practical skills but about ourselves as well. Emily is wild about traveling, hiking, baking/cooking all things vegan, playing violin, meditation, and spending time with her three-legged dog.
Rose Cherneff
Abundance Farm – Northampton, MA
Rose Cherneff got her start in the farming world as a teenager working at The Food Project in Boston, MA. For the past ten years, she has worked for a variety of production and educational farms. She is looking forward to integrating the community and spiritual goals of Abundance Farm and the JOFEE fellowship into her farming work.

Leora Cockrell
Camp Tawonga – San Francisco, CA
Leora's love of food, farming and nature began in high school when she started a school garden, and soon after, a small market garden on her parent's land in the Sierra Nevada Foothills in rural Northern California. Leora was has been both a nature camp counselor in her home town and a camper at Jewish summer camps in wilderness settings. Leora has a bachelor's degree in Sustainable Agriculture & Food Systems and a minor in Women & Gender Studies from UC Davis. During college, Leora directed both a community garden and the Whole Earth Festival and lived in cooperative housing. Leora has worked in organic farmer education, goat farmsteading, garden-to-table food service, and as a medical assistant at her childhood Jewish camp. Leora recently received her Permaculture Design Certificate through an Earth Activist Training course and is excited to use her new knowledge and experience as a JOFEE Fellow. When her hands aren't covered in dirt, Leora is a photographer, writer, ceramic artist, hiker, biker, avid reader, fabric artist, cook, traveller and has a secret love of interior design. Leora's guiding passion is to reunite diasporic people with their traditional cultures and reconnect them with land and community. She is thrilled to be able to do this work through a JOFEE Fellowship at Camp Tawonga.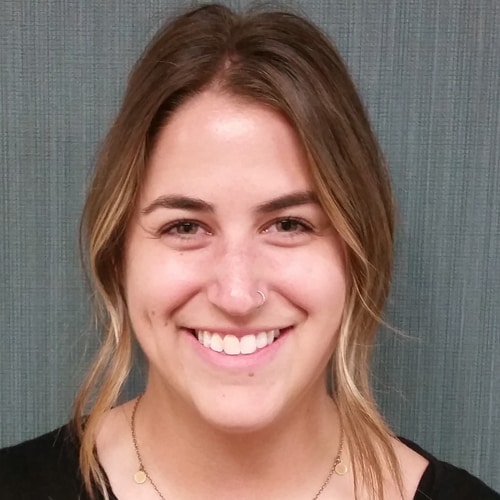 Brittany Feldman
Hazon: Detroit – Detroit, MI
Brittany is the Program Coordinator for Environmental and Outdoor Engagement at Hazon Detroit. She attended Central Michigan University where she studied Recreation, Parks, and Leisure Services Administration. Prior to joining Hazon, she worked as an Outdoor Educator for Tamarack Camps and a Program Coordinator at the Farmington Hills Nature Center. Her background includes leading educational programs in teambuilding, adventure courses and environmental wilderness classes. In her spare time Brittany enjoys hiking, tie-dyeing, and watching the Food Network.

Ren Feldman
Eden Village Camp – Putnam Valley, NY
Ren was frolicking around the Midwestern flatlands of Cleveland, OH until she migrated to the East Coast to study at SUNY Binghamton. After graduating from there with a BA in Asian and Asian American Studies, Ren joined Eden Village Camp as a Farm-Educator Apprentice, then as a Survival Skills Specialist, and this past summer as a Farm Specialist. She sang songs about compost and tromped through the forest with Teva, and taught colonial arts and ecology at the Ashokan Center. She is psyched to sing, dance, whittle, and laugh at Eden Village again, this time as a JOFEE Fellow!

Amanda Glucklich
Milk & Honey Farm at the Boulder JCC – Boulder, CO
Amanda entered the JOFEE world as an Adamah Fellow in the Spring of 2013. She is excited to continue her journey as a Jewish outdoor, food, and farm educator by working as the Youth Farm Educator at Milk & Honey Farm, at the Boulder JCC. She has worked for 15 years as a cook and in the last few years has honed her skills in farming and homesteading. Amanda seeks to teach the world about her passion – food, and how we can use it to connect to our Jewish ancestors and their roles as agriculturalists. She is thrilled to join the Boulder Jewish community after living as a Moishe House resident for the last two years in Denver, CO. In her free time you can find her organizing community, cooking, tending to her herbal medicinal garden, and trying to convince someone to start making their own pickles instead of buying them from the store. 
Rebecca (Becca) Heisler
Wilderness Torah – Berkeley, CA
Becca grew up in the western suburbs of Chicago, and discovered her passion for Jewish tradition in the outdoors at OSRUI, a Jewish summer camp in Oconomowoc, WI. She spent 10 summers there sleeping in tents, praying outside, building community, and always pushing the bounds of exploration. As a camper, Becca began to understand her place in the world by grounding herself in nature and learning how to ask big questions. As a counselor, she loved being able to guide her campers through transformative outdoor experiences in the Wisconsin wilderness. Becca has degrees in Environmental Studies and Mathematics from Tufts University. Outside of class, she spent as much time as possible leading hikes in New Hampshire, going for long bike rides around Boston, watching sunrises, and cultivating dynamic Jewish community. Becca led backpacking trips with Tufts Wilderness Orientation, and then proceeded to coordinate the program after she graduated. From Boston, Becca made the leap to the far coast to participate in the Urban Adamah fellowship. While in the Bay Area, she felt deeply held and constantly inspired by the vibrant Jewish community there. Becca is feeling incredibly grateful for the chance to bring so many of her passions together while serving as Wilderness Torah's JOFEE fellow.

Elizabeth Kaplan
JCC of Greater Boston – Newton, MA
Elizabeth directs The Discovery Club, a new program for children ages 5-8 at the JCC of Greater Boston. Her background in experiential Jewish education comes from time as an Urban Adamah fellow in Berkeley, as well as summers spent launching a garden education program at URJ Camp Kalsman near Seattle. She has an MS in Food Policy and Applied Nutrition and a Master's of Public Health.
Ryan Kaplan
Jewish Federation of Greater Atlanta – Atlanta, GA
Ryan Kaplan is the Birthright Israel Engagement Associate at Jewish Federation of Greater Atlanta. Ryan grew up in the Atlanta Jewish community and attended Georgia State University, where he graduated with a B.B.A. in Marketing. Ryan is a Birthright Israel Fellow, has staffed 4 Birthright Israel trips, and has travelled to Israel a total of 6 times. Ryan is incredibly passionate about experiential education and is looking forward to bringing sustainability and healthy living to the Atlanta Jewish young adult community.

Jaclyn Kellner
Coastal Roots Farm – Encinitas, CA
Jaclyn Kellner is the Coastal Roots Farm's Jewish Farm Educator where she is responsible for Jewish and other educational programming. Prior to joining Coastal Roots Farm, Jaclyn taught residential Outdoor Education to 4th through 6th graders in Calabasas and Livermore, California. Jaclyn is also the Director of Education at Amir where she is updating and enhancing their summer camp farm and garden curriculum. Jaclyn graduated Brandeis University in 2015 with a degree in Environmental Studies. She enjoys spending as much time as possible outdoors getting really excited about things and then getting other people excited about them as well.

Mikole (Miki) Levran
Pearlstone Center – Reisterstown, MD
Miki Levran was born and raised in Detroit, Michigan and is excited to pack up her things and join the Pearlstone team in Baltimore. Her passion for Jewish outdoor education quickly stemmed as she attended Tamarack Camps, a Jewish summer camp, while growing up. When the time came, she knew it was inevitable for her to become a camp counselor. Miki was also an outdoor educator at Tamarack Camps, where she led adventure and wilderness courses to visiting school and corporate groups. She has led multiple teen travel trips hiking and backpacking through the National Parks of the American East and West, Alaska and Canada. Miki graduated from Michigan State University with a degree in African Studies and a minor in Environmental and Sustainable Studies and went on a six week study abroad program in Tanzania. Miki loves to travel, hike and explore the streets, food and nature of cities around the world!

Sarah Rovin
Pearlstone Center – Reisterstown, MD
Sarah studied Psychology and Environmental Studies at the University of Oregon where she fell in love with farming and the outdoors. Through her studies and adventures in Oregon, she began to take action for environmental justice through community organizing on campus like working to go bottle water free and build a community garden. She has worked on farms along the West Coast as well as in Hawaii and Japan. She reconnected to Jewish community through a year in the AVODAH Jewish service corps living communally with other service corps members and working as case manager at a social service agency on the Southside of Chicago. Through the connections she made in her community in Chicago she discovered the JOFEE world, combining her love of farming and nature with her Jewish community. When she is not getting her hands dirty in the garden, she love to sing with her friends around the shabbat table and get lost in the city riding her bike. Sarah is very excited to join the Pearlstone team where she will combine her passions and learn in community with her peers.

Margolit (Margot) Sands
Ekar Farm – Denver, CO
Margot Sands grew up in Phoenix and Las Vegas. Her desert roots made her ripe for being amazed by nature and farming cycles. This amazement thrived in Boston at The Food Project where Margot found her calling of growing food, building community, and teaching young people. As a 2013-2014 FoodCorps Service Member at The Food Project, she realized the power and pleasure of connecting children to their food and wanted to expand her skills in this kind of transformative education. She gained the foundational tools of an emerging JOFEE educator from the Urban Adamah Fellowship and Arizona State University's M.Ed. in Elementary Education program. Margot is ecstatic to join Hazon's JOFEE Fellowship as the Lead Educator of Ekar Farm in Denver, CO, and looks forward to building the Denver community toward a more sustainable and spiritual future.

Hannah Slipakoff
Jewish Farm School – Philadelphia, PA
Hannah began learning how to grow vegetables as a teenager in Philadelphia, where the food justice and urban agriculture movement catalyzed her political and social consciousness. She is incredibly grateful to have experienced learning and working on diverse urban and rural farms over the past ten years; including apprenticing at George Jones Farm in Oberlin, OH, studying at The Center for Agroecology and Community Food Systems at UC Santa Cruz, training participants in The Philadelphia Community Farm Collaborative's Beginner Farmer Training Program, managing Mort Brooks Memorial Farm for Weaver's Way Food Co-op, and most recently, co-managing the field and supporting food sovereignty education programs for Soul Fire Farm in Grafton, NY. Hannah works in awe of the innate human power to create, nurture, and sustain life. She balances her dedication to growing food with fierce commitment to practicing yoga, serving as a birth doula, and working with spirit in the kitchen

Darya Watnick
Edlavitch DC JCC – Washington, DC
Darya comes to the JOFEE Fellowship as the current Jewish Engagement Manager at the Edlavitch DC Jewish Community Center, focusing on programming for families with young children. Prior to working at the DCJCC, Darya lived in Israel for three years. She was a participant on the Yahel Social Change Program in Gedera, Israel, living and working with an Ethiopian community and working in a community garden, on a permaculture farm and teaching English. She then moved to Jerusalem to study at the Pardes Institute of Jewish Studies, focusing on social justice in Jewish texts. After finishing a year at Pardes, Darya did some work for EcoPeace Middle East and was a volunteer dialogue facilitator for Encounter Programs. Darya graduated from Lewis & Clark College in Portland, OR with a BA in Environmental Studies and a minor in Religious Studies. She enjoys cooking and baking, and especially loves to create unique flavors of homemade ice cream. Other interests include photography, Talmud study, creating community, and traveling.
Jacob Weiss
Hazon: Isabella Freedman Jewish Retreat Center – Falls Village, CT
Jacob was first exposed to the JOFEE community through participating in the Adamah farming fellowship at Isabella Freedman in the summer of 2016. Jacob's fascination with food began in high school when he geeked out about nutrition and the healing properties of our food. After studying Political Science and Fine Arts at Yeshiva University, he really began his journey into the agriculture and food world. Jacob spent six months studying permaculture and volunteering at Hava ve Adam, an educational permaculture farm near Modiin, Israel. He then received his chef's training at the Natural Gourmet Institute in New York City, and has since gone on to cook at restaurants El Rey and Lalo in the city. Through participating in Adamah this past summer, Jacob really reconnected to his Judaism in a way that felt authentic to him, and discovered a community that supports all of the values that he holds dear. Jacob is thrilled to be back at Isabella Freedman, furthering his involvement in the JOFEE community, and to implement programing and events that support the values that JOFEE and Hazon stand so strongly for.