Daniella Aboody
Wilderness Torah – Berkeley, CA
Daniella is excited to be the JOFEE Fellow at Wilderness Torah, where she can integrate her passions for Earth connection, community building, youth empowerment, and spiritual Judaism. Daniella has worked with Amigos de las Americas in rural Nicaragua, where she mentored youth volunteers, and coordinated community development projects centered on health & nutrition, education, girls' rights, the environment, and economic development. She participated in the Urban Adamah Fellowship, where she discovered her deep love of sustainable agriculture and spirituality within the Jewish context. She then lived in Israel working in groundwater conservation at Friends of the Earth Middle East. Her passion for exploration led her to travel through the Pacific Northwest and Mexico, where she dove further into farming, yoga, and meditation. Daniella earned her Bachelor's degree in International Development and a minor in Dance from UC Berkeley. She can be found dancing, playing in the kitchen or making art in her garden in Berkeley, CA.
Becky Adelberg
JCC Chicago – Chicago, IL
Becky holds a Bachelors of Arts degree in Communications, with a minor in Religious Studies, from the University of Kansas, and a Masters Degree in Jewish Studies & Jewish Education, with an emphasis on spirituality, from Siegel College of Jewish Studies in Cleveland. In addition to receiving the 2011 JUF Samuel Goldsmith Award, Becky was chosen to participate in the Nahum Goldmann Fellowship Program, Ministry of Foreign Affairs Diplomatic Seminar for Young Leadership, and the JCC PresenTense Chicago Fellowship in 2012 where she found "Community!Connect", an online platform of local consultants. Becky is currently the Manager of JCC 20s & 30s, which includes JCC Sidney N. Shure Kehilla and Seed613. Prior to joining JCC Chicago, Becky was the Executive Director of American Zionist Movement, Chicago Region; Adjunct Professor of World Religions at Morton College; and one of the founders of Club 1948. She is also a guest lecturer on various topics ranging from Jewish Meditation to Community Building to Social Entrepreneurship. She can be found traveling, hiking, writing, cooking and spending time with her family and friends in her free time.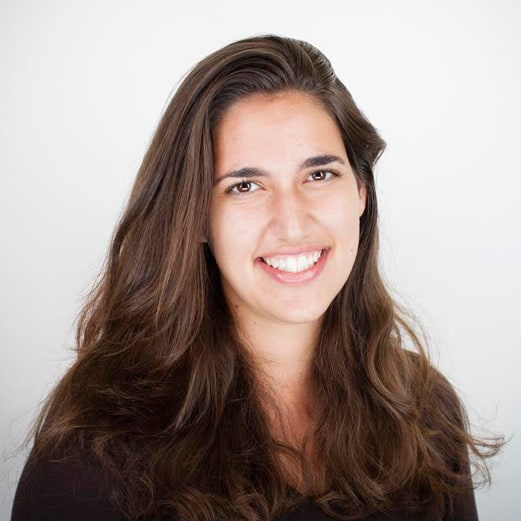 Rachel Aronson
Hazon – Sustainability and Community Engagement – New York, NY
Rachel is an educator, dialogue facilitator, and nature lover living in Brooklyn. She comes to Hazon and JOFEE from Resetting the Table, where she worked to open conversation about Israel across difference on college campuses. She has worked on a community farm, lived in an environmental co-op, and planted gardens on her fire escape to bridge her passions for building community and being around fresh-grown vegetables. Rachel is a former Emerson National Hunger Fellow and has a Bachelor of Arts in cultural anthropology and environmental studies from the University of Vermont. She is thrilled to be part of the first JOFEE cohort!
Jessica Berlin
Hazon – Transformative Experiences – Isabella Freedman Jewish Retreat Center, Falls Village, CT 
Jess is thrilled to be the JOFEE Fellow at Isabella Freedman where she can share her excitement for Judaism, earth based spirituality and farming as an educator, curriculum developer, and retreat manager. Jess grew up with a deep sense of wonder for the earth, spending much of her time hiking, camping and climbing trees. She has a lifelong passion for Jewish text and spirituality, having spent 4 years studying and teaching in Israel as well several months studying meditation in India. After graduating from Queens College, with a degree in Urban Planning, she served as a key administrator at American Jewish World Service and AVODAH. Jess recently completed a 6-month long farm apprenticeship at Eden Village, where she led participants of all ages on weekend retreats, day programs, and multiple week camp sessions. Jess learned to utilize the power of nature, in the form of a farm or forest, as powerful tools for transformation and self expression.
Rachel Binstock
Urban Adamah – Berkeley, CA
Born and raised in Chicago, Rachel remembers first finding wonder among the wilderness of her backyard and neighborhood parks but never knew that wonder could correlate with her rich Jewish upbringing. It wasn't until she started studying Environmental Anthropology at Wash U in St. Louis that she asked herself how her own culture frames the human-earth relationship. To explore this further she joined the student run farm on campus and worked on urban farms around St. Louis, eventually helping to build educational programing on campus around the politics of food. Rachel began seeing Jewish rituals and texts with new eyes as she took on writing a Jewish Ecology curriculum for her Hebrew School class and it was then that she started seeing herself as an earth based Jewish educator. After graduating Rachel worked as an organizer with the Student PIRGs running campaigns on college campuses in Chicago around greater access to healthcare and the de-privatization of public good. She then found her way back to farming as a Jewish Farm Educator Apprentice at Eden Village. She stayed in the Hudson Valley for two seasons. In her second year she helped to run the apprenticeship and built curriculum for summer camp, family programs, holiday festivals and more. She is thrilled to be working with Urban Adamah, bringing urban agriculture and earth based Judaism to life with groups of all faiths, persuasions, and backgrounds.
Nicole Cruz
Peninsula JCC – Foster City, CA
Nicole is very excited to be a part of the first JOFEE cohort! She currently lives in the Bay Area and works at the Peninsula Jewish Community Center as the Youth and Family Program Coordinator. In this position, Nicole is responsible for the coordination and implementation of youth and family classes, including Jewish Family programs. Prior to living in the Bay Area, she attended Vanderbilt University in Nashville, TN for her Masters in Education with an emphasis in curriculum and program development within science education. Nicole has also worked as an Educational Consultant for Vanderbilt Programs for Talented Youth, writing original science curriculum for schools and informal education settings. While in this position, she was awarded the National Association for Gifted Children's Curriculum Studies Award for the submission of a middle school life sciences unit. In her free time, Nicole enjoys running and hiking. She is an avid reader and loves reading science and technology books. Nicole is eager to participate in the JOFEE Fellowship to expand JOFEE programs and Jewish Wellness for families at my Jewish Community Center.
Tzachi Flat
Oshman Family JCC – Palo Alto, CA
Tzachi was born and raised in Palo Alto, California. As a child he spent many summers traveling to Israel. In 2006 he lived and worked at a scuba diving shop in Eilat. These experiences created a very strong connection to Israel for him. In his free time Tzachi loves to play sports, hang out with friends, travel, build things, and do anything and everything active and outdoors. He has been involved with the JCC since he was 2 years old, and has worked for the Oshman Family JCC in Palo Alto's Youth And Teen department for the last 4 years. The experience he gained working at the JCC have helped him become a stronger, more confident person. He is very excited for the opportunity to meet new people, share memorable experiences, learn new things, and help educate others through the JOFEE fellowship.
Michael Fraade
Jewish Community of Louisville – Louisville, KY
Michael grew up in Connecticut, where his early love of the outdoors was fostered by Camp Ramah, Boy Scouts, and gardening with his father. He received a BA in history from Yale and has spent time WWOOFing in the American South, and working for Camp Ramah in New England and for the Rabbinical Assembly in NY. Prior to becoming a JOFEE Fellow, Michael was the livestock manager of a small farm in Virginia. Michael's JOFEE Fellowship placement is with the Jewish Community of Louisville, KY where he is excited to help run the community garden and to expand food justice efforts through partnerships with local organizations. Michael is inspired by the tangibility of farm work: the power of watching seeds turn into food, the bonds formed with animals over time, the satisfaction of providing sustenance to others and stewardship for the land. He believes that a strong connection to the land is an important component of both Jewish and American heritage, and hopes to share his passion for farming and the outdoors with others in Louisville and beyond. Michael's JOFEE-related interests include Israelite agriculture, kosher slaughter, goats, sheep, and sustainability. Other interests include cooking, reading, music, theater, history, and playing with animals, especially dogs.
Emily Glick
Hazon – Teva Programs – New York, NY and Falls Village, CT
Emily entered the JOFEE universe by way of Teva in the fall of 2015. It was here that she nourished her love of living and working in community, and found ways to tie together the important, spiritual, challenging, and magical pieces of her life. Prior to this life, Emily studied Social Thought & Political Economy at the University of Massachusetts, Amherst. A portion of her time in college was spent studying Peace and Conflict Studies in Haifa, Israel. While in school, she developed her passions for cooperative economic systems, the power of feminism, and bicycles. When she isn't thinking about driving the Topsy Turvy Bus around the United States, you can find Emily practicing her baritone ukulele, running, dancing, baking bread, or eating salty foods. Emily is currently residing in Brooklyn.
Zach Goldberg
Ramah in the Rockies & Congregation Bonai Shalom – Boulder, CO
Zach is a farmer, educator, and community organizer from Philadelphia, where he experienced the city's rich cultural history, prominent civic life, and innovative urban design. After a trip to one of the oldest urban farms in the city, Zach found his passion for the soil and has run with it! He recently worked at Eden Village Camp, where he designed innovative and regenerative garden spaces. He has worked on groundbreaking food system projects around the world, including Israel, Barbados, and Montreal. Zach holds a B.Sc. from McGill School of Environment. 
Eli Goldstein
Shimon and Sara Birnbaum JCC – Bridgewater, NJ
A Central Jersey transplant, Eli grew up in Cherry Hill, NJ but thanks to the magic of JDate, he has landed in Branchburg, NJ with his wife and partner in crime, Robyn. Eli and Robyn have two boys, Seth (3 years old), and Justin (2), and a little girl on the way this summer. Eli just adores his kids! Eli maintains his love and passion for Philadelphia sports, although he lives in Branchburg. As an Eagles season ticket holder, he is instilling his passion in his sons, and Seth can already sing the Eagles fight song. Eli is the Youth Services & Afterschool Director, and Adult Special Events Coordinator. He loves every aspect of his job. He worked in banking for 8 years and 2 years with the Jewish Federation before joining the Shimon and Sara Birnbaum JCC. He is excited to become a JOFEE Fellow and sharing JOFEE with his co-workers and community.
Joshua Kleymeyer
The Mayerson JCC of Cincinnati – Cincinnati, OH
Joshua recently joined the Mayerson JCC as part of the programming team to focus on JOFEE related programs. Being a past camper and counselor at Goldman Union Camp Institute, a past member of the North American Federation of Temple Youth and Youth Group of Wise Temple, a Founding Father of the University of Cincinnati AEPI, and active member of Hillel, Josh has been a part of Jewish organizations for a long time. Along with his long history of active participation in organized sports and background as a brewer for a local brewery, Josh is looking forward to bringing JOFEE to Cincinnati, OH.
Liora Lebowitz
Jewish Farm School – Philadelphia, PA
Liora Lebowitz hails from Boston, MA where she grew up attending nature day camp and Jewish day school. After a brief rejection of nature-related activities in her teen years, she has reconnected with the Jewish Eco world through her work at Eden Village Camp for the past three summers – first as a counselor then as head of divisional programming – and as a member of the 2015 Fall cohort of Teva educators. Liora is excited to be working for Jewish Farm School in her new favorite city of Philadelphia. She hopes to learn even more about food, farming, and how to keep the squirrels out of her garden.
Bailey Lininger
Tamarack Camps – Bloomfield Hills, MI
A native of Michigan, Bailey is an educator with a deep and abiding love for the natural world. As a kid, Bailey spent her time exploring the woods, lakes, and beaches of the North Woods on foot or by kayak, and her adventurous spirit carried her all the way across the country at age eighteen to study environmental studies at Whitman College, in Walla Walla, WA. During and after college, Bailey became involved in Tamarack Camps, a Jewish summer camp with similarly deep and abiding love for the natural world. After graduation, Bailey became the Director of Tamarack Camp's Camp Kennedy, a remote, wilderness-based summer program for Jewish teens in the Upper Peninsula of Michigan. At Camp Kennedy, Bailey became passionate about fostering connections between Jewish teens and the natural world, a passion she is excited to continue to foster through the JOFEE Fellowship this year. Bailey is a 2015 graduate of the IslandWood Residency in Education for Environment and Community and is completing her Master's of Education degree this spring from the University of Washington.
Mira Menyuk
Pearlstone Center – Reisterstown, MD
Mira studied at the New England school of Photography in Boston before getting bitten by the farming bug. She was an Urban Adamah fellow in the spring of 2013 before returning to her home state of Maryland to work at the Pearlstone Center, where she is entering her third year of involvement. Her passions include being outdoors in all weather, hiking, singing, reading, and cat petting. She is excited to be a part of this inaugural fellowship, and to continue connecting, learning, and teaching with the wonderful JOFEE community.
Shani Mink
Pushing the Envelope Farm – Geneva, IL
Shani is a recent graduate of St. Mary's College of Maryland with a degree in philosophy and environmental studies. She was first introduced to the world of Hazon and JOFEE education at Eden Village where she worked as a farm educator. Shani has been working in agriculture for four years, including management of her campus community garden, completion of a Permaculture design course, and participation in the ADAMAH fellowship. When she is not out in the garden, you can find her chasing chickens, running, or baking challah. Shani is passionate about Jewish environmental education and is excited to be a part of changing the landscape of Jewish life.
Danielle Smith
Eden Village Camp – Putnam Valley, NY
Danielle grew up outside of Boston, kayaking and hiking with her family around New England. She studied environmental studies at the University of Vermont and spent two semesters abroad in Mexico and India focusing on community development and social change. She worked at a food rescue non-profit in Boston and then made her way to the Berkshire Outdoor Center to teach environmental education. As a Fall 2015 fellow at Urban Adamah, she enjoyed the sunshine of northern California while learning about farming, spirituality, and social justice. Danielle is thrilled to join the JOFEE cohort and to bring her passion for food, Judaism, and community to Eden Village Camp!