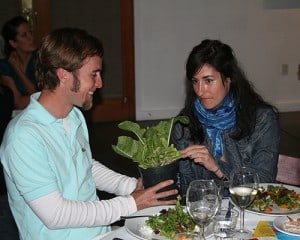 One day out of seven, we have the opportunity to stop creating and start being. To enjoy the world around us, including friends and family, beautiful places, enjoyable activities. To rest and recharge. If sustainability is about living in ways that don't exhaust our resources, Shabbat is a great place to start practicing this for ourselves and for the world: imagine if one day out of seven, the entire world stopped buying, producing, driving….
This supplement of texts is taken from Food for Thought, which was designed with the Shabbat table in mind. It helps to frame the conversation with friends and family, and provides insightful discussion questions for all to ponder.
Download: Food for Thought Supplement
Share Your Stories
Have you used the Food for Thought Supplement at your table? Did you have a great conversation or did something surprising occur? Send an email to foodeducation@hazon.org with your story and you could be featured in an upcoming Hazon blog post.

The Food for Thought Supplement was created in partnership with NEXT: A Division of Birthright Israel Foundation, which connects Birthright Israel trip alumni and their peers with meaningful Jewish living and learning opportunities nationally, locally and in Israel, and in parallel, grows and advances the field of young adult engagement professionals.