A Note from Volunteer Ride Co-Chairs Erica & Adam  
Dear Hazon Community,
Ten days from now we will gather in the rolling hills of Marin to share our values of environmentalism, health, and sustainability in the Jewish world and beyond. We hope to be catalysts for positive change through the vitality generated from our cycling adventures, crew spirit, and engaging Shabbat programming. Gear up, bring your ruach(spirit), positivity, and openness — prepare to leave with a spark!
If we have not yet had the chance to meet, please make sure to come say hello to us – Adam and Erica – your friendly volunteer co-chairs for the 2013 Golden Gate Ride. Adam will be riding his spiffy new Trek bicycle and Erica will be supporting riders as an enthusiastic crew member. We both look forward to meeting friends new and old, spending time outside, soaking in the Shabbat sessions, and learning lots from the whole experience.
As the weekend approaches, please reach out to us if you have any questions – we're here to help and support! We really don't mind helping, in fact, that's what we signed up for! Our emails are below.
As the ride draws near, we know many folks are working hard on their fundraising.We've found that NOW is the best time to make the push toward your goal.
Here are a few tips:
1. Reinventing the wheel is silly – check out Hazon's fundraising tools for inspiration and more tips.

2. Make your appeals early, often, and personalized – photos, Facebook shoutouts, a phone call.

3. Follow up is key – many of your soon-to-be-donors just need a quick reminder.

4. Think about how you will say thank you. We plan to write personalized notecards with a photo from our weekend.

5. Use social media: Post about your excitement, your training, and your goals! Here's a great example…
Lastly, as we get ready for the holiday of Shavuot we are reminded of the lessons from The Book of Ruth. This ancient text incorporates themes of peoplehood, responsibility, and the centrality of the harvest season. These ideas are on our minds as we make the final preparations for the ride, working toward an event with inclusivity and the shared responsibility for the sustainability of our communities. Wishing you a happy holiday and an awesome Golden Gate Ride weekend!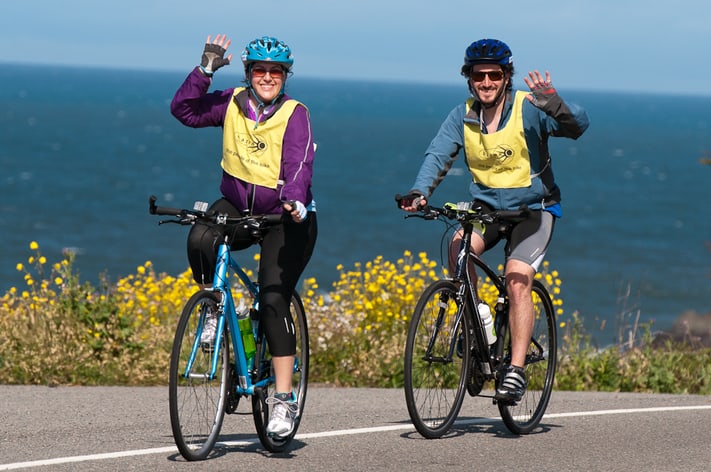 Adam Arenstein & Erica Hymen
2013 Hazon Golden Gate Ride Co-chairs