Your home away from home, next door to Isabella Freedman
181 Beebe Hill Rd is an elegantly rustic 35-acre property with two houses, six bedrooms, modern kitchens, stunning views of the Berkshires, and a 10-minute walk to the community and amenities of Isabella Freedman Jewish Retreat Center.
Available for private rentals year round. Please contact Simone Stallman at registrar@hazon.org or 860.824.5991 x101.
The Houses
Main House
Bedroom 1: queen bed + sitting room
Bedroom 2: queen bed
Bedroom 3: two twins
Bedrooms 2 & 3 share a bathroom. 
Bathrooms: full bath on the ground floor, two full baths on the second floor
There is a capacity limit of 6 adults for this house.
The main house has two large bedrooms and additional smaller kid-friendly rooms. There is a full bath on the main floor and two on the second floor. The downstairs has an open kitchen layout leading into a large communal space. 
Pool House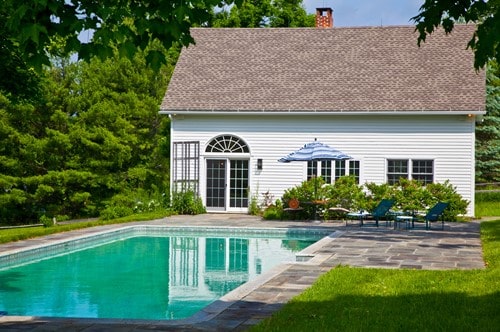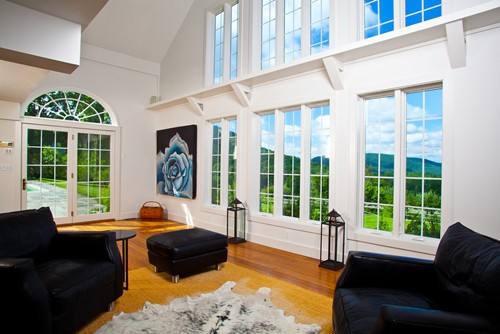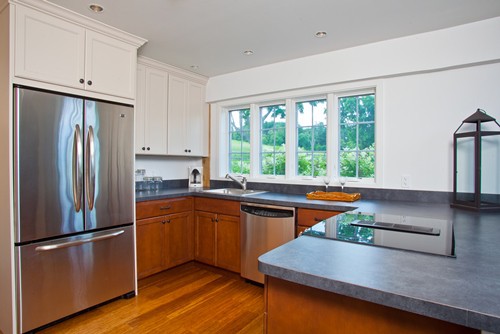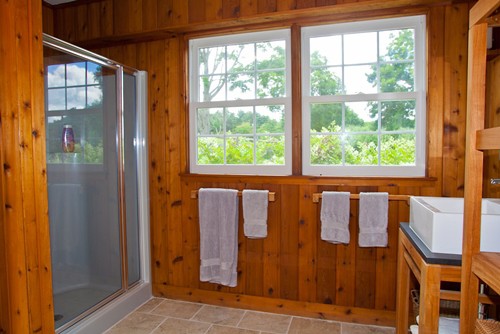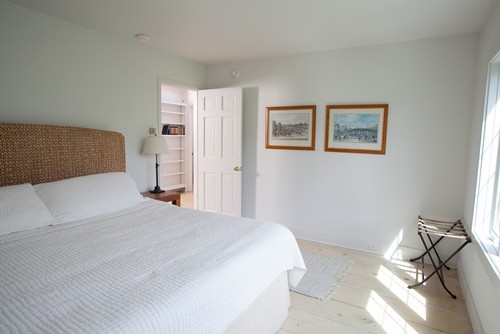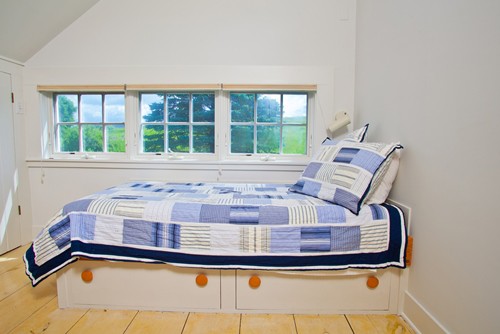 Bedroom 1: queen bed (ground floor)
Bedroom 2: queen bed
Bedroom 3: bunk bed and twin bed
Other upstairs spaces: Sitting area on landing
Bathrooms: full bath on the ground floor, half bath + tub on the second floor
There is a capacity limit of 6 adults for this house.
The pool house is further back on the property, 250 feet from the driveway. There are two larger rooms and a smaller kid-friendly room, as well as two bathrooms. The downstairs features public space and a recently renovated kitchen. The pool is open seasonally.
Ways to Enjoy Beebe Hill
For all bookings, please contact Simone Stallman at registrar@hazon.org or 860.824.5991 x101
Individuals and Families
Rates: There is a nightly rate of $825/night for the Pool House and $975/night for the main house, regardless of the number of guests staying, with a discount for both houses and for stays of 6 days or more. If joining for an on-site retreat, each guest must also register as a commuter for that individual retreat to cover the program and food costs.
Holiday Retreats and More
For our on-site retreats, larger families or groups of friends can stay in either the main house, the pool house, or both. There is a nightly rate to rent the house(s), and each guest has to register for the retreat at our commuter rate to cover programming and meals.
Long-Term Vacation Stays
The Beebe Hill properties are available to rent for longer-term stays. Guests would be responsible for their own food, and pending availability guests will be able to utilize the Isabella Freedman dining services for additional fees.
Rentals
Rates: Pricing for lodging and food will be determined as part of your overall rental contract.
Weddings
Wedding parties can rent the Beebe Hill houses for their entire weekend. This is a great option for family members looking to stay together in a higher-end accommodation. Guests are welcome to join the rest of the wedding party for meals on the main campus.
Small Rental Groups
The Beebe Hill property is available for small retreats, with accommodations for up to 12 adults between both houses. Meals could either be in the Dining Hall, served at the houses, or can be prepared by the rental party on site.
The Property
The houses at Beebe Hill sit on 15 acres of land which also include a pool (seasonal), apple and quince orchards, a variety of gardens, a large open yard, and forested areas. Additional land across the street includes a walking path to a small pond and land that will be soon be incorporated into the Adamah farm.
Area Map
Food
If you are registering for a retreat and staying at Beebe Hill, our pricing assumes that you will be eating in our Dining Hall or Tent on the main campus.
For those who are booking longer stays or simply want to cook on their own, the kitchens in both houses are available for kosher and non-kosher use.
If you want food from the Isabella Kitchen delivered to the houses or hire our chefs for private meals, please contact us for details.
Both houses are outfitted with dishes and cookware to use for kosher-keeping guests which are set aside when non-kosher guests use the houses. We open these cabinets when requested, but do not provide any kashrut guidelines and do not have a mashgiach for the Beebe Hill houses.
Though we cannot guarantee exactly how these items have been used by prior guests, everything is easily re-kashered if needed. All of our cookware (pots, pans, measuring spoons, etc) and cutlery are stainless steel. The plates, bowls, and cups are all glass. The counter tops are stone which can be kashered; the sink is stainless steel; the oven can be self-cleaned, and the range is gas. We have a double-decker dishwasher and have designated the lower drawer as Kosher dairy. We ask that kosher guests not use the microwave. Prior to your arrival we will self-clean the oven, and guests are welcome to re-kasher anything they desire.
For Shabbat: The houses have a hotplate, "shabbat-friendly lamps" which can be used in the bedrooms, a few outlet timers, and shabbat-friendly sponges. Shabbat and Havdalah candles are provided – please be sure to only light Shabbat candles in the sand-filled trays provided.
Terms and Conditions
Guests will be asked to sign a waiver when booking a stay at the Beebe houses. The terms and conditions include:
No smoking allowed.
No pets allowed in the houses or on the properties (emotional support and service animals excepted)
No open fires are allowed on the grounds. The fireplaces in the buildings cannot be used.
No more than 12 adults are allowed in either house at any given time.
No daily housekeeping service is provided.
Our staff and farm fellows may be working on the grounds in and around the houses.
Use of the Isabella Freedman grounds, food service, and buildings varies. We will create a custom schedule for you for the duration of your stay.