We invite you to enjoy the simplicity, comfort, and charm of our country lodging. We can accommodate up to 150 guests in our well-appointed rooms. Each of our nine lodges has its own unique character. Our accommodations are air-conditioned during the summer months and heated throughout the winter. Some buildings have rooms with private baths; others offer shared bathrooms for two or three rooms. Handicap-accessible rooms are also available upon request.
Standard Plus Rooms: Weinberg and May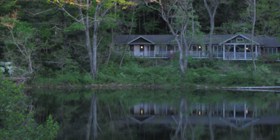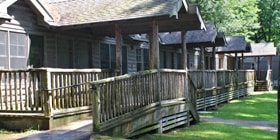 Our standard plus rooms have private bathrooms and are available with two queen-sized beds, three twin-sized beds or one queen-sized bed and two twin-sized beds. These are our newest, most spacious rooms.
Standard Rooms: Pine and Scheuer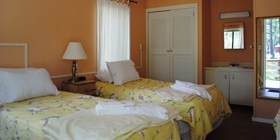 Our standard rooms have a private bathroom. Some rooms have two twin-sized beds, and some have one queen-sized bed and two twin-sized beds.
Basic Rooms: Cedar, Blue Heron, and Maple
Our basic rooms have two twin-sized beds. A limited number of queen-sized beds are available. Bathrooms are shared by two rooms.
Dormitory Rooms: Elm and Kaufmann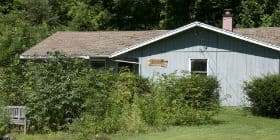 Our dormitory rooms have bunk beds and shared bathrooms.
Camping
Camping is available on the designated camping lawn. Campers supply and set up their own tents and equipment and have access to bathrooms and hot showers.