Hey! Welcome to the Hazon page dedicated entirely to YOU!  Do you love to ride your bike? Is your Bar/Bat Mitzvah coming up? Are you interested in environmental issues? Sustainable food? Jewish learning?
If you answered yes to any of the questions above, keep reading.  I promise you'll find something interesting.
Keep up with Hazon on Twitter and Facebook 🙂
Action
At Hazon, we strive to create a healthier and more sustainable world.  And what better way than by taking real action in your own community?  From buying and eating better food at Jewish holidays, to encouraging your camp, synagogue, or school to improve its food habits, to directly petitioning the government for a more sustainable farm bill, Hazon empowers ordinary citizens to make a difference!
Feel free to adapt our materials to your own community- at school, at camp, at synagogue, or at home.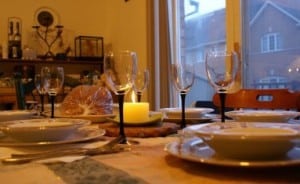 Learn about how the Farm Bill affects everyone and what you can do to influence it, like signing the Jewish Petition for a Just Farm Bill.
Celebrate the wonderful Jewish holidays while keeping your sustainable food values, with menu suggestions, activity ideas, and decoration tips.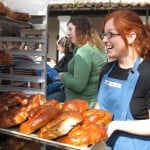 Attend the annual gathering of the New Jewish Food Movement, where you will join chefs, educators, rabbis, and foodies to learn about social justice, food ethics, Jewish values, and more.

Encourage your camp, school, synagogue, JCC, or other Jewish organization to improve its food sustainability and food justice practices.
Hazon offers grants for environmental projects across North America and Israel.  If you're part of an environmental club at school, have an idea for incorporating a garden at camp, or have another environmental project that needs funding, then apply!

Projects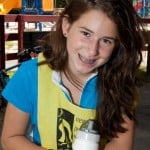 Many aspiring bar and bat mitzvah children choose to integrate our Rides into their experience of becoming a Jewish adult. The teens bring ruach, energy, and inspiration to the Ride, as riders and as crew. They often bring their families to the Ride, and many times the experience is just as transformational for the parent as for the teen. Teen participation is genuine to Hazon's commitment to inclusiveness, broadening the range of voices and experiences that make up the Ride community.
For questions or more information regarding b'nai mitzvah, contact david@hazon.org.
Reasons to Choose a Bike Ride
A bar or bat mitzvah is a spiritual experience – the ride brings a physical dimension to your journey.
Prepare, train and work towards accomplishing another layer of challenge to your rite of passage.
Connect your love of nature, community, and tzedakah to your b'nai mitzvah.
The ride is an incredible fun, outdoor way to make a difference!
Your whole family can be involved in the training and participation.
Your whole synagogue and community can support your bike journey.
It is the perfect connection of helping the world, Israel, and the environment.
What Hazon Offers the B'nai Mitzvah
A great experience to challenge, grow, and learn Jewishly.
B'nai mitzvah teens are recognized for their special commitment.
Opportunity to participate in outdoor religious services.
Personalized web pages and computer support to collect fundraising.
D'var Torah resources related to the environment.
Connections to alumni b'nai mitzvah and teen riders.
Quality family time in a unique setting.
Plus, there is room for non-riders to participate as crew.
What Hazon Offers Family and Community
An active, Jewish, educational, and inspiring family vacation.
A fun, outdoor, and challenging experience to work mind, body, and spirit.
A supportive environment for riders of all levels.
A completely inclusive experience including Jews, multi-faith individuals, and friends of Jewish families.
A pluralistic Jewish community for all walks of Jewish life.
Exposure to a contemporary and exciting setting with like-minded peers and families.
The Shabbat experience was many things for us. A chance to talk with our kids about new ways to do things, a chance to see how other Jews celebrate, a chance to share some new experiences, and celebrate with a new community and as someone who doesn't love sitting in services, I felt this weekend gave me a full sensory immersion into Jewish environmental issues and opened my eyes to some new concepts.
As part of the Bar/Bat Mitzvah project, teens will have the chance to share their experiences and lessons they have learned.  Read these speeches to learn what B'nai Mitzvah have talked about in the past and how Hazon can create the perfect Bar/Bat Mitzvah experience for you:
Parents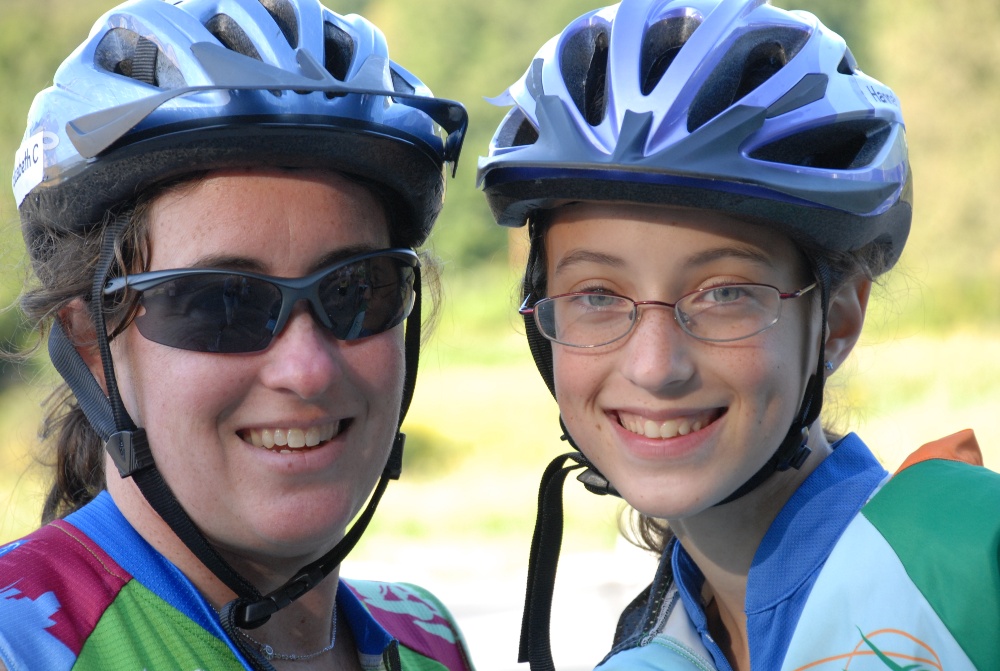 As a parent, you have the unique opportunity to raise a child that shares Judaism's values of social justice, sustainability, and equality. Whether by celebrating your child's Bar/Bat Mitzvah on a Hazon bike ride or by encouraging your teen to take action towards environmental sustainability, you can use Hazon's resources to improve the world for your child.
The table below offers information about Hazon's programs as they relate to teens.  For adult fees, fundraising, and more information, click on the individual program link.
2014 Hazon Programs
| Program | Dates | Fees & Fundraising |
| --- | --- | --- |
| Israel Ride | November 4-11, 2014 | ~$450 registration, $3000 fundraising |
| | | |
| Food Conference | December 2014 | ~$200 registration |
| | | |
| Golden Gate Ride | Memorial Day Weekend |  $150 registration, $800 fundraising |
| New York Ride | Labor Day Weekend |  $150 registration, $800 fundraising |
Hazon means vision.
We create healthier and more sustainable communities in the Jewish world and beyond.
Our programs are multi-generational and give entry points for Jews of all backgrounds who are concerned about the environment and the world. Hazon serves a national and international population; members of every denomination and those who are unaffiliated; intergenerational from children to seniors – including families and singles, with a particular focus on young adults interested in developing the skills to take on leadership roles in their communities and make a difference in the world.
In relation to young and teen participants, Hazon
seeks to build a new generation of environmentally-conscious leaders
strives to connect Jewish youth to Judaism's values of social justice, environmentalism, and inclusiveness
engages families by providing opportunities to see the world in a new and brighter light.
Our events are aimed at people of all ages.  While there is often dedicated teen programming at our events, we encourage all who are interested to attend the adult sessions to participate in the larger community.  Our Bar/Bat Mitzvah teens are highlighted on our bike rides and given the opportunity to share their thoughts on their experiences in the context of a sustainable Jewish community.
This has been an incredible opportunity for me (and for so many other parents here) to share in our kids' lives. Thank you so much for that – it's incredibly unique.
Teen Safety
We welcome youth and their families on Hazon's Bike Rides. To ensure the highest level of safety for all individuals, the group, and the event, we provide the following requirements & policies for youth riders.
Youth may choose to ride with a parent or guardian, or with an organized group.
Youth and their parent/guardian or group may also choose to work as part of our crew.
Youth as Riders
To be a rider, the minimum age is 12 years old before the first day of Ride. Interested in signing up a rider under 12? Please contact david@hazon.org.
Riders 12-14 years old must ride with a parent or guardian at all times. This means that the parent and child will ride on the same route and at the same pace and should remain within 50 feet of each other on the course.
If a guardian is accompanying a teen, parents must sign a notarized power of attorney giving the guardian the right to make medical decisions on behalf of the child. You can Download the Form here.
Riders 12-14 years old who choose to join the Hazon Ride as part of an organized group  must ride with a designated chaperone.
Riders 15-17 years old must ride with a partner (teen or adult) and stay within 50 feet of each other at all times.
Riders and their parents/guardians or partners are responsible for staying together at all times. No youth rider is ever to be riding alone. If found riding alone, the youth will be taken off the route.
Youth as Crew Members
Crew members who are 17 and under must be accompanied by an adult while on crew. If the parents are cycling, they are responsible for finding a guardian to be with the teen crew member during the Ride.
Youth who are 15-17 can choose to be on Avodah Crew or Ruach Crew, but still with a parent or guardian. Youth who are under 15 must be on Ruach crew.
If a guardian is accompanying a teen, parents must sign a notarized power of attorney giving the guardian the right to make medical decisions on behalf of the child. You can Download the Form here.
Safety
All youth will cycle with a specially designated reflective safety bib.
It is strongly recommended that all youth riders attach an identifying flag to their bike.
Hazon's policies are subject to change at any time and are based on the safety needs of participants.
All parents or guardians must sign this form for riders 14 and under and crew 17 and under: Guardian Consent Form
All teens are expected to sign the harmony agreement, in acceptance of our behavior rules: Teen Harmony Agreement