Sep 29, 2017 - Oct 1, 2017
Isabella Freedman Jewish Retreat Center, Falls Village, CT
Orthodox minyan with Rabbi-Chazan Matti Brown and Renewal minyan with Kohenet Shamirah Bechirah
Quiet, contemplative time and meaningful shared experiences, whether you're walking along the lake, praying in the glass-walled synagogue, visiting the goats or helping us build our community sukkah after a bountiful break-fast meal. Leaders include Orthodox and Renewal minyanim (prayer groups) designed to include and invite diverse, creative Jewish community. It is our intention to provide an opportunity for a diverse community to participate in prayer services that meet your needs and nourish your soul. To that end, we offer two complementary options for prayer – Orthodox and Renewal – not unlike the way in which we offer options for learning sessions and other activities during each retreat. The different opportunities allow for greater connection, learning, encounter, and expression of uniqueness.
Orthodox and Renewal minyanim (prayer groups) designed to include and invite diverse, creative Jewish community, from Kol Nidre through Ne'ilah
Kosher farm-to-table seudah hamafseket (pre-fast meal) and abundant break-fast featuring Grow and Behold meats, and delicious and plentiful vegetarian delights
Enjoy the majestic beauty of fall at Isabella Freedman
Morning meditation and yoga
Beautiful Havdalah and closing ceremonies
Orthodox Minyan with Rabbi-Chazan Matti Brown
With exuberant Chasidic davenning, teachings and meditations by Rabbi-Chazan Matti Brown
While Yom Kippur is a day of 'awe', it is also the most joyful, restful day of the year! The Torah calls Yom Kippur "Shabbat Shabbaton", alluding to a double-intensity rest and joy. When Yom Kippur falls out on the Seventh Day of Rest, we enter an experience of triple-deep restfulness, release and delight! The multi-dimensional fast allows us to release completely from our egoic selves and rest into deveykut, oneness with the Divine. To help make this palpable, Rabbi Matti will offer brief contemplative exercises throughout the day, drawn from halacha, Chasidut, and contemporary transpersonal methods. Come, sing your heart and enter spiritual rest with us. The trees of Connecticut will clap their hands to our songs of oneness. During the break, relax in a hammock by the lake or take a meditative walk on the forest path. Dance through the Ne'ilah service, which encloses you within the gate of Divine intimacy. Break your fast with freshly farmed produce, and then sing some more, delighting in sweet community. Yom Kippur this year is Shabbat to the third power!
Before jumping with both feet into the streams of Jewish joy, Rabbi-Chazan Matti Brown passionately sought for an experience of the oneness underlying the world's wisdom traditions. A mentorship with Rav DovBer Pinson helped him focus and resolve this search, which in turn led him to Jerusalem to study for rabbinic ordination with posek Rav David Fink and educator Reb Sholom Brodt. As a certified life coach and somatics practitioner, Matti loves to turn spiritual teachings of the Torah into penetrating questions for self-investigation, insight and embodiment. As a baal tefillah and songwriter, Matti has helped fill the prayers of hundreds of people with song. He is also an editor of Jewish books, and currently lives in Jerusalem with his wife, the singer and storyteller Rachel Ravitz, and their twin daughters.
Renewal Minyan with Kohenet Shamirah Bechirah
Kohenet Shamirah Bechirah will lead the Renewal minyan with Hebrew chant, silent meditation, and space for both personal and communal reflection. Renewal services will include percussion instruments and the liturgy of the services is abbreviated, but follows the arc of a full service. The language of our prayers plays with gender of God/Goddess both in the Hebrew and the English and includes some earth-based imagery. Additional program highlights include a self-forgiveness exercise and "Journeying with Jonah."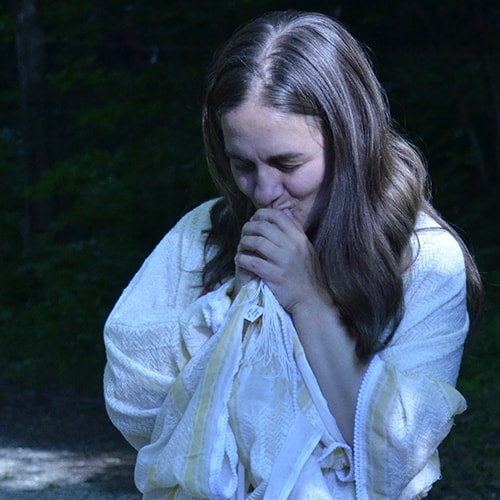 Kohenet Shamirah Bechirah, also known as Sarah Chandler, is a Jewish experiential educator, community activist, and earth-based spiritual leader. Her ritual craft and prayer leadership is well-known from the Isabella Freedman Shavuot Goat Parade and Sukkot Water Drawing celebration. In recent years, she lead high holiday services at Bnai Or in St. Croix USVI, as well as West End Synagogue and Altshul Minyan in New York City. Currently, she is the CCO (Chief Compassion Officer) and team leader at JIFA (Jewish Initiative for Animals) where she works to support Jewish institutions to establish meaningful food policies rooted in Jewish ethics and animal welfare. She previously served as the Director of Earth Based Spiritual Practice for Hazon's Adamah Farm, responsible for Food, Farm and Forest Jewish Educational Programming. She holds a M.A. in Jewish Experiential Education and a M.A. in Hebrew Bible from the Jewish Theological Seminary, and a certificate in Non-Profit Management and Jewish Communal Leadership from Columbia University. She teaches, writes and consults on a national level on issues related to Judaism, earth-based spiritual practice, the environment, mindfulness, food values, and farming.
Kohenet Shamirah Bechirah is a guardian of sacred texts, a weaver of earth-based rituals, and a visionary of modern Judaism. Rooted in tradition, she radically re-ignites the divine relationship for a contemporary integrated Judaism. With compassion for all beings, she renews ancient texts through adventure, spirit, and personal empowerment. Witnessing the source of life as interconnectedness of being, she co-creates, reveals, and enlightens in relationship with all that dances across her path. Whether you ask her for a reading, a blessing, or simply space to listen, her presence will warm your soul and bring you peace.
Friday, September 29
All Streams/Communal Sessions
2:00 PM

Check-in

Great Hall

Arrival Snack

Great Hall

Mikveh – Non-Binary/Genderqueer

Boat Deck

3:15-3:30 PM
Mikveh – Self-Identified Women
3:30-3:45 PM
Mikveh – Self-Identified Men
5:00 PM

Seudah HaMafseket "Separation Meal" Pre-Fast Meal

Dining Hall

6:00 PM
Fast Begins
6:00 PM

Community Candle Lighting

Great Hall

6:15-6:30 PM

Mandatory Parent/Guardian Orientation

Arts & Crafts

6:30-8:30 PM

Camp Teva

Arts & Crafts

6:20 PM

Both services begin either in the Synagogue or Library

Synagogue and Library.

8:30 PM

Learning, Singing, and Storytelling

Great Hall

8:30 PM

Four Worlds Teshuva (Repentance)

Library
Orthodox Services – Synagogue
4:45 PM
Mincha
6:20-8:30PM

Kol Nidre, Welcome

Kabbalat Shabbat

Maariv with Selihot
Renewal Services – Library
Services will begin in the Library. Some components of the services will be held outside. Please dress accordingly for the weather.
6:20-8:30PM

Kol Nidre

Kabbalat Shabbat

Ma'ariv
Saturday, September 30
9:00 AM-3:30 PM

Camp Teva

Arts & Crafts

5:00-7:30 PM

Camp Teva

Arts & Crafts
Orthodox Services – Synagogue
| | |
| --- | --- |
| 8:30 AM | "Releasing" Meditation |
| 9:00 AM | Shacharit (Psukei d'Zimra) |
| 11:45 AM | Torah Reading |
| 12:15 PM | Yizkor Address & Service |
| 12:30 PM | Musaf |
| 3:30 PM | Break after Musaf |
| 5:00 PM | Mincha, including Torah Reading |
| 5:45 PM | Neilah Address & Service |
| 7:17 PM | Nightfall, Shofar Blast |
| 7:20 PM | Maariv |
Renewal Services – Library
| | |
| --- | --- |
| 9:00 AM | Shacharit (morning practice) |
| 11:45 AM | Torah Service |
| 12:15 PM | Yizkor Service |
| 12:30 PM | Lake trail contemplative walk |
| 3:30 PM | Break |
| 5:00 PM | Becoming Jonah |
| 5:45 PM | Neilah & Ma'ariv – Unlocking the Spiral |
| 7:17 PM | Nightfall, Shofar Blast |
All Streams/Communal Sessions
7:30 PM
All Streams – Havdalah (Fast)
7:45 PM
Break Fast!
8:30 PM

Sukkah Building

Patio

8:45 PM

Kiddush Levanah – Blessing the Moon

Outside next to tent

9:00 PM
Campfire and s'mores
9:00 PM

Happy – Documentary

Synagogue
Sunday, October 1
All Streams/Communal Sessions
8:00-9:30 AM

Breakfast

8:30 AM

Orthodox – Shacharit

Synagogue

9:00 AM

Renewal – Shacharit

Library

10:00 AM
Guest Room Check-Out
12:00 PM
Lunch
1:00 PM
Departure
*Single-occupancy upgrades are available for Basic, Standard, and Standard Plus lodging.
If you're having trouble seeing the lodging options, try opening the page in a different browser or an incognito window.
You will receive a confirmation email once you have registered and made a payment online or by phone. If you do not receive the confirmation email within 24 hours of registering, please email registrar@hazon.org.
We strive to make our programs affordable to everyone. Limited scholarships are available, please see the scholarships tab for details.
Tamar Fund Scholarships
We strive to make our retreats affordable to everyone.We believe retreats are important experiences to be shared. Inclusiveness is one of our core values. We strive to ensure that our retreats are as financially accessible as possible. The Tamar fund makes that aspiration possible. Read about more about the Tamar Fund, in loving memory of Tamar Bittelman z''l.
Application Process
Scholarships are awarded on a rolling basis and are awarded exclusively for dormitory lodging, camping, and commuting (pending availability).
Applications must be received at least three weeks in advance of the retreat for which you are applying. Please only register after receiving a response; the scholarship will not be applied retroactively.
We will respond to Tamar Fund scholarship applications within seven business days of receipt.
If you are awarded a scholarship, you will have one week to register for the retreat at the reduced rate, after which time the offer will expire.
A scholarship does not guarantee availability at the time of registration; due to the inherent turnaround time of the application process, we recommend applying as early as possible to secure a spot at the retreat.
If you have any questions, please contact us at registrar@hazon.org or (860) 824-5991 x0.
ARRIVAL AND DEPARTURE
Check-in is located in the Main Building — the big red building in the middle of campus. You must be checked out of your room by 10 am on the day your retreat ends.
Rosh Hashanah: Check-in is from 2 to 5 pm on Wednesday, September 20. The retreat will conclude on Sunday, September 24 with brunch.
Yom Kippur: Check-in is from 2 to 5 pm on Friday, September 29. The prefast meal will begin promptly at 5 pm. The retreat will conclude on Sunday, October 1 with lunch.
PARKING
There are two parking lots: one next to the tennis court by the main entrance, and one by the barnyard on the other end of campus. There is also accessible parking located across from the Main Building. Please do not park on the grass anywhere on campus.
TRANSPORTATION
For those coming from the New York City area, we are conveniently located just half an hour from Wassaic Train Station, the last stop on the Harlem Line of the Metro North. We offer a shuttle service at the following times for this retreat.
Arrival Shuttles – from Wassaic Train Station to Isabella Freedman:
2:03 pm & 4:03 pm on Wednesday, September 20 & Friday, September 29
Departure Shuttles – from Isabella Freedman to Wassaic Train Station:
11:30 am on Sunday, September 24 & Sunday, October 1
If you have not already reserved shuttle service during registration, please call (860) 824-5991 ext. 0 at least a week before the start date of the retreat to reserve your spot. For those of you driving, please see our website for directions to IF.
For more information on getting here, click here.
RIDESHARE
Help to reduce the environmental impact of car trips to and from Isabella Freedman by checking out our carpool initiative! Upon registering, you will receive acces to a virtual rideshare board to help connect you with fellow retreat participants. Offering a ride in your car will help reduce carbon emissions, cut down gas costs and make new friends! If you are looking for a ride, adding yourself to the wait list (right hand side of the page) is the best way to be notified when movements occur.
KASHRUT POLICY
One of our mashgichim (kosher supervisors) must pre-approve all food items that enter the designated dining spaces. If you plan to supplement our delicious, healthy, farm-to-feast meals, your items must be completely sealed in original packaging. Unapproved food and drinks may be enjoyed anywhere on campus besides our dining spaces.
PACKING LIST
You may want to bring:
Over-the-counter and/or prescription medications
Toiletries
Flashlight
Chargers for electronic devices
Sun protection (sunblock, sunglasses, a hat)
Rain gear (a jacket and/or umbrella)
Ritual wear
Comfortable, loose-fitting clothes for yoga
Closed toe shoes
Hiking boots to enjoy our many trails
Camping equipment, including a tent, sleeping bag, and towel if you are camping
We provide:
Toiletries like deodorant and toothpaste for sale in the bookstore
Extra kippot and tallitot, in addition to siddurim
Yoga mats, blankets, and blocks
Heat and A/C in all guest rooms
Linens and towels in all guest rooms
Alarm clocks in all guest rooms
If you're new to Isabella Freedman, check out our Frequently Asked Questions.
click here for holiday resources for rosh hashanah  click here for holiday resources for yom kippur
click here for a High Holidays reading list