Nov 19, 2017 - 12:00 pm - 2:00 pm
New York City Hall, New York, NY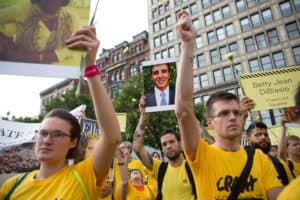 Sunday, November 19th is the World Day of Remembrance for Road Traffic Victims, and we will stand beside members of Families for Safe Streets again, more emboldened than ever before. To honor the memories of their loved ones, those killed and injured on October 31st, and all whose lives have been needlessly lost to traffic violence, Families for Safe Streets and Transportation Alternatives will gather together at City Hall Park.
On November 19th, we'll stand hand-in-hand, forming a massive "0" around City Hall. We have asked the Mayor and the Governor to stand with us, to honor the memories of traffic violence victims, and to redouble their commitment to realize the promise of Vision Zero: not one more life lost or injured in preventable traffic violence.
Visit the Facebook event to sign up to receive more information about the rally and tell our elected officials they need to act.