May 12, 2019 - May 19, 2019
At 70 years old Israel has never been stronger. The booming tech and innovation sectors, as well as the world-class food scene, continue to grow exponentially, but at the same time, it is a country beset by many challenges. These challenges, both external and internal, are universal but also particular to the unique Jewish character of the state and the difficult physical constraints of its geography.
With the theme of "Israel's challenges mirroring the larger global environmental issues we all face" in mind, our carefully crafted and customized itinerary will bring you into the heart of the environmental issues facing Israel. We have designed this trip to focus on several of the most compelling areas of innovation and investment specifically; climate change, water, and food security. We will spend time exploring, discussing, and seeing how Israelis are creating solutions for all of the above by engaging with visionaries, practitioners, and investors at the intersection of impact investing and environmental sustainability.  
Highlights may include:
Meeting with leading professionals in the field of Impact Investing in Israel. By meeting with the best of the best we will understand how impact investing works in Israel, exploring the unique cultural challenges and opportunities for the field in Israel. In addition to hearing about specific themes, areas of focus, and a range of investments, we will see them in action with various site visits.
Visits to unique environmental initiatives in a number of different fields such as Water Conservation, Clean Tech/Climate Change, Food Security/Waste management, and more. Israel is home to cutting-edge environmental projects that blend the unique climate and conditions as well as the technological advancements. We will see and experience these projects that serve Israel as well as many countries around the world.
Pushing Beyond our Comfort Zones. The physical dimension is a core part of any Israel experience and therefore we will be hiking, biking, and surfing our way through the country. These creative and fun experiences will connect you to Israel like nothing else.
Food! Using all five of our senses, the food we eat will be an extension of the conversation we will be having about sustainability and environmentally-friendly practices. We will explore the shuk (the "open air" market) with a local chef, and support farm-to-table initiatives and local farmers.
Israel/Palestine. We will engage in conversation about the interaction between Israelis and Palestinians through the lens of environmental issues and leading visionaries laying the groundwork for a sustainable future. We will explore how the political reality affects the environmental concerns and the interplay between them.
We will be staying in Jerusalem and Tel Aviv at 5-star hotels. These hotels are located in prime location to take advantage of the incredible atmosphere that both cities have to offer.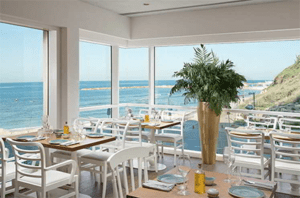 In Tel Aviv, we will be staying at the Carlton Hotel, located on the beach in central Tel Aviv.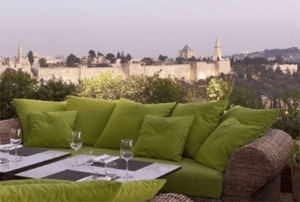 In Jerusalem, we will be staying at the Mamilla Hotel in central Jerusalem, in walking distance to the Old City, Western Wall, and the bustling shuk.
Fees*
$4200 for double occupancy until December 1, 2018 (pricing will rise by $500 after that)
Single supplement: $1,000
The cost for the tour includes:
Expert licensed tour guide/senior educator will spend the entire week with the group
All hotel stays (double occupancy with an option for a single room)
Three full meals per day (except 1-2 independent meals)
All entrance fees to the activities
Basic health insurance coverage (please see waiver in registration form for additional information)
Water and snacks on the bus
*Prices do not include airfare
Shabbat in Tel Aviv: May 10-11
We highly encourage you to arrive in Israel for the Shabbat prior, an opportunity to be well rested and to leisurely enjoy the culture in Tel Aviv as we begin a dynamic week together.
This opportunity includes a two-night stay in Tel Aviv, a Friday-night Shabbat experience, dinner on Saturday night, and Havdallah. Havdallah is a Jewish ceremony that marks the symbolic end of Shabbat and ushers in the new week. Shabbat ends on Saturday night after the appearance of three stars in the sky.
Fees:
$500 per-person for Shabbat, all-inclusive (double occupancy)
$800 per-person for Shabbat, all-inclusive (single occupancy)
Fee Schedule
By midnight on December 1, 2018: $4,200 for double occupancy if you reserve a spot with a $500 deposit.

The balance of $3,700 is due by January 15, 2019.

As of December 2, 2018: $4,700 for double-occupancy.

The full amount is due upon registration from January 1 onward.

Single supplement: $1,000
Cancellation Policy
If you cancel before December 1, all payments are fully refundable.
If you cancel between December 1, 2018 and February 15, 2019, your payments are refundable less a $500 fee.
If you cancel between February 16, 2019 and May 1, 2019, 50% of the full fee refundable.
If you cancel after May 1, all payments are non-refundable.
Hazon reserves the right to cancel any program at any time. In the event of such a cancellation, you will receive a complete refund.
For questions or more information, please contact Meredith Levick at meredith.levick@hazon.org.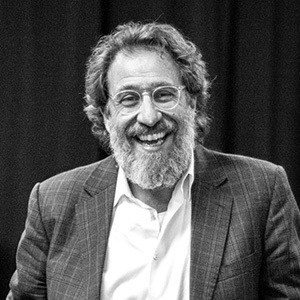 Nigel Savage, Hazon CEO,
 is originally from Manchester, England and founded Hazon in 2000, with a Cross-USA Jewish Environmental Bike Ride. Nigel has spoken, taught, or written for a wide and significant range of audiences. (A selection of his essays are at
hazon.org/nigel
). He has twice been named a member of the Forward 50, the annual list of the 50 most influential Jewish people in the United States, and is a recipient of the Bernard Reisman Award. He has given Commencement speeches at Wagner (NYU, in 2011) and at Hornstein (Brandeis, in 2014). In 2015 he was awarded an honorary doctorate by the Jewish Theological Seminary.
Before founding Hazon, Nigel was a professional fund manager in London, where he worked for NM Rothschild and was co-head of UK Equities at Govett. He has an MA in History from Georgetown, and has learned at Pardes, Yakar, and the Hebrew University. He was a founder of Limmud NY, and serves on the board of Romemu.
Nigel executive produced the British independent movies Solitaire For 2 and Stiff Upper Lips and had an acclaimed cameo appearance in the cult Anglo-Jewish comic movie, Leon The Pig Farmer. He is believed to be the first English Jew to have cycled across South Dakota on a recumbent bike.
Rebecca Trobe, Tour Chair
, Psy.D, founder of
Impact Coaching & Consulting
, is an advisor and consultant working at the intersection of money and meaning in families. Her practice focuses on families of wealth and philanthropic families engaging in significant impact which includes multi-generational family dynamics, decision-making, and negotiating the transition and emergence of the next generation. Rebecca is also an executive leadership coach and works with organizations and leaders on the effective development and implementation of strategy, values, vision, and leadership.
In addition to her passion for engaging in the principles of social venture, philanthropy, altruism, and leadership, Rebecca is proud to descend from a multi-generational legacy of Jewish service and leadership.
Gabe Axler, Tour Operator and Logistics Coordinator,
is originally from Chicago and has worked in the field of informal Israel education and educational tourism for 10 years. He has a B.A. in History from Binghamton University and an M.A. from Spertus College in Jewish Professional Studies In 2010, he made Aliyah with his wife and was a founding member of the intentional community Kehillat Beerot in Be'er Sheva. He currently serves as the Director of Pnima, a social tourism initiative of the non-profit, EretzIr. He is the proud father of Sela, Hadar, and Emanuel.
Jared Goldfarb, Independent Educator
and Licensed Tour Guide,
is based in Jerusalem with nearly 20 years of experience in the field. Born and raised in New Hampshire, he studied at Brandeis University and has since lived in six different countries. After working for the Jewish Federation in Boston from 1994-96, Jared decided to spend a year in Israel… and never left. Since 1999 has worked as an independent guide for families, faith communities, and multi-narrative student encounters with Israel/Palestine.
Jared serves as a faculty member at Jerusalem institutions and teaches Middle Eastern history and the historical context of Judaism, Christianity, and Islam for various seminaries and multi-faith missions; and he has served as scholar-in-residence in numerous communities, including Boston, New York, Baltimore, San Francisco, New Orleans, St. Louis, and London.
Jared and his partner, Elisa, live in Jerusalem with their three adorable kids. Jared is a passionate environmental activist, avid biker, obsessed genealogist, vegan chef, and proud leader of the movement toward sustainable tourism.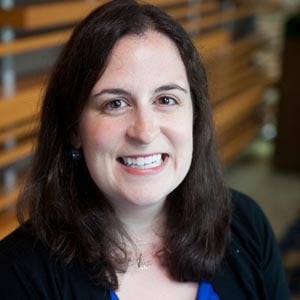 Meredith Levick, Hazon Tour Organizer, is the Director of Community Engagement at Hazon. She values Jewish communal work as an opportunity to weave together her interests in building transformational learning experiences for a variety of populations and strengthening the collective Jewish community via innovation, adaptability, and thoughtful communication. Meredith received her Master's degree in Jewish education with a focus on experiential education from The Jewish Theological Seminary. Additionally, she completed a Master's concentration in Israel education via the iCenter. She holds a Bachelor of Arts degree in English Literature and Spanish from Northwestern University in Evanston, Illinois. Meredith lives in New York City with her husband, Danny, a fellow Jewish communal professional.