Jun 3, 2022 - Jun 7, 2022
Isabella Freedman Jewish Retreat Center, Falls Village, CT
Shavuot is the time when the community gathers around the mountain, and makes pilgrimage to a holy place, for the ultimate transformative experience. 
Celebrate Shavuot in the beautiful foothills of the Berkshire Mountains. Join us for an inclusive celebration of revelation that includes all-night learning, sunrise shacharit, delicious farm-to-table foods, a midnight hike to the top of the mountain, and a pilgrimage parade featuring goats, fruits, and more. Our schedule is packed with activities for the whole family. Nourish your mind, body, and soul this shavuot.
Retreat Overview
Registration Rates (4 nights, Friday-Tuesday)
Standard Lodging (private bathroom): $1260
Standard Lodging – Single Occupancy: $2010
Basic Lodging (shared bathroom with one other room): $975
Basic Lodging – Single Occupancy: $1560
Dormitory (multiple occupancy, sold per bed, shared toilet and shower): $865
Commuter: $540
Children (5-12): $350
Toddlers (2-4): $175
Infants (under 2): $0
Have a party of five or more people? Contact the registrar at registrar@hazon.org or call 212-644-2332 ext 305.
Scholarships
We strive to make our retreats affordable to everyone.
We believe retreats are important experiences to be shared. Inclusiveness is one of our core values. We strive to ensure that our retreats are as financially accessible as possible. The Tamar fund makes that aspiration possible. The Tamar Fund is in loving memory of Tamar Bittelman z''l.
Please be sure to read the application guidelines in the form below
Programming Highlights
Classes and Activities: Throughout the weekend, we will have many Torah classes and text study opportunities on a variety of topics presented by renowned teachers and scholars, including an all-night Tikkun Leil Shavuot. We will also offer tours of our organic farm and barnyard, guided hikes on our trails and twice a yoga, and more.
Davening: We will have two davening options.
Partnership Minyan (Liberal / Open Orthodox): These services follow a traditional Orthodox format, with a mechitza, while including women and gender-non-conforming people in ritual leadership roles to the fullest extent possible. These include reading from the Torah, (including chanting and receiving aliyot other than the Cohen and the Levi) and leading parts of the prayer service such as Pesukei D'zimrah, Kabbalat Shabbat, Yizkor and Hallel. Men always lead Shacharit, Musaf, Mincha, and Maariv.
Renewal Minyan (Egalitarian): The Renewal service uses a "four worlds" model of prayer, engaging body, heart, mind, and spirit. The service focuses deeply on core phrases and themes from the traditional service, rather than using the entire liturgy. The Torah service provides spiritual intentions for each of the aliyot that are read, inviting anyone who wishes to express that intention to come up for that aliyah. Amplification and musical instruments including guitar and drums may be utilized.
Kids Programming
Kids programming will be outdoors as much as possible, including in the rain; a raincoat, rain boots, hiking boots or sneakers, and a labeled water bottle are required.
Gan Shoreshim; Toddler/ Preschool: Ages 2-4/5 (Pre-K and below). Parents/Guardians can choose to drop off their children or stay with them. Gan Adamah provides a safe and engaging space to play, explore, sing, and move. Children younger than two may attend, but parents/ guardians must stay. Programming is from 9 am to 12 pm each morning of the retreat, except for arrival and departure days.
Camp Ilanot; School-Aged: Ages 5-12 (kindergarten and up through Grade 6). Camp provides many hands-on and nature-based experiential activities. Some examples include hikes, outdoor games, drama/ improv, and learning about farming on the Adamah farm. Programming is generally from 9 am to 12 pm where the whole division is together and 2:00 – 5:00 pm each day of the retreat where the camp is divided into separate divisions ( Nitzanim-Ages 5-8 and Alim– Ages 9-12; )  except on arrival and departure days.
Evening Family Programming will be offered every night. These family-friendly offerings include earlier timed family-friendly dining options,  family story-time, parent-child learning, and a bonfire  
Leaders and Teachers
Rabbi David Ingber (Retreat Spiritual Leader and Renewal Minyan Rabbi) is the founder and Senior Rabbi at Romemu, a Renewal community in Manhattan. He promotes a renewed Jewish mysticism that integrates meditative mindfulness and physical awareness into mainstream, post-modern Judaism. Rabbi David studied at several yeshivot in Jerusalem and New York and studied philosophy, psychology and religion at New York University. Prior to founding Romemu, Rabbi David was Rabbi-in-Residence at Elat Chayyim Retreat Center.
Rabbi Ysoscher Katz (Retreat Spiritual Leader and Liberal Orthodox Minyan Rabbi) is currently the Chair of the Department of Talmud at Yeshivat Chovevei Torah Rabbinical School. He received ordination in 1986 from Rabbi Roth, dayan of UTA Satmer. Rabbi Katz studied in Brisk and in Yeshivat Beis Yosef, Navaradok for over ten years. A graduate of the HaSha'ar Program for Jewish Educators, Rabbi Katz has taught at the Ma'ayanot High School for Girls and SAR High School. Rabbi Katz was appointed as Rabbi of the Prospect Heights Shul in Brooklyn, NY and currently holds several positions including Director of the Lindenbaum Center for Halakhic Studies and Educational Director of Judaic Studies at Luria Academy in Brooklyn, NY.
Dr. Sharon Flatto (Scholar in residence) is a professor of Judaic Studies and the Director of the Judaic Studies Graduate Program at Brooklyn College, she received her Ph.D. in Jewish history from Yale University, her B.A. from Barnard College, and was a Postdoctoral Fellow at Brown University. Specializing in early modern Jewish history and Kabbalah, Professor Flatto has taught at a broad range of educational institutions, including Yale, Queens College and Brown, and at numerous adult education programs. She has received multiple awards and grants, and is the author of "The Kabbalistic Culture of Eighteenth-Century Prague: Ezekiel Landau (the 'Noda Biyehudah') and his Contemporaries" (Littman Press, 2010) and various scholarly articles.
R' Tanya Farber, (Retreat Clergy and Torah Teacher) a 2021 graduate of Yeshivat Maharat, serves as  Talmud faculty and as the sho'el u'mayshiv support for Halacha at Yeshivat Maharat and is the 2022 Clergy Fellow at the Beis Community in Washington Heights, NYC. 
Prior to her rabbinic studies, R' Tanya  taught Judaic studies in both elementary grades and yeshiva high schools in NY and NJ for many years. Her classroom pedagogy  integrates text study with improv and other creative modalities, and Tefillah (liturgy) with mindfulness and movement. R' Tanya also worked for a decade with Jewish adults with developmental disabilities, and remains committed to accessibility and inclusion in religious communities. Whether teaching adults or young children, R' Tanya's teaching fuses Torah and spiritual relevance, with the ethical call to action and service.
Shalhevet 'Sarah' Robinson (Scholar in Residence and Baalas Tefilla) teaches Talmud and Halacha at Manhattan Day School and serves as Community Scholar at Beth Jacob Congregation in Oakland, California. She has taught Torah in over 40 synagogues and campuses across the United States. Shalhevet is active in Millennial/Gen Z leadership and has staffed Birthright trips and hosts shabbos meals and other community initiatives through OneTable and Moishe House. Shalhevet previously studied at Maimonides School, Migdal Oz, Stern College for women, and Yeshiva University's Graduate Program for Advanced Talmudic Studies (GPATS).
Sarah Chandler, aka Kohenet Shamirah, (Renewal Minyan Coordinator, Retreat ritual coordinator, and Torah Teacher) is the founder and CEO of Shamir Collective, which works to renew the Jewish relationship with the earth through creative ritual, mindfulness, and transformative experiential learning. Kohenet Shamirah is is a Brooklyn-based Jewish educator, ritualist, artist, activist, and poet. Currently, she serves as the program director of Romemu Yeshiva and a garden educator with Grow Torah. A trainer with Taamod, she supports Jewish nonprofits in harassment prevention, through designing and maintaining respectful workplaces. She teaches, writes, and consults on issues related to Jewish earth-based spiritual practice, farming, and mindfulness. She studies as a shamanic healer apprentice at the Wisdom School of S.O.P.H.I.A., and additionally, studies Kabbalistic imaginal dream work at the School of Images.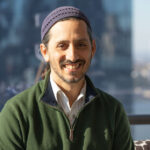 Rabbi Ezra Weinberg (Renewal Minyan Coordinator, Torah Teacher, and Adult Sports Coordinator) is a wearer of many hats. He's a community builder, camp professional, teacher of multi-faith education, and innovator of Jewish ritual. Ezra recently moved to Philadelphia. Ordained through the Reconstructionist movement, Ezra is at home in a variety of Jewish settings, from traditional to secular.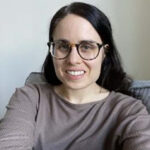 Deborah Anstandig (Baalas Tefilla and Gabbanit, Liberal Orthodox Minyan and Torah Teacher) is a second year rabbinical student at Hebrew College in Boston. Deborah formerly taught Jewish Studies and served as a teacher mentor at The Heschel School in New York City and at SAR High School in Riverdale. Deborah is a graduate of Stern College, Harvard Grad School of Education, and Pardes. Deborah loves to learn and teach Torah, bike, swim, (try to) nurture plants, sing, and speak with anyone who is willing in Hebrew.
Dvir Cahana (Baal Tefilla and Gabbai,  Liberal Orthodox Minyan and Torah Teacher) was born in Goteborg, Sweden, and grew up in Canada. he received a B.A. in Political Science with a minor in Israel Studies from Concordia University. He earned his M.A. in Jewish Studies from McGill University and was the McGill representative of the East Coast Consortium of Graduate Students in Jewish Studies. He spent 2 years teaching at the Satmar elementary school, Yeshivat Toras Moishe and a decade as a congregational Torah Reader. Dvir founded the Moishe House in Montreal, and currently sits on the regional advisory board as a resident at the Moishe House in Harlem.
Dvir benefitted from the formative training provided in the Bronfman, Drisha, LABA, iEngage, Join for Justice, Meorot, CRI (re)Design Lab and LTI Fellowships. He interned at Sheirith Israel (Nashville, TN) and  is currently the rabbinic intern at Kehillat Pardes (Rockville, MD). Dvir received Jewish Week's 36 under 36 recognition for launching The Amen Institute, where artists and rabbis come together to inspire the creation of sermons and art work.
Dvir graduated from YCT-YM's Beit Midrash Program in 2020 & is currently enrolled in YCT's rabbinical school program and the William Davidson Graduate School of Jewish Education of the Jewish Theological Seminary.
Rabbi Yehuda Witt (Chassidut Teacher) is an inclusive, committed, Israeli orthodox rabbi and passionate educator dedicated to supporting and inspiring Jews of all ages and backgrounds through learner-centered and community-focused programming. Yehuda is a Montessori trained Educator and received rabbinic ordination (semicha) from Rabbi Riskin at The Straus Rabbinical Seminary in Israel, in addition to receiving an additional certificate in Diaspora Leadership. Yehuda is currently a Head Teacher and Rebbi at the Joseph Kushner Hebrew Academy and a Rabbi in residence at Congregation Beth Israel in Schenectady, NY. Yehuda served as the Orthodox Rabbi at Boston University Hillel, the Co-director of the JLIC program at Boston University, and was on the faculty of the Yeshivat Simchat Shlomo semicha program. Yehuda has taught extensively throughout Israel and the US. Yehuda is passionate about sharing Judaism, both the traditional canon as well the richness of its cultural traditions.
Lev Israel (Torah Teacher) is Chief Product Officer at Sefaria. He was an early user, volunteer, and then employee of the project, and has worked to develop this intersection of Torah, Free Culture, and New Media over the past eight years. Somewhere in there, he received Rabbinic ordination in the pioneering cohort of Bet Midrash Har-El. Previous to all of that, he oscillated among various Israeli hi-tech outfits, yeshivot, and social ventures. You can find Lev and his partner, Stephanie Pell, chasing around their three children, Meira, Eden, and Daniel.
Eli Weinbach (Torah and Environmental Educator) is an experiential educator for the Jewish people, and strives to manifest his love of the environment and Jewish tradition in a deeply connected world. He worked for Hazon for three years, including as JOFEE (Jewish Outdoor, Food, Farming, and Environmental Education) Fellow before transitioning to graduate-level rabbinical and environmental studies. He enjoys pickling and cooking with fake-meat substitutes. Anywhere that people are trying to free themselves from the constraints of conflicting truths, you will find Eli cheering them on.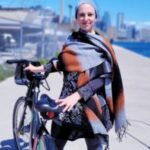 Kinneret Dubowitz (Yoga and Movement Teacher) began teaching yoga in 1996 and taught ongoing classes ever since. In 1999 she received her master's degree in dance movement therapy. In 2004 she began her first Yoga Retreat and has been running them yearly since. In 2007 KinneretYoga began training teachers to teach yoga in the world's 1st YTT program designed for Jewish women.
Gan Shorishim/ Camp Ilonot
Ruthie Hollander (Co-Camp Director) was born in Germany, grew up in Michigan, and has spent the last six years in the tri-state area. She has worked in Jewish school settings for the last five years and is very passionate about educational accessibility and equality. Ruthie loves inventing new recipes, doing yoga late at night, and finding old bookstores to explore. She lives in New Jersey with her husband Max, her dog Momo, and lots of plants.
Max Hollander (Co-Camp Director) is a New Jersey-based semikha student and Jewish non-profit marketing professional. Max is driven by a love of Torah and a desire to share ideas that he finds powerful and meaningful with others, as well as a passion for learning and knowledge. Max lives in Passaic with his wife Ruthie and his puppy Momo, and attends classes at RIETS and Bernard Revel Graduate School of Judaic Studies.
Arielle Aronoff (Nature-Based Program Director) is the former Director of Teva, the outdoor education program of Hazon at Isabella Freedman Jewish Retreat Center. A graduate of Kibbutz Lotan's Green Apprenticeship Program, Arielle brings knowledge of the intersections of Judaism and ecology in education and seeks to create a learning environment in which children's natural inclination for play, exploration, and curiosity can be engaged while they develop a meaningful relationship to Jewish tradition and the land.
Rabbi Yehuda Witt (Youth Rabbi) is an inclusive, committed, Israeli orthodox rabbi and passionate educator dedicated to supporting and inspiring Jews of all ages and backgrounds through learner-centered and community-focused programming. Yehuda is a Montessori trained Educator and received rabbinic ordination (semicha) from Rabbi Riskin at The Straus Rabbinical Seminary in Israel, in addition to receiving an additional certificate in Diaspora Leadership. Yehuda is currently a Head Teacher and Rebbi at the Joseph Kushner Hebrew Academy and a Rabbi in residence at Congregation Beth Israel in Schenectady, NY. Yehuda served as the Orthodox Rabbi at Boston University Hillel, the Co-director of the JLIC program at Boston University, and was on the faculty of the Yeshivat Simchat Shlomo semicha program. Yehuda has taught extensively throughout Israel and the US. Yehuda is passionate about sharing Judaism, both the traditional canon as well the richness of its cultural traditions.
Matthew Feiler (Camp Ilonot Lead Educator) lives in River Vale, NJ. He currently works as an Associate Judaics Teacher at The Solomon Schechter Day School of Bergen County, in New Milford, NJ. In this academic setting, he teaches 3rd and 4th graders Humash, Parsha, and Safa. He has been working with younger individuals in different capacities for 9 years now. Throughout these 9 years he has worked as a teacher, camp counselor, and Jewish Youth Advisor. On Sundays, Matt hosts a weekly radio show called The Jewish Music Show with the goal of highlighting songs and musical artists whose work centers around representing Judaism and celebrates its very existence. Matt is super stoked to meet the kids participating in the kids activities this Shavuot and helping to provide them with an enjoyable filled chag experience. 
Shmuli Novogroder (Camp Ilonot Speacialist) fell in love with the people, plants, and goats of Isabella Freedman as an Adamah Fellow in the summer of 2018. He returned as often as he could for retreats and to work over Jewish holidays. He's excited to be back for his first time since Corona. Shmuli lives in Jerusalem where he works for a hi-tech company, assisting the blind and those with reading challenges.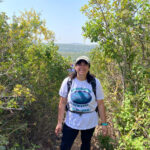 Sarah Kusnitz (Gan Shorishim Specialist) has been working at the Nativ College Leadership Program for the past year and a half and earning a Masters in Jewish Education at Hebrew University. She currently lives in Jerusalem, loves nature, and exploring. Sarah is especially excited for her first experience at Isabella Freedman.
The Food We Serve
Our kitchen and dining room are glatt kosher under the supervision of the Hartford Kashrut Commission. We serve farm-to-table cuisine using many products from our own Adamah farm. We strive to be plant-based as much as possible but will supplement some meals with organic dairy and will offer pastured meats raised on small family-run farms at our holiday meals. On Shabbos Shavuot we will have meat and vegan options. On Shavuot, we will have dairy and Vegan options.  We can provide vegetarian, vegan, gluten-free, or dairy-free options, and we will do our best to accommodate all your food allergies or other dietary needs.  Please indicate any special dietary needs when you register.
FAQs
We are committed to obeying the current rules of the Connecticut reopening plan and taking additional precautions. Our goal is not only to open safely, but to create confidence in our entire community of guests, employees, vendors, and contractors. We have strict cleaning and disinfection protocols in place.
All rooms will have been thoroughly cleaned before your arrival.
No. For non-COVID-19-related problems you can visit Sharon Hospital Emergency department (24 hr) or Torrington Urgent Care Center (8-8 weekdays / 9-5 weekends).
If you think you have been exposed to COVID‑19 and develop a fever and symptoms, such as cough or difficulty breathing, call your primary care provider for medical advice, and please let our lead staff know.
We've learned that nothing is certain right now. We also know that even though current guidelines allow us to open for this style of retreat, those guidelines may change or there may be other reasons that preclude us from being able to run. See our Cancellation Policy below for more details.
For detailed directions, please click here.
We will provide an arrival shuttle from the Metro North Wassaic train station to Isabella freedman on June 3 and a departure shuttle from Isabella Freedman to the Wassaic train station on June 7. Shuttles will only be provided if two or more people sign up. Please let us know at least a week in advance if you need the shuttle. An additional $25 charge will be added per ride per person.
If you are arriving at a different time than our scheduled shuttles, our local taxi service is Watson Livery, 845-464-8178, which can pick up from the Wassaic Train Station. More information.
Given the short nature of the program, we do not provide housekeeping. If something small is needed, upon request we can arrange a time that works so that there is a gap between staff in your room.
We will provide a phone number upon arrival which you can use to contact our staff on duty.
In the event of a medical emergency, please call 911 from your cell phone, OR 9-911 from any landline phone on campus. After calling 911, please contact a retreat manager as well.
If Hazon cancels for any reason we will refund your money in full.
If you cancel before May 20, we will give a 50% refund. If you cancel within 14 days of Shavuot the fee is non-refundable, unless you get sick and are unable to attend, in which case we will refund your money in full. If you have to leave early or arrive late, there are no refunds.
Are you excited? We are! Have friends that will be excited? Let them know about this opportunity! Questions? Email the Registrar at registrar@hazon.org or call 212-644-2332 ext. 305 for more information.