May 16, 2021 - May 19, 2021
Isabella Freedman Jewish Retreat Center, Falls Village, CT
We are able to welcome guests to Isabella Freedman for Shavuot, in a thoughtful, socially-distancing manner. Rabbi Mike Moskowitz and Rabba Wendy Amsellem will headline our various classes, and we will have Open Orthodox and Renewal prayer options.
Due to COVID-19 precautions, we will be operating at a reduced capacity, with dining, davening spaces, and most programming occurring outdoors. Details below.
We will continue to update this page as new information becomes available.
Retreat Overview
Registration Rates (3 nights, Sun-Wed)
Standard Plus lodging: $945 per adult 16+
Standard lodging: $795
Children (5-15): $225
Programming
Classes and Activities: We will hold a few outdoor classes throughout the holiday, as well as yoga, tours of our organic farm, and guided hikes on our trails. Rabbi Mike Moskowitz and Rabba Wendy Amsellem will lead a series of classes, including learning into the night on the first night of Shavuot.
Kid's Activities: While many of our activities are family friendly, there will also be some dedicated programs for kids, led by Arielle Aronoff, Hazon's former Teva Director. These will make use of our farm and the natural environment of the retreat center.
Meals: We will serve three meals each full day of your stay. Only dinner will be provided on your arrival day and breakfast on your departure day. Our kitchen and dining room are glatt kosher under supervision of the Hartford Kashrut Commission. Please indicate any special dietary needs when you register. We can provide vegetarian, vegan, gluten free, or dairy free options and we will do our best to accommodate all your food allergies or other dietary needs. Each guest room / suite is equipped with a mini-fridge. We ask though that guests limit the amount of food eaten in your rooms and to be mindful of trash, given the area wildlife in our remote location.
Prayer Options:
Our prayer options will all take place outdoors, under tents in case of rain.
Open Orthodox / Partnership Minyan: led by Rabbi Avram and Yael Mlotek, a service firmly rooted in Orthodox halacha (Jewish law), deeply spiritual and inclusive. There will be a trichitza (separate seating for men, women, and an mixed-gender section). Partnership minyanim have women or gender-non-conforming people leading Kabbalat Shabbat, Pseukei D'Zimra, Hallel, the Torah Service, and Yizkor. Anyone can read Torah, and other than Kohen and Levi aliyot (which must be men), anyone can get an aliyah.
Renewal / Liberal: Rabbi David Ingber and Hazzan Basya Schechter from Romemu will guide participants through prayer services that span the four worlds of body, heart, mind, and spirit. They will employ the use of instrumental music, embodied prayer practices, Hasidic teachings, and contemplative silence to open the gates of revelation. Electronic amplification will be used to increase access for all participants, and this service will be broadcast to the wider Romemu community via Zoom.
COVID-19 Precautions
Guest Conduct: Each guest will be required to be either a) fully vaccinated as of May 2nd or b) have a negative COVID-19 test 72 hours prior to your arrival with the expectation that you will self isolate until you arrive on campus. If you arrive without meeting either requirement we will not allow you to attend the program. We will also be asking all guests to sign a waiver and questionnaire regarding our COVID-19 practices and your potential exposure or recent symptoms. We ask that everyone acknowledge a set of guidelines, including keeping a 6′ distance between guests not in your group and being masked at all times while around other guests (other than when actively eating in our dining spaces).
Meals:
Each group or family will have their own designated table to use in our Dining Tent. Our method of food service will vary depending on the meal. Options will include already packed grab-and-go meals, family-style service for your table, and meals served by our staff from a buffet.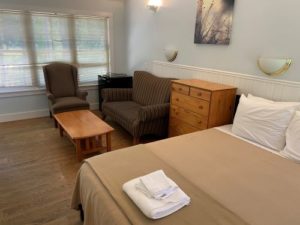 Lodging:
Due to COVID safety guidelines, we are only using housing options with private bathrooms, and therefore only have two tiers of lodging available. Larger family parties may receive suites of rooms that share a bathroom.
We have tried to set up rooms to provide more space for guests to relax and work, due to our indoor spaces being limited.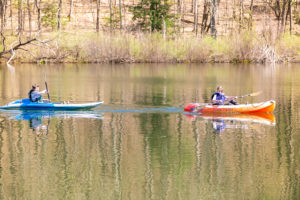 Prayer and Program Spaces:
Our indoor synagogue space will be used for yoga and will have a max capacity of ten people at a time, and as of now, our other indoor spaces will be unavailable. We are constructing a dining tent which will also serve as our prayer space and be available for classes and outdoor socializing. We also will have our fire pit area set up with benches for gathering outside and the lake will be available for boating.
Are you excited? We are! Do you have friends that will be excited? Let them know about this opportunity! Do you have questions? Email the Registrar at registrar@hazon.org for more information.
FAQs
Cancellation Policy
If Hazon cancels for any reason we will refund your money in full. If you get sick and are unable to attend we will refund your money in full.
You are able to cancel your reservation until May 1 without penalty. If you cancel within 14 days of Shavuot the fee is non-refundable. If you have to leave early or arrive late, there are no refunds.