May 28, 2019 - May 31, 2019
Isabella Freedman Jewish Retreat Center, Falls Village, CT
It is with deep regret that, in light of the current state of the world, we have made the very difficult decision to cancel the 2020 Shavuot Retreat.
Isabella Freedman Jewish Retreat Center is currently closed and this retreat has been cancelled.
Click here for more information.
I love the inspired teachers, the innovative workshops and worship services, the great food, the environmental earth-friendly focus… my mind is blown every time!
The quality of prayer services and learning were exceptional. I appreciate embedding our holiday observance in mindful experiences of living and being in community.
The Bikkurim Parade is mind-blowing to walk as shepherds with goats and bring forth new harvest with farmers. I believe they call this living Torah! Thank you for this experience.
On the final day of the chag, both minyanim gathered for a communal singing of the Hallel. Over one hundred voices joined together freely and beautifully. As a parent I was able for the first time to witness my teenage son and daughter truly experience tefilah with genuine simchah. 
2019 Highlights
Shavuot Retreat highlights include:
Two complementary minyanim (prayer groups) designed to include and invite a diverse, creative Jewish community (more details below)
Kosher farm-to-table holiday feasts featuring Grow and Behold meats, and delicious and plentiful vegetarian delights
Pilgrimage parade with goats for first-fruits/bikkurim from Adamah Farm
Camp Teva for Kids – Jewish Outdoor, Food, and Environmental Fun
All-night tikkun leil shavuot vigil with incredible around the clock learning sessions and a bonfire song circle
Midnight mystical hike to the top of the mountain, as well as daytime hikes, organic farm tours, and more
Enjoy the majestic, subtle beauty of spring at Isabella Freedman
Kosher artisanal cheese tasting and cheesemaking workshop
Daily morning meditation and Torah Yoga
Beautiful havdalah and closing ceremony
Choose from two prayer minyanim:
Open Orthodox Minyan
Rabbi Avram Mlotek and Yael Kornfeld-Mlotek will lead a team of inspired daveners (prayer leaders) in creating a tefillah (prayer) atmosphere that is firmly rooted in Orthodox halacha (Jewish law), deeply spiritual and inclusive. There will be a trichitza (separate seating for men, women, and an egalitarian/mixed gender section). Partnership minyanim have women leading Kabbalat Shabbat, Pseukei D'Zimra, Hallel, the Torah Service, and Yizkor. In many cases, these are specifically done by women and gender non-conforming folks. Anyone can read Torah, and other than Kohen and Levi aliyot (which must be men), anyone can get an aliyah.
Jewish Renewal Minyan
Shir Yaakov Feit, Rav Kohenet Jill Hammer, Kohenet Shoshana Jedwab, Basya Schechter, and Kohenet Sarah Shamira Chander will guide participants through prayer services that span the four worlds of body, heart, mind, and spirit. They will employ the use of instrumental music, embodied prayer practices, Hasidic teachings, and contemplative silence to open the gates of revelation. Electronic
amplification will be used to increase access for all participants. For over 10 years, Reb Zalman, z"l himself led this minyan with great kavanah (intention) and nachas (pride).
check out photos from Shavuot 2018   view the 2019 schedule
click here for holiday resources for shavuot
2019 Presenters
We have an exciting line-up of presenters:
Rebbetzin Eve Ilsen is a psychotherapist, teacher, storyteller and singer. She has studied closely with mythologist Joseph Campbell, Eutonia bodywork founder Gerda Alexander, and trained for years in Jerusalem in waking dream and the therapeutic use of imagery with Mme. Colette Aboulker-Muscat. Since returning to the United states in 1986, Ms. Ilsen has also worked in tandem with her husband of blessed memory, Rabbi Zalman Schachter-Shalomi זצ׳ל, co-creating the Wisdom School, co-leading workshops and partnering at holy day retreats. In 2008, she was ordained as a Rabbinic Pastor. These days, Eve is invoking transformative states by performing in concert, as a singer and a storyteller.
Avraham Yizhak (Arthur) Green was the founding dean and is currently rector of the Rabbinical School and Irving Brudnick Professor of Jewish Philosophy and Religion at Hebrew College. He is Professor Emeritus at Brandeis University, where he occupied the distinguished Philip W. Lown Professorship of Jewish Thought. He is both a historian of Jewish religion and a theologian. He defines himself as a Neo-Hasidic Jew and studied with Alexander Altmann, Nahum N. Glatzer, and Abraham Joshua Heschel, of blessed memory. He has taught Jewish mysticism, Hasidism, and theology at the University of Pennsylvania, the Reconstructionist Rabbinical College, Brandeis, and now at Hebrew College. He and his wife Kathy z"l were active in the founding of Havurat Shalom in Somerville, Massachusetts in 1968, and he remains associated with the Havurah movement. A prolific author, Dr. Green has published "Radical Judaism: Rethinking God and Tradition" (Yale University, 2010) "Ehyeh: A Kabbalah for Tomorrow" (Jewish Lights Publishing, 2002) and "A Guide to the Zohar" (Stanford University, 2003).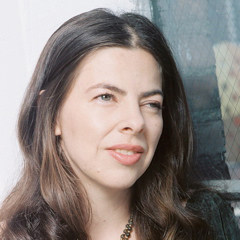 Rabbi Jill Hammer, PhD is an author, educator, midrashist, myth-weaver and ritualist. She is the co-founder of Kohenet: The Hebrew Priestess Institute. She is also the Director of Spiritual Education at the Academy for Jewish Religion, a pluralistic Jewish seminary. Rabbi Hammer is the author of The Jewish Book of Days: A Companion for All Seasons, and the co-author of The Hebrew Priestess and Siddur HaKohanot: A Hebrew Priestess Prayerbook. Rabbi Hammer conducts workshops on ancient and contemporary midrash, bibliodrama, creative ritual, kabbalah, Jewish dreamwork, and Jewish cycles of time. She was ordained at the Jewish Theological Seminary and holds a doctorate in social psychology from the University of Connecticut.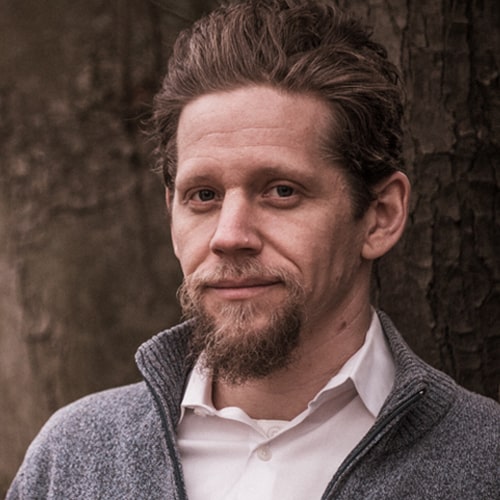 Shir Yaakov Feit is a singer, composer, designer, producer, teacher and Aba. He, his partner Emily, and their two daughters live in New York's Hudson Valley, where they are helping to weave the Kol Hai community. Shir Yaakov has recorded and released four albums of original music and co-founded and performs with The Darshan Project. His song "Broken-hearted" recently won the Jewish Daily Forward's 2016 Soundtrack of Our Spirit songwriting contest. Professionally, Shir Yaakov has served as Creative and Music Director for Romemu, New York City's largest Renewal synagogue; Director of Engagement at ALEPH: Alliance for Jewish Renewal; ritual consultant for Eden Village Camp; and visiting faculty at Hebrew College and the Academy for Jewish Religion-NY. He is a student in the Rabbinic and Spiritual Direction tracks of the ALEPH Ordination Program, a Wexner Graduate Fellow, and serves as a Spirit Holder on the Zen Peacemakers' Bearing Witness Retreats in Auschwitz-Birkenau. shiryaakov.com
Basya Schechter is best known for her group, Pharaoh's Daughter, a 7-piece world music ensemble that travels effortlessly through continents, key signatures, and languages with a genre-bending sound. Basya's earthy, soulful voice rings out over textured instrumentation that forms a vibrant collage of East and West, providing the soundtrack for a harmonious vision of creative peace and vibrant diversity. She is also the Hazzan and musical director of Romemu, a fast growing, progressive, spiritually adventurous community on New York's Upper West Side, as well as the the spiritual leader of the Romemu Brooklyn Satellite Community. Basya's most recent creative work is with Darshan, a musical midrash project in collaboration with esoteric indie rapper/poet Eden Pearlstein (aka ePRHYME). In 2017 Darshan released Raza, a radical reimagining of the traditional prayers and mystical poetry recited on Friday night to welcome the Sabbath bride.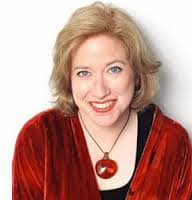 As a child Shoshana Jedwab would drum on parked cars, plates, tables, books and other people's bodies. Hailing from a family of rabbis and community leaders decimated by the Holocaust, Shoshana became a prize-winning Jewish Studies Day School teacher, and the Jewish Life Coordinator at the A.J. Heschel Middle School. Shoshana Jedwab is one of Jewish Rock Radio's Jewish Women Who Rock the Worship World. The original songs of Shoshana's July 2016 album, "I Remember", and viral single, "Where You Go", are being sung in synagogues, weddings, churches, and marches across the country. www.shoshanajedwab.com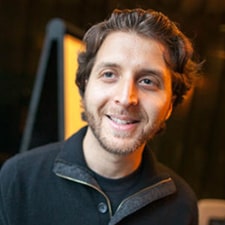 Rabbi Avram Mlotek is the co-founder of Base Hillel and serves as rabbi for its DWTN location. Mlotek graduated cum laude from Brandeis University and has studied at Sarah Lawrence College, Yeshiva University's Cantorial School, Jewish Theological Seminary, and City College's Educational Theatre department. A native Yiddish speaker, Mlotek's Yiddish cultural work has brought him to China, Ethiopia, Israel, Sweden and Australia. Prior to joining Base, Avram served as a rabbi in training at The Carlebach Shul, The Hebrew Institute of Riverdale, and Hunter College Hillel. Mlotek's writing has appeared in The Forward, Tablet, Haaretz, The Jerusalem Post, The Jewish Week, The Huffington Post and Kveller, among other blogs. The NY Jewish Week selected him as a "leading innovator in Jewish life today" as part of their "36 Under 36", and he was listed as one of America's "Most Inspiring Rabbis" by The Jewish Daily Forward. He is blessedly married to Yael Kornfeld, a geriatric social worker, and proud Tati to Revaya and Hillel Yosl.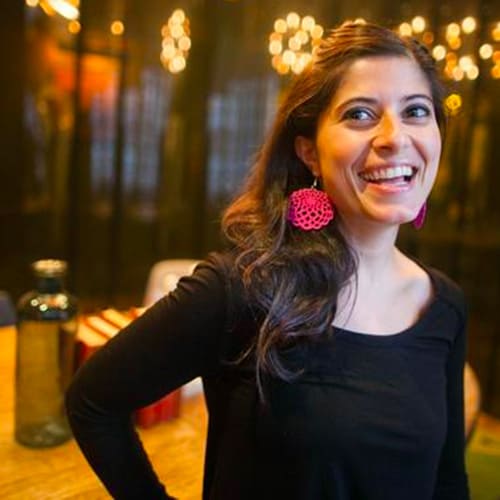 Yael Kornfeld-Mlotek works as the Synagogue Outreach Social Worker at DOROT, where they are partnered with nine different synagogues on the Upper East and West Sides of Manhattan, advocating and serving older adults. Yael received her BA in Judaic Studies from Rutgers University where she wrote an honors thesis on "Who studies Yiddish Today and Why." Before starting her MSW program at Hunter College School of Social Work, Yael was an Avodah Service Corps Fellow in Washington, DC. A co-founder of Base Hillel, which empowers rabbinic couples' homes to serve as convening points for Jewish life, Yael and her partner, Rabbi Avram Mlotek live in downtown Manhattan with their two delicious children, Ravi and Hillel.
Eden Pearlstein (aka ePRHYME) is a recording, performing and ritual artist, author, and educator. As a founding member of The Darshan Project, along with Reb Shir Yaakov and Basya Schechter (Pharaoh's Daughter), Eden's work weaves together deep Jewish teaching and tradition with creative process in a form of musical midrash and contemporary pietistic poetry. Eden holds 2 Master's Degrees from JTS, one in Experiential Education and the other in Jewish Thought and Philosophy. 
Sarah Chandler is a Brooklyn-based Jewish educator, artist, activist, and poet. She teaches, writes, and consults on issues related to Judaism, earth-based spiritual practice, the environment, mindfulness, food values, and farming. Ordained as a Kohenet (Hebrew Priestess) in 2015, she is studying as a shamanic healer apprentice at The Wisdom School of S.O.P.H.I.A and Kabbalistic imaginal dream work at The School of Images.
Julie Seltzer has been a Torah scribe since 2009, when she was Scribe-in-Residence at the Contemporary Jewish Museum in San Francisco, CA. Before learning the scribal arts, Julie worked as the baker at Isabella Freedman, creating weekly Torah-themed challah art. She is currently working on her fourth Torah and writing a memoir that chronicles her journey. She lives in the Hudson Valley, NY with her Negev Desert mutt, Shusha. You can see Julie's writing on the Sefaria homepage. julieseltzer.net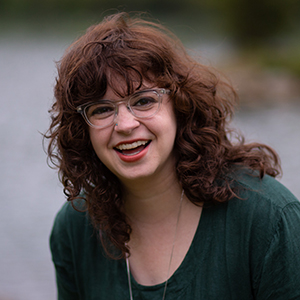 Through meaningful music, powerful prayer, excellent education, and creative consulting, Eliana Light works with Jewish communities worldwide to unlock the wonders of our sacred heritage. She is the author of Hebrew in Harmony, a curriculum published by Behrman House that teaches prayer and Hebrew through music, and the founder and director of the G!D Project, an educational initiative focused on accessible, meaningful conversations about G!D and spirituality through ritual, text, and creative expression. Eliana received her Masters in Jewish Experiential Education from the Davidson School at JTS in 2016.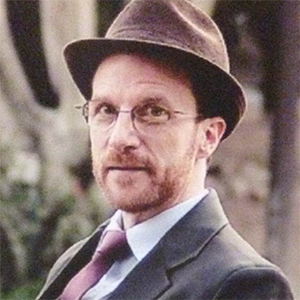 Lev Israel is Chief Data Officer at Sefaria. He was an early user, volunteer, and then employee of the project, and has worked to develop this intersection of Torah, Free Culture, and New Media over the past five years. Somewhere in there, he received Rabbinic ordination in the pioneering cohort of Bet Midrash Har-El. Previous to all of that, he oscillated among various Israeli hi-tech outfits, yeshivot, and social ventures. You can find Lev and his partner, Stephanie Pell, chasing around their three children, Meira, Eden, and Daniel.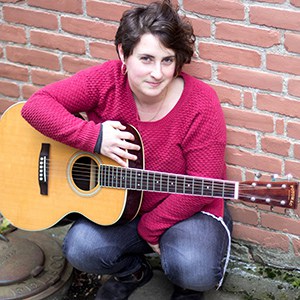 Batya Levine is a Jewish educator, ritual leader, facilitator, and musician. She leads spirited prayer and song in a variety of communities, including Isabella Freedman, Linke Fligl, SVARA, and Kavod Boston. She is a co-founder and organizer of Let My People Sing!, a national gathering which brings together a diversity of Jewish cultural and ethnic music for the sake of learning, sharing and creating liberatory singing space. Batya writes original music and her songs have traveled across prayer spaces and street protests, connecting people to themselves, each other, and spirit. Coming from a lineage of Jewish musicians, she has learned to use music as a powerful tool for healing and transformation. Batya is dedicated to carrying this practice forward, building resilience and interconnection on individual and communal levels.

Deb Tyler: farmer, artist, earth-justice advocate; Debra Tyler lives in Cornwall, CT where she raises Miniature Jersey cows and teaches homesteading workshops. She is the founding director of Motherhouse, Inc.; a non-profit dedicated to nurturing Self, Family, Community, and our Mother Earth. Inspired by her studies at Hartford Seminary, Debra created a 50-foot Earth Scroll which chronicles the changing seasons of the year and various corresponding human belief systems. Her work is displayed in the Beige Yurt.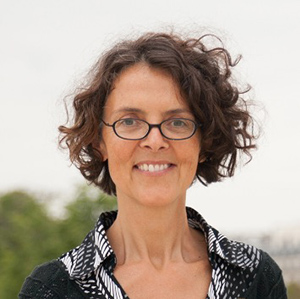 Christine Bloom discovered yoga haphazardly, but davka just at a time when she needed it most! She finds that each journey on the yoga mat – connecting breath, body and spirit, brings joy to her life and a chance to reboot her system. A regular participant of Isabella Freedman retreats, she loves her wholesome community and always looks forward to nature-filled Holiday celebrations. Shavuot-infused yoga classes will be gentle in the morning and a bit more vigorous in the afternoon. She invites everyone to participate, explore how the qualities of the poses seep in and be open to receive. Christine Bloom is a certified Kripalu Yoga teacher (YTT200). She is also a landscape and floral designer in Stamford, CT.
Dr. Tanya Zion-Waldoks is a gender scholar, feminist activist and mother of four – intertwined callings. Her research interests include the intersection of religion, gender, and politics, with a focus on diverse religious women's social movements in Israel. She is a lecturer at Hebrew University's School of Education and visiting postdoctoral fellow at Princeton University's Center for the Study of religion. Edited an anthology on Genesis and directed national Israeli campaigns on religious LGBT, human trafficking, Agunot, and community-based social justice. Active in partnership-minyanim (Shira-Hadasha Jerusalem, Be'erot Beer-Sheva) and innovator of Jewish life-cycle rituals, she is a Jerusalem native who is now a proud resident of the Negev.
Camp Teva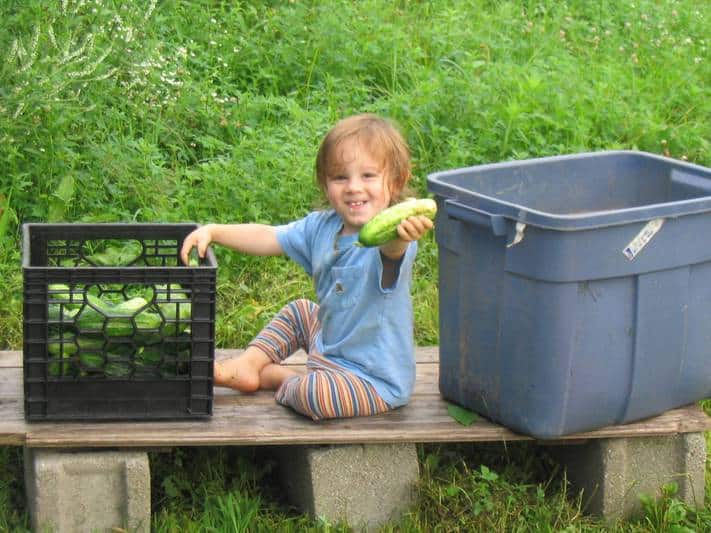 Parents, you can relax into the retreat, knowing that your children are playing and learning with exceptional Jewish experiential educators.
We have an engaging, thoughtful, and fun Camp Teva program planned for children ages 5-12.
Gan Adamah is for children ages 2-4. Parents/Guardians can choose to drop off their children or stay with them. Gan Adamah provides a safe and engaging space for toddlers to play, explore, sing, and move. Programming is from 9am – 12pm each morning of the retreat, except arrival and departure days.
When you register kids during your event registration process, they are automatically enrolled in Camp Teva! All-inclusive kids' rates include Camp Teva programming.