Apr 15, 2022 - Apr 24, 2022
Isabella Freedman Jewish Retreat Center, Falls Village, CT
Escape to the Berkshires for a beautiful, engaging Pesach retreat.
Experience freedom – celebrate Passover surrounded by the beautiful foothills of the Berkshire Mountains. Enjoy classes from our best teachers and delicious Kosher-for-Pesach fare. Our schedule is packed with activities for the whole family. Nourish your mind, body, and soul on one of the best Passover vacations you'll ever have!
Retreat Overview
Pesach at Isabella Freedman will feature a modern Orthodox program and activities for adults and kids, kosher-for-Passover meals, and options for communal Seders or a semi-private option.
Pesach at Isabella Freedman will feature activities for adults and kids, kosher-for-Passover meals (featuring chalov Yisrael dairy products, ethically-sourced Glatt kosher meat; vegan and vegetarian options available), options for communal or semi-private Seders, and soulful Orthodox davening. 
Pricing
Full Stay (9 nights)
Fri, April 15 – Sun, April 24
Standard lodging: $3150 per adult
Basic lodging: $2175 per adult
Dormitory: $1825 per adult
Commuter: $1625
Children (5-12): $985
Children (0-4): $125
Register for Full Stay
First Days (3 nights)
Fri-Mon, April 15-18
Standard lodging: $1375 per adult
Basic lodging: $975 per adult
Dormitory: $825 per adult
Commuter: $750
Children (5-12): $400
Children (0-4): Free
Registration opening soon
Last Days (3 nights)
Thurs-Sun, April 21 – 24
Standard lodging: $1325 per adult
Basic lodging: $925 -per adult
Dormitory Lodging: $775 per adult
Commuter: $675
Children (5-12): $375
Children (0-4): Free
Registration opening soon
Programming
Highlights:
Seders: There are two options for each Seder. You can join a communal seder in our Dining Room led by our guest educators. Or you can choose to hold your own semi-private Seder as a family unit in our Library.
Classes: Throughout the week We will have many Torah classes and text study opportunities with renowned teachers and scholars. 
Activities: We will hold classes throughout the week including outdoor exploration, as well as yoga, pickling, cheese making, tours of our organic farm, and guided hikes on our trails. 
Davening: We will have daily Torah reading and three daily minyans with soulful orthodox davening. 
Chol HaMoed: We will have live entertainment, writing workshops, opportunities to volunteer on the farm, and learn how to prepare organic farm-to-table food. 
Kid's Activities: While many of our activities are family-friendly, there will also be some dedicated programs for kids throughout the week. These will make use of our farm and the natural environment of the retreat center.
Gan Adamah is for children ages 2-4. Parents/Guardians can choose to drop off their children or stay with them. Gan Adamah provides a safe and engaging space for toddlers to play, explore, sing, and move. Programming is from 9am – 12pm each morning of the retreat, except for arrival and departure days.
Camp Teva:  is for children 5-12. Camp Teva provides many outdoor and nature-based experiential activities. Some examples include hikes, outdoor games, survival skills such as cooking over a fire or building a shelter, or learning how to farm on our Admah farm.  Programming is from 9am – 12pm and 2:30-5:30 each day of the retreat, except arrival and departure days.
The Food We Serve
Our kitchen and dining room are glatt kosher under supervision of the Hartford Kashrut Commission. During Pesach, we understand that folks come here with a wide range of observances and traditions, and we strive to make sure that everyone feels comfortable and nourished. Please indicate any special dietary needs when you register. We can provide vegetarian, vegan, gluten-free, or dairy-free options and we will do our best to accommodate all your food allergies or other dietary needs. The following will give you a brief introduction to our practices for Pesach:
Dairy: All of our dairy – milk, cheese, and yogurt – is Cholov Yisroel.
Kitniyot: We do not serve kitniyot during Pesach.
Gebrochts: We do serve gebrochts throughout Pesach, however there are non-gebrochts/gluten-free options at each meal.
Meals: We will serve three meals each full day of your stay. Only dinner will be provided on your arrival day and breakfast on your departure day. Ahead of the late Seders we also serve an earlier light supper. Seders and holiday meals at the start and end will have assigned tables. Your choice of dining will remain the same the entire program.
Each guest room / suite is equipped with a mini-fridge. We ask though that guests limit the amount of food eaten in your rooms and to be mindful of trash, given the area wildlife in our remote location.
COVID-19 Precautions
Guest Conduct: Each guest will be required to have a negative COVID-19 PCR test (rapid tests will not be accepted), even if you have been vaccinated, 72 hours prior to your arrival with the expectation that you will self isolate until you arrive on campus. If you arrive without your test results we will not allow you to attend the program. We will also be asking all guests to sign a waiver and questionnaire regarding our COVID-19 practices and your potential exposure or recent symptoms. We ask that everyone acknowledge a set of guidelines, including keeping a distance between guests not in your group and being masked at all times while around other guests (other than when actively eating in our dining spaces).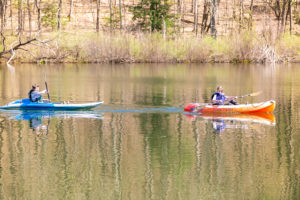 Prayer and Program Spaces:
We will be holding spirited Orthodox services in our indoor synagogue each day. Every indoor space will be sanitized and deep cleaned multiple times throughout the day. Weather permitting, we will utilize our various outdoor locations for programming as much as possible.
Are you excited? We are! Do you have friends that will be excited? Let them know about this opportunity! Do you have questions? Email the Registrar at registrar@hazon.org for more information.
FAQs
We are committed to obeying the local, state, and federal guidelines related to Covid-19 and taking additional precautions. Our goal is not only to open safely, but to create confidence in our entire community of guests, employees, vendors, and contractors. All guests are required to provide a recent negative PCR test ahead of arrival. We have strict cleaning and disinfection protocols in place.
We have held similar style of programming since June 2020, including hosting large retreats for the past holidays with great success and no COVID spread.
All rooms will have been thoroughly cleaned before your arrival. If you are coming for a partial stay, our schedule allows for our room to be vacant for 24 hours in between guests.
No. For non-COVID-19-related problems you can visit Sharon Hospital Emergency department (24 hr) or Torrington Urgent Care Center (8-8 weekdays / 9-5 weekends).
If you think you have been exposed to COVID‑19 and develop a fever and symptoms, such as cough or difficulty breathing, call your primary care provider for medical advice, and please let our lead staff know.
We've learned that nothing is certain right now. We also know that even though current guidelines allow us to open for this style of retreat, those guidelines may change or there may be other reasons that preclude us from being able to run. See our Cancellation Policy below for more details.
You are responsible for making your own travel arrangements. Our local taxi service is Watson Livery, 845-464-8178, which can pick up from the Wassaic Train Station. More information.
Housekeeping is provided upon request. We will arrange a time that works so that there is a gap between staff in your room. Expect a 24 hour window from when you request housekeeping services to when they are completed. Extra sheets and towels will also be provided upon request. There is no laundry on site. If you require laundry services we recommend that you use a local laundromat or bring enough clothes for your time here.
We will provide a phone number upon arrival which you can use to contact our staff on duty.
In the event of a medical emergency, please call 911 from your cell phone, OR 9-911 from any landline phone on campus. After calling 911, please contact a retreat manager as well.
If you or any member of your family / group gets sick, you have to return to your home immediately. We cannot allow guests to be quarantined long-term on our site. Being near your primary care doctor is best.
Cancellation Policy
If Hazon cancels for any reason we will refund your money in full. If you get sick and are unable to attend we will refund your money in full.
You are able to cancel your reservation until February 15 without penalty, less a $50 processing fee. Between February 16th and 30 days prior to Pesach 50% of your fee is refundable. If you cancel within 30 days of Pesach the fee is non-refundable but can be transferred to the following year. If you have to leave early or arrive late, there are no refunds.