Aug 26, 2018 - 11:00 am - 4:00 pm
Eastern Market Corporation, Detroit, MI
Save the date for third annual Michigan Jewish Food Festival for 2018!
Metro Detroit is at the forefront of the Jewish Food Movement, which connects food and sustainability with Jewish tradition. Hazon, which promotes Jewish environmental and food justice movements, hosted over 5,000 attendees at the first ever Michigan Jewish Food Festival in 2016 and approximately 6,500 at the 2017 Festival.
Overview
The day-long 2018 festival will be attended by approximately 6,500 people and will include:
A food marketplace featuring 28 emerging entrepreneurs from Food Lab, Kitchen Connect, and fresh produce from Detroit growers
Chef Demos and Tastings conducted by this year's chefs: Emily Paster, Paula Shoyer, and Sara Molinaro
3 Food Trucks and 7 restaurant booths including Truckshuka, Nu Deli, Chef Cari, The Clean Plate, Real Food By Bianca, Russell Street Deli, Milk and Honey / Soul Cafe, Zingerman's and Zingerman's Bakehouse, Taste of Ethiopia, and Kravings
A Ten Minute Tent with ten minute talks covering health, sustainability, environmental justice, and favorite food recipes
A family and children's area with animals and workshops
Musical performances by Kidz Klez, Mollywop, and Steve Klaper from Song and Spirit
Free guided walking tours of the Eastern Market
For more information, email Marla Schloss at marla.schloss@hazon.org.
Schedule
Chef Demos, Shed 5, Community Kitchen, "A People's Food From All Corners of the World"
Sign up outside the kitchen. Seating is limited!
11:30 Jewish Preserving in Action: Turning Matbucha into Shakshuka. Emily Paster will demonstrate how to make and preserve Matbucha. This seasonal treat is a Moroccan Sephardic dish of cooked tomatoes and roasted bell peppers, which can be used as a base for an easy Shakshuka all year long. Emily is a leader in the national food swap movement and is the author of "Food Swap: Specialty Recipes for Bartering, Sharing, & Giving" and "The Joys of Jewish Preserving."
1:00 Is Your Rosh Hashanah Meal Dangerous? Strategies for Lightening Up Your Favorite Fattening Family Recipes. Paula Shoyer will demonstrate how to prepare two traditional holiday dishes with a healthy, modern day approach: Tzimmes Puree and Mango Coleslaw. Paula's recipes cut the fat, salt, sugar, and processed foods often associated with our holiday foods, and refers to her dishes as "Jewish soul food made healthy." She was named the "Woman to Watch" in 2015 by Jewish Women International and is the author of "The Healthy Jewish Kitchen," "The New Passover Menu," "The Holiday Kosher Baker," and "The Kosher Baker."
2:30 Noodling about Strudelling: Techniques and Tips for Making Flaky, Crispy Strudel Every Time! Zingerman's Bake! Principal Instructor Sara Molinaro will demonstrate the process and proper mixing techniques for making flaky strudel dough using a kneading technique called "The Beaver Slap." The stretching and preparation of the dough with farmer cheese and apricot fillings will delight your taste buds and equip you with recipes for preparing homemade strudel that will bring pleasure to all who indulge! Sara Molinaro baked and cooked her way across the country, working everywhere from NYC to San Francisco, Atlanta, Alaska, North Dakota, and even Cambridge England.
Speakers Tent: Learning Compassion for All Beings and For the Planet
The Farm Bill Is a Food Bill: Kibibi Blount-Dorn, Program Manager at the Detroit Food Policy Council
Growing and Selling Cooperatively: Imani Foster, Farmers' Market Coordinator at Keep Growing Detroit
Urban Beekeeping in Detroit: Building Detroit's Bee Highway: Julie Pomerleau, Media Coordinator at Bees in the D
Making a Hospital Community Hub for Health and Wellbeing: Trevor Johnson, Resident Farmer at Henry Ford Hospital West Bloomfield
How Plant-Based Nutrition Saved My Life: Paul Chatlin, Founder and Chairman at Plant-Based Nutrition Support Group
What Does Jewish Law Say About Factory Farming?: Aryeh Bernstein, Staff Educator at Jewish Initiative for Animals
Walking to Listen: Boston to Detroit: Rabbi Moshe Givental, walking from Boston to Detroit to raise awareness about environmental justice
Chicken Soup for the Soul: David Grossman, four-time winner of Temple Shir Shalom's Matzo Ball Soup-Making Competition, two-time winner of Best All-Around Soup
Fermentation: A Cultural Necessity: David Klingenberger, CFO at The Brinery
Mike Levine, founder at Nature and Nurture Seeds
Family Tent (Nursing Space, Independent Activities, Workshops for Young Children)
Children's activities led by Emily Gustafson (Educator) and Charis Calender-Suemnick (Enrollment and Outreach Director), both of the Detroit Waldorf School.
11:30 Wheat Grinding, ages 3-5
12:30 Friendship Bracelets, ages 8-10
1:30 Origami Hats, ages 6-7
Music
Enjoy local talent with artists, including:
11:00 Kidz Klez
12:00 The May Erlewine Trio featuring Max Lockwood and Michael Shimmin
1:00 Mollywop!
2:00 PazMan SuperSession
3:00 Hazzan Steve Klaper, Song and Spirit
Tours of the Eastern Market
1 hour walking tours provided by Feet of the Street leave at 12:00 and 2:00 from main entrance
Sponsors
Festival Food Movement Sustainer
Festival Food Movement Cultivator
Food Movement Planters
Kenneth M. Korotkin
Festival Tastemakers
Ben N. Teitel Charitable Trust
Health and Wellness Partner

Festival Builders
Festival Partners
Festival Participants
Detroit Cultivator Project

Love Earth Herbal
Vendor Details
Important Food Festival Day-Of Instructions
Hello vendors and organizations!
The Michigan Jewish Food Festival presented by Hazon is almost here!
On Sunday, August 26th from 11am – 4pm, Detroit's Eastern Market Sheds 5 and 6 will be overflowing with vendors, caterers, organizations and speakers – Come enjoy food, celebrate our shared history, and learn about Detroit's current food movement that's creating a more sustainable, healthier, and more just community for all. Music, kids' activities, market tours, speaker tents, and chef demos promise to make it a memorable day!
We are so excited about your participation. Here are day-of details you will need for preparation.
Selling/sampling food:

Per Hazon guidelines, all foods sold should be aligned with eco-kosher standards (local, sustainable, vegetarian).

Per health department laws, if you are a food business selling items and/or providing samples, you MUST bring a copy of your license(s) for display on your table or you could be shut down by the City of Detroit.

Any demonstration involving food that will be sampled must be pre-portioned before being provided to attendees. That means no sharing from a communal bowl. After you demo your bread dough/favorite salsa recipe/tinctures, you must pre-portion any samples to be given to the crowd.

No food is allowed to touch or rest on the ground; you must bring crates, coolers, or something that elevates food supplies off the ground.

If you are offering samples, we are asking that you (do your best to) use eco-friendly disposable cups/cutlery/napkins, such as those provided by Michigan Green Safe Products. NO STYROFOAM, please no plastic.
Table set up: Hazon will provide you with one table and two chairs in no more than a 10 x 10 booth (some are 6' x 9'). Please bring any additional setup you may need that fits within your space. Remember, we're introducing your products and organization to new faces, so please bring linens and dress your table to make an impression.

Strike:

Please have your tables folded and broken down by 4:30 pm.

Wash/Rinse/Sanitize

stations will be provided near your booth for any utensils needing washing.

Water coolers

will be set up at rest stations in the shed, but please bring your own pitcher for your table guests.
Safe Sampling Guidelines: We require that all vendors be familiar with and practice food sampling and safety guidelines as outlined as by the Michigan Department of Agriculture.
Food and Beverage Manager Scott Rutterbush's Helpful Hints: Bring bleach wipes for quick sanitizing, hand sanitizer, paper towels or cloths for clean up, and extra garbage bags for your own table (there will be general waste/recycling areas, too).
DAY OF:
On the day of the festival, your contact person will be Marla Schloss (248-790-3133).
Eastern Market's wifi login information will be shared with you on the day of the festival.
LOCATION, LOAD-IN and PARKING
There are three options of alleyways to enter into to drop off your materials to Shed 5. After drop-off, you must move your vehicle to the street. All parking nearby is free! Please note that the parking garage on Riopelle street is closed. Below is an overview map and a more detailed drop-off map.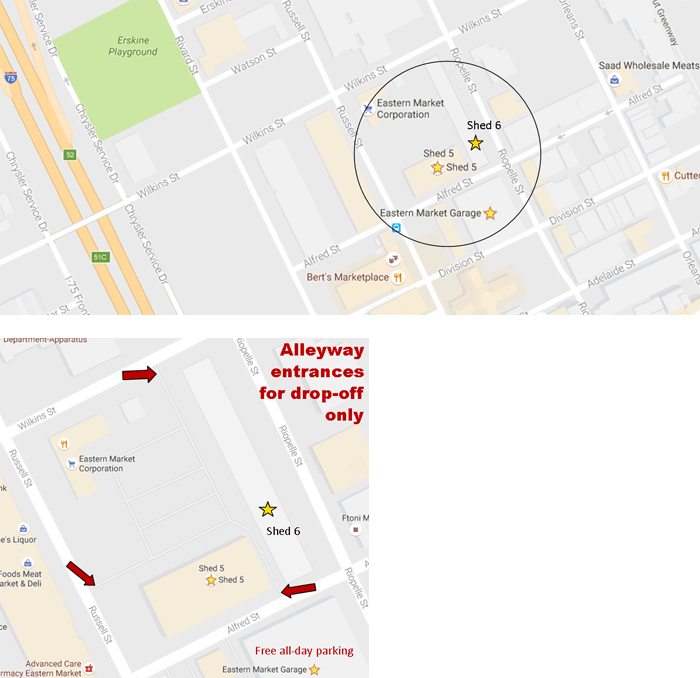 Kashrut and Eco-Kashrut Policy
Purpose
Because inclusive Jewish community is central to what we do and believe in, the meals we serve should be accessible to people across the Jewish spectrum. Kosher food should be available. Hechshers should be provided so that people can decide for themselves if the food adheres to their own standards of kashrut. Non­-hechshered products can be served if necessary, as long as they are clearly labeled as non-­hechshered. When food is prepared under the supervision of a Mashgiach (a kosher supervisor), their credentials shall be clearly displayed in the program spaces and/or made available to interested participants ahead of time.
Because sustainability is central to what we do and believe in, the meals we serve will be eco-kosher as well: healthy, delicious, ethical, organic, local, and low­ carbon. All food served will strive to be sustainable and eco­-friendly. Provide labels for your product and food to increase awareness of sustainability in our food systems. Make information available to the community about sources for your food and product that provide sustainable foods.
Outcome
In order to accommodate the largest diversity of Kashrut practices possible and to reduce our impact on the planet, the Hazon Michigan Jewish Food Festival will be a dairy and pescatarian event.
Process
I. Food Prepared in the Demonstration Kitchen in Shed 5 at the Eastern Market
A. The Eastern Market Demonstration Kitchen will be kashered under the supervision of the Council of Orthodox Rabbis prior to the festival.
B. Any food prepared from scratch in the Eastern Market Demonstration Kitchen must use ingredients bearing a "hechsher."
C. Fish permitted within Kashrut guidelines is acceptable (must have had fins or scales in its lifetime – no shellfish).
D. Any foods prepared being considered parve or dairy are permitted.
E. There will be no meat dishes, cookware, or utensils designated for use in the kitchen.
F. Food will be clearly labeled under the supervision of the Council of Orthodox Rabbis bearing the level of kashrut.
II. Packaged, Prepared Food to be Sold by Vendors Inside Sheds 5 and 6
A. Packaged and prepared foods coming from independent vendors will be clearly labeled under the supervision of the Council of Orthodox Rabbis when applicable.
B. Kosher and eco-kosher packaged foods will be in Sheds 5 and 6 and will be clearly labeled.
C. Kosher prepared foods should have a hechsher or be made according to kosher guidelines. They must be dairy or parve and pescatarian.
D. Vendors will use locally sourced, organic ingredients whenever possible and will label appropriately.
E. Vendors will limit high-sugar (corn based) products. Vendors will not sell bottled water or high sugar or low sugar (aspartame) sodas (i.e., Coke, etc).
F. Vendors will use eco-friendly serving utensils and containers. Hazon will provide sourcing if requested. No Styrofoam or plastic is to be used.
III. Fresh Produce Sold Inside of Sheds 5 and 6
A. Fresh produce will be sold at the festival and it is the consumer's right to prepare produce under their personal kashrut guidelines. Fresh produce will be labeled organic or organic practices where applicable.
IV. Catered Food Sold Outside of Sheds 5 and 6
A. At the Michigan Jewish Food Festival, there will be some kosher catered food using the Council of Orthodox Rabbis list of approved caterers. This food will be clearly labeled under the Council of Orthodox Rabbi's supervision. There may be catered food with other kosher certifications and they will be clearly marked.
B. At the Michigan Jewish Food Festival, there will be non-kosher food catered, as well. Wherever possible, this will be locally sourced.
C. Dairy / parve meals may be prepared offsite and brought in.
D. All food will be served on compostable plates with compostable cutlery. Hazon will make recommendations for sourcing upon request.
E. No bottled water, high sugar, or artificially sweetened soda will be sold.
V. Eco-­kashrut
A. Coffee / Tea: Purchase fair trade and organic
B. Plates / Utensils: For the festival, all plates and utensils should be compostable
C. Recycling
1. Place cans, plastics, and glass jars in the appropriate recycling receptacle.
2. Place paper and cardboard in the appropriate recycling receptacle.
3. Strive to have a litter­-free event.
D. Clean Up
1. Use eco-friendly dish soap and sponges.
2. Avoid paper towel use at your table. Instead, use dish towels or a drying rack.
3. Use a small amount of water and soap when washing plates — a little goes a long way!
E. Compost
1. Containers (labeled "compost") will be available throughout the festival. Please put leftover food, coffee grounds, and tea bags into the containers.
2. The festival will have volunteers explaining what is compostable and how community members can make a difference at home.
3. The festival will arrange for drop off compost at farms (or other local composting facility) post-­festival.