Aug 10, 2021 - Aug 15, 2021
Isabella Freedman Jewish Retreat Center, Falls Village, CT
Escape to the Berkshires this summer (in a thoughtful, Covid-safe manner).
Enjoy our lake and hiking trails, visit the goats and farm, practice yoga, and learn from guest teachers.
Registration Rates (5 nights: Tues-Sun, Aug 10-15)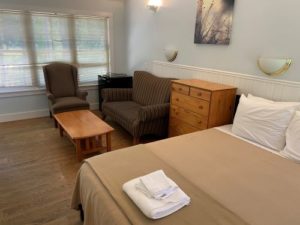 Standard lodging: $1160 per adult
Basic lodging: $1030 per adult
Children 5-15: $500 (staying in the same room as adults)
Children 0-4: Free (but need to be registered)
Family suite upgrade: $500 – families by default get one room (which can sleep up to 4 people). There is an option to upgrade to a suite of adjoining rooms, either sharing a bathroom (basic lodging) or with two private baths (standard plus lodging).
NEW!

You are welcome to join only for Shabbat (Fri-Sun, Aug 13-15). Use the discount code shabbat when registering for a pro-rated fee ($465 or $412 per adult)
Both registration levels have housing options for solo guests, couples, families, or friends.
Bedding and 1 set of towels per guest provided, please bring your own toiletries. View our Guest FAQs for more information about what to bring. We encourage families to bring their own games and toys.
Food
We will serve 3 meals each full day of your stay. Dinner only is provided on your arrival day, and brunch only on your departure day. Our kitchen and dining room are glatt kosher with Hartford Kashrut Commission supervision.
Meals will be served from a buffet inside our dining hall, and can be eaten outside in our dining tent. Please indicate any special dietary needs when you register. We can provide vegetarian, vegan, gluten free, or dairy free options and we will do our best to accommodate all your food allergies or other dietary needs.
Each guest room / suite is equipped with a mini-fridge. We ask though that guests limit the amount of food eaten in your rooms and to be mindful of trash, given the area wildlife in our remote location.
Programming and Amenities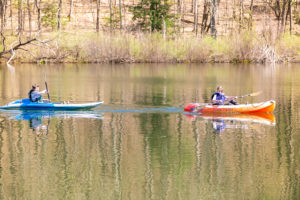 Short mandatory orientation on your arrival day reviewing the schedule during your stay and various on-site protocols.
Activities: We will offer limited programming, such as yoga, hikes, pickling classes, and educational classes. As much as possible these will take place outdoors.
Lake will be open for boating and swimming.
3 hiking trails on site; Appalachian Trail close by.
Bike rentals unavailable. You are more than welcome to bring your own and we can suggest local bike routes.
Kid's programming: We offer limited programming for kids ages 5-10. Younger children are welcome to attend with a parent. Taking full advantage of the natural surroundings of our campus includes trips to the farm and goats, walks or hikes in the woods, outdoor cooking, and crafts. Please note: activities are not a full day of camp.
Internet and Cell service: Most guest rooms have good wifi, and A&T and Verizon both have a good reception on our site. If you are planning on working remotely from Isabella Freedman and require a private space, our staff may be able to accommodate you.
Area Attractions: We recommend doing some research before you arrive to find out what local attractions will be open while you are here. We are in the heart of the Berkshires. Area locations include Great Barrington and Stockbridge, MA; Kent and Litchfield, CT, and Millbrook, NY. Attractions include the Norman Rockwell Museum, the Red Lion Inn, waterfalls at Kent Falls State Park, White Flower Farm, and Innisfree Gardens just to name a few.
Shabbat: We organize a single prayer service (either traditional egalitarian or Orthodox, based on the desires of the majority of our guests). We serve festive meals for Shabbat and have various shabbat-friendly activities scheduled. We have a safe indoor space to light candles before Shabbat and to do Havdalah together afterwards.
Health and Safety
Guest Conduct: Each guest will be required to be either a) fully vaccinated as of July 27th or b) have a negative COVID-19 test 72 hours prior to your arrival with the expectation that you will self isolate until you arrive on campus. If you arrive without meeting either requirement we will not allow you to attend the program. We will also be asking all guests to sign a waiver and questionnaire regarding our COVID-19 practices and your potential exposure or recent symptoms.
We ask that everyone acknowledge a set of guidelines, including being aware of current policies and guidelines regarding mask wearing.
We do not have medical personnel on staff. If needed, you can visit Sharon Hospital Emergency department (24 hr) or Torrington Urgent Care Center (8-8 weekdays / 9-5 weekends). If you think you have been exposed to COVID‑19 and develop a fever and symptoms, such as cough or difficulty breathing, call your primary care provider for medical advice, and please let our lead staff know.
Are you excited? We are! Do you have friends that will be excited? Let them know about this opportunity! Do you have questions? Email the Registrar at registrar@hazon.org for more information.
Cancellation Policy
If Hazon cancels for any reason we will refund your money in full. If you get sick and are unable to attend we will refund your money in full.
If you cancel after July 27th for any other reason your registration is non-refundable. If you have to leave early or arrive late, there are no refunds.