Apr 2, 2017 - 7:30 am - 2:00 pm
Coastal Roots Farm, Encinitas, CA
The first Hazon Ride in San Diego will launch from Coastal Roots Farm in Encinitas. This day-long, fully-supported ride will take riders through the coastal beaches and inland paved trails, culminating in a group lunch and celebration at the farm, including an interactive marketplace of local, sustainable vendors.
The Hazon San Diego Ride is a fully-supported ride, fundraiser, and community experience for people of all cycling levels and ages. Participants enjoy delicious, kosher, farm-to-table food, local beer, engaging workshops, fun family-friendly outdoor activities, and cycling around beautiful San Diego County.
Come as a Rider, Volunteer, Guest or with the Whole Family!
Join us as a rider, choose from our 20, 36, and 60-mile route options, and enjoy a day of cycling along the coastal beaches and inland paved trails.
If cycling isn't for you, we are always looking for some great non-riding volunteers who provide support for our cyclists along the route.
You are welcome to join as a Family, a fun option for those with young children.
Guests – Come and hang out with us! Wait at the finish line to cheer on the cyclists, then enjoy lunch, beer, and post-ride activities at our celebration.
*Please Note: Due to unsafe trail conditions, the 2-mile Family Ride will not be available. We are sorry for any inconvenience, and encourage parents and kids to join us for the Family Activities from 11:00-12:00.
Schedule Overview
7:30 – Registration opens and snacks served
8:00 – 60-mile route launch
8:30 – 36-mile route launch
9:00 – 20-mile route launch and breakfast closed
*Please arrive 30 minutes before your scheduled launch time*
11:00 – 12:00 Activities for kids and families
11:00 – 1:30 – Lunch is served
11:00 – 2:00 – Music, vendor fair, and outdoor activities for everyone
2:00 – Event concludes
Adult Rider (26+): $54
Choose from our 18, 38, or 58-mile route options. Includes basic ride support along the route, fully stocked rest stops, and a lunch at the finish line.
Young Rider (12-25): $36
Choose from our 18, 38, or 58-mile route options. Includes basic ride support along the route, fully stocked rest stops, and a lunch at the finish line.

Non-Riding Volunteer: $18
Join us for the day supporting our riders on the road, helping provide snacks at rest stops, assisting with tricky turns, or driving a support vehicle. Afterwards, join everyone for lunch at the finish line.

Family Ticket: $36
This ticket includes lunch, access to our 2-6 mile family bike loop, and entry to our post-ride celebration, including family friendly activities.

Guest Ticket: $18
Join us at the finish line for lunch, beer, and post-ride activities at our celebration. 
Fundraising & Donations
All participation options have a suggested donation of $100. Sponsor $180 and we'll send you a custom Hazon cycling jersey.
The Cause
Climate change, pollution, and the depletion of the world's finite natural resources are doing real damage to the planet & to our future.
The Hazon San Diego Ride:
Provides vital support and seed money for new initiatives like the Hazon Seal of Sustainability
Has significantly increased the number of Jewish people who are environmentally aware and active
Has been a positive model for building inclusive, cross-denominational Jewish communities
Continues to serve as an entry point to organized Jewish life for those who are excited about biking, sustainability, the environment, and/or the outdoors
The Route
The Hazon San Diego Ride has much to offer both the novice and experienced cyclist.  The Hazon community is diverse, with riders of all skill levels from across the San Diego area and beyond. We are excited to offer three scenic options of 18, 38, and 58 miles. Click here for turn-by-turn guides to all three routes. *Routes and rest stops are subject to change.
Route 1 – 20 miles
Elevation: + 946/ – 937 ft

Route 2 – 36 miles
Elevation: + 2,087 / – 2,109 ft

Route 3 – 60 miles
Elevation: + 3,640 / – 3,699 ft

Cycling Support
We have a short route briefing before our launch for all riders. Every rider receives a cue sheet with the turns of her/his chosen route. When needed, we have additional signage or crew members to ensure that you do not miss tricky turns.
Rest stops are located along the route. They are fully equipped with water, snacks, energy drinks, bathrooms, and shade.
Each route is led by a lead rider who knows the route, and a "sweeper" follows behind the last rider of each group.
In addition, we have mechanic vehicles available on the route and at rest stops. Our mechanics are on the ride to help with flats and mechanical issues. They are not here to provide tune ups to participants – you must do that on your own before the Ride.
We also have a team of volunteer medics who are available at each rest stop and first aid available in case of emergency.
Food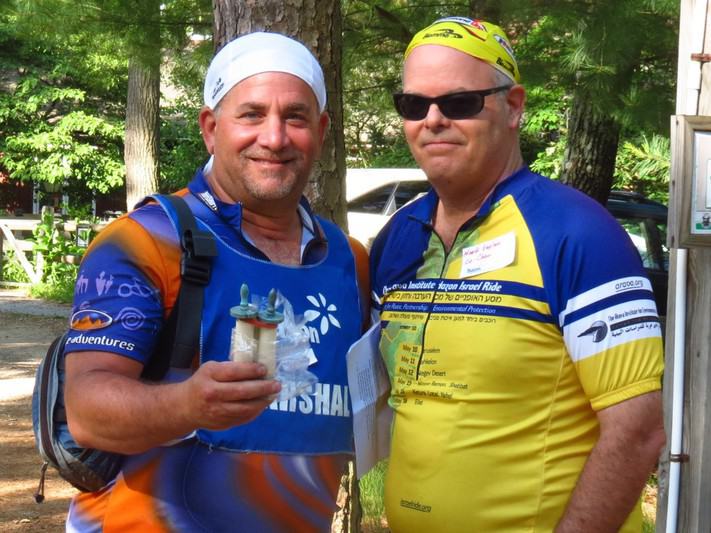 The ride includes a light breakfast, snacks and drinks at the rest stops, and a communal lunch when riders return. All food is kosher – vegetarian, vegan, and gluten-free options will be available. Where possible we strive to use food that is locally produced and/or organic.
During the ride, we plan rest stops spaced along all routes. Each rest stop has a variety of snacks, typically including energy bars, granola, salty chips, and fruit as well as water and energy drinks. We aim to provide organic and healthy snacks while recognizing the need for high-energy food for cycling. Each rest stop has shade and rest rooms.
Who Comes to Hazon Rides?
People are drawn to Hazon Rides for a wide range of reasons. Some participants are serious riders, others have just picked up cycling to participate in the Ride.  Some participants come to the Ride looking to find a Jewish community that works for them and others come from well established Jewish congregations and enjoy connecting their faith and tradition to a natural place and sustainable practice. Some participants are life-long environmentalists who want to enjoy and safeguard our natural world and others are looking for some first steps toward becoming more environmentally conscious. We have always had a wide range of participants who return year after year for the Ride. For our first annual San Diego Ride, we are anticipating over 100 people!
Non-Riders
The San Diego Ride is much more than a ride – it's a community experience with something for everyone to enjoy.
Since the Hazon San Diego Ride has so much to offer non-cyclists, we are offering ticket types for crew members and other guests who want to participate in our community – to cheer on a partner or family member as they ride, spend time outdoors, and connect with the local Jewish community. You can join us as crew to help behind the scenes and at rest stops, or register as a non-rider and enjoy family-friendly activities.
New Riders
You do not need to be super fit when you register, although it may be helpful to train, especially in the month leading up to the Ride. Last year, or riders ranged from tweens to 70-somethings, and riders of all physical abilities had a safe and fun experience. If you have never done 50 miles or more on a bike in a day, this is a great opportunity to do so in an incredibly supportive environment.
Teams
Teams are a great way to come to the Ride with friends or family, or to recruit groups from your school, synagogue or neighborhood. At other Hazon rides around the country, teams bring colorful energy to the ride, with creative names and great team spirit.
Here are a few reasons you might want to bring a team to the San Diego Ride:
You want to get to know other people at your institution. Teams often spend time riding together, which is a great way to meet people and try something new.
You want to bring creative Jewish programming to your community. The San Diego Ride offers a new way to engage with the Jewish community and Jewish values that resonates for many people.
It's a program that people of all ages can attend. Your team can include parents, grandparents and kids of all ages, and the Ride has room for them all.
It's a great way to recruit your friends. Want some ride buddies for the road? Form a team together, and make it a group project.
Teens
Each year on our Hazon rides, teens ride and raise money as part of a bar or bat mitzvah project. The teens bring ruach, energy and inspiration to the Ride, as riders and as crew. They often bring their families to the Ride, and many times the experience is just as transformational for the parent as for the teen. Teen participation is essential to Hazon's commitment to inclusively broadening the range of voices and experiences that make up the Ride community. Youth must be at least 12 years old to ride.
To be a rider, the minimum age is 12 years old before the first day of Ride. Interested in signing up a younger rider? Please contact Amy Scher.
Riders ages 12-14 must ride with a parent or guardian at all times. This means that the guardian and child will ride on the same route, at the same pace, and should remain within 50 feet of each other on the course.
Riders and their parents/guardians or partners are responsible for staying together at all times. No youth rider is to ever ride alone. If found riding alone, the youth will be taken off route.
Crew members who are 17 and younger must be accompanied by an adult while on crew. If both parents are cycling, the parents are responsible for finding a guardian to be with the teen crew member during the Ride.