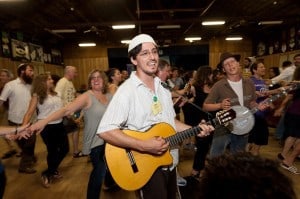 The Hazon New York Ride Shabbat Retreat takes place at beautiful Isabella Freedman Jewish Retreat Center. In this stunning setting, participants celebrate, eat, relax, and learn together in a welcoming, inclusive and open Jewish community of all ages!
You should expect to end shabbat feeling full; not only with delicious food prepared from the Isabella Freedman farm, but also feeling satisfied from the rich conversations, brilliant sessions, and incredible community. It's an event you will not want to miss!
Download a schedule of last year's Shabbat Retreat, or read on for highlights about the weekend!
 Friday
The retreat begins on Friday afternoon with settling into your comfortable cabins nestled in a forest alongside a beautiful lake. We gather together to meet new and old friends in the community spirit of the weekend. After candle lighting and blessings we enjoy a
delicious, kosher shabbat meal made from mostly local and organic foods.
In the afternoon, kids will meet the Educators from the Teva Learning Alliance, make colorful signs to cheer on the riders, and make shabbat cards.
Friday night join one of the many shabbat services organized and run by participants or opt for the social cocktail hour. Service options include a spirited kabbalat shabbat as a whole community, various options for evening services including traditional egalitarian, meditation and more.  If group activities are not for you, you can visit the goats or stroll along the lake, or just sit with new friends.
After dinner, you can choose to participate in a thought-provoking discussion, relax and enjoy the Berkshires nighttime, or sing and dance at our annual tisch. Whatever you chose to do, it is sure to be a night to remember!
It is fantastic to spend shabbat with an inclusive community from all branches of Judaism and all walks of life, where everyone can bond in a quiet setting away from modern distractions
Saturday
On Saturday, we offer a wide range of programs, including yoga, meditation, swimming, and nature walks as well as a choice of different prayer services.
Join us for a keynote panel, then play Ultimate Frisbee, tour the Adamah farm, learn from some of our mini-grant award winning organizations, go on a hike, or just relax down by the lake.
Families will have designated time by the lake, as well as kids activities for young children accompanied by parents and separate kids programming for children aged 5-12. We welcome your whole family to join us for shabbat. Learn more about kids, teens and families on the Ride weekend here.
Shabbat ends with a moving Havdallah ceremony followed by preparations for the next day's ride.
Hazon continues to be my address for connecting with like-minded Jews who are concerned for the health of the planet and the health of their bodies. It is great to be part of such an energetic and positive community.
Sunday
Sunday morning the riders depart and the crew leaves to support them on the road. Shabbat-only participants are welcome to stay at Freedman, although no activities are planned until later in the day. Families with young children are welcome to stay at camp to await the arrival of the riders after their day of cycling. We also are offering a one-day option for those who can only come for Shabbat and cycle on Sunday.
The evening ends with our celebratory meal and an early bedtime before day 2 of the ride!