Fundraising Incentives
Once you've reached your fundraising minimum, you are eligible to earn great prizes with each additional milestone.
Note that you will still be eligible to receive incentive prizes if you reach the milestone before October 31, 2018.
18th Anniversary Commemorative Jersey
Everyone who reaches their fundraising minimum by August 1 will receive a special Hazon 18th anniversary commemorative jersey.
Before August 1st: Reach fundraising minimum
After August 1st: Raise $1,800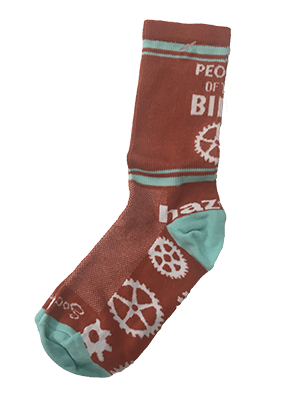 2018 Hazon Socks
Custom Hazon socks
Raise $1,500

2018 Hazon Cycling Shorts
Raise $2,300

2018 Hazon Jacket
*Design TBA
Raise $2,800

Fleece Blanket
Super cozy fleece blanket with the People of the Bike insignia
Raise $3,600

Israeli Bike Sculpture
David Gerstein original
Raise $5,000

CSA Share
We'll gift you a CSA share in your community
Raise $10,000

Win a Bluetooth speaker!
The top 10 highest fundraisers at the NY Ride will be entered into a raffle to win a brand new Bluetooth speaker for your bike. The raffle will take place Monday afternoon at the Ride.
Raise enough money to be in the top 10 highest fundraisers
For NYC, we provide transportation to and from Isabella Freedman and bike transportation. We offer a bus from the Upper West Side, and shuttles will be provided from the train station in Wassaic to Isabella Freedman.
Cars
Driving directions to Isabella Freedman Jewish Retreat Center
Upper West Side Bus 

To Isabella Freedman
9:30 AM on Friday, August 31st
Pick up @ 110th Street between Riverside and Broadway
$30 per person each way
From Isabella Freedman
3:00 PM  on Monday, September 3rd
Drop off @ JCC Manhattan on Amsterdam between 75th and 76th
$30 per person each way

Metro North Train

To Isabella Freedman
Shuttle from the Wassaic train station to Isabella Freedman on Friday, August 31st
Leaves 1:49 PM from Grand Central
Arrives 4:15 PM at Wassaic
$10 per person
Bikes are not allowed on this train.
From Isabella Freedman
This year, we are offering a train shuttle on Sunday morning for our Shabbat Only guests.
Sunday, September 2nd
Leaves 10:15 AM from Wassaic (departs Isabella Freedman at 9:15 AM)
Arrives 12:46 PM at Grand Central
$10 per person
Shuttle from Isabella Freedman to Wassaic train station on Monday, September 3rd
Leaves 4:18 PM from Wassaic (departs from Isabella Freedman at 3:15 PM)
Arrives 6:36 PM at Grand Central
$10 per person
Bikes are not allowed on this train.
We offer a few options for transporting your most important piece of luggage – your bike – to Isabella Freedman from NYC:
A. Thursday night (8/30) bike pickup on the Upper West Side
6:30-8:00 pm at the JCC Manhattan on 76th Street at Amsterdam Avenue
Hazon staff and volunteers will load your bike into our truck and drive it to Isabella Freedman – for free!
B. Thursday night (8/30) bike pickup in Brooklyn (not confirmed, dependent on numbers)
6:30-7:30 pm at the entrance to Prospect Park at Grand Army Plaza
Hazon staff and volunteers will load your bike into our truck and drive it to Isabella Freedman – for free!
C. Feel free to bring your bike in your car if you are driving
Bikes will be re-loaded onto the same trucks that they came up in and dropped off at the same pick-up location on Monday night after the Ride. 
Packing List
All of your things should fit into one piece of luggage. Please pack lightly as you will have to carry your luggage to your housing. You may also want to have a cycle bag on your bike for essentials during the Ride.
General
• Casual, comfortable clothes for Shabbat and the rest of the weekend.
• Layers – sweater, sweat shirt or jacket-the evenings can be chilly.
• Sunglasses
• Alarm Clock (you don't want to miss the start)
• Bug Spray
• Ear plugs
• Undergarments
• Shower shoes
• Pajamas/Robe
• Swimsuit
• Toiletries (don't forget shampoo, contact lens solution, medicine, sunscreen)
• Rain gear for walking around camp and cycling
• Cell phone and charger
Riding Gear
• Cycling shirts or jerseys (non-cotton athletic shirt)
• Padded cycling shorts
• Cycling Socks (wicking – not cotton!)
• Cycling gloves
• Small bike bag or pouch to carry cell phone, wallet with ID, medicine, and sunscreen (you will not need to carry food since we will provide food at all the rest stops)
• Refillable water bottle (we will be providing you with a Hazon water bottle as well)
• Helmet (mandatory!)
• Spare tubes, patch kit, tire levers etc.
Retreat Gear
• Board Games or sports equipment
• Yoga Mat
• Flashlight or head lamp
Jewish Objects
We will be able to provide you with a siddur, kippah, or tallit, if you want it. If you have any of these items of your own that you want to bring, you are welcome to do so.
Below is a general itinerary for the weekend and is subject to change.
View the 2017 NY Ride & Retreat schedule.
"Friday"
Friday Schedule
12:00 – 5:00 PM

Arrival and Check-In
3:00 – 4:30 PM
Welcome Fair
5:30 – 6:30 PM
Cocktail Hour
6:30 – 7:45 PM
Traditional and Non-Traditional Services
8:00 – 9:30 PM
Dinner
9:30 – 11:00 PM
Various nighttime activities
"Saturday"
Saturday Schedule
7:15 – 7:30 AM
Yoga
8:00 – 9:00 AM
Breakfast
9:00 – 11:30 AM
Services/Hikes/Short Bike Ride
11:30 AM – 12:00 PM
Kiddush
12:00 – 1:00 PM
Keynote Panel
1:00 – 2:00 PM
Lunch
2:00 – 6:00 PM

Relax/Hike/Swim/Boat
2:00 – 3:30 PM
Session One Classes
3:30-4:30

Session Two Classes
4:30 – 5:30 PM
Session Three Classes
5:30 – 6:30
Session Four Classes
6:45 – 7:15 PM
Mincha
7:15 – 8:00 PM
Dinner
8:15 – 8:30 PM
Musical Havdallah

8:30 – 9:45 PM
Rider and Crew Briefings