This page reflects the 2016 Ride schedule.
Stay tuned for more information on 2017.
Download the full weekend schedule here.
Friday Schedule
12:00 – 5:00 PM

Arrival and Check-In
3:00 – 4:30 PM
Welcome Fair
5:30 – 6:30 PM
Cocktail Hour
6:30 – 7:45 PM
Traditional and Non-Traditional Services
8:00 – 9:30 PM
Dinner
9:30 – 11:00 PM
Various nighttime activities
Saturday Schedule
7:15 – 7:30 AM
Yoga
8:00 – 9:00 AM
Breakfast
9:00 – 11:30 AM
Services/Hikes/Short Bike Ride
11:30 AM – 12:00 PM
Kiddush
12:00 – 1:00 PM
Keynote Panel
1:00 – 2:00 PM
Lunch
2:00 – 6:00 PM

Relax/Hike/Swim/Boat
2:00 – 3:30 PM
Session One Classes
3:30-4:30

Session Two Classes
4:30 – 5:30 PM
Session Three Classes
5:30 – 6:30
Session Four Classes
6:45 – 7:15 PM
Mincha
7:15 – 8:00 PM
Dinner
8:15 – 8:30 PM
Musical Havdallah

8:30 – 9:45 PM
Rider and Crew Briefings
Sunday Routes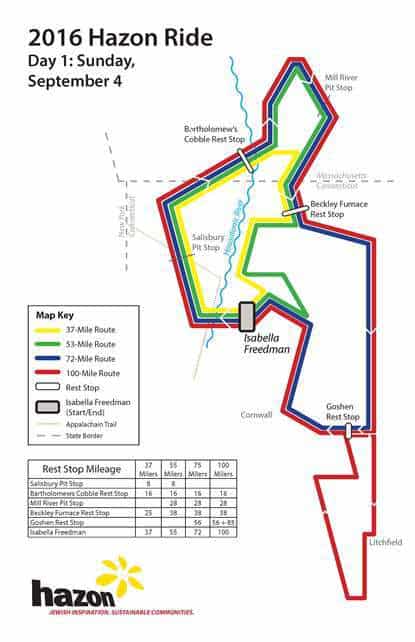 Sunday's routes explore the Connecticut and Massachusetts Berkshire Mountains. We are offering four routes – 37, 53, 72, and 100 miles – and each route will be fully supported and have its own highlights. There are decision points throughout the day where you can decide how long you want to ride.
All routes begin by heading through Salisbury, CT and have rest stops at the following State Parks:
The 37-mile route (yellow) takes a shortcut between the two rest stops and heads directly back to Isabella Freedman.
The 53-mile route (green) adds an extra loop at the end of the day, with a tough climb.
The 72-mile route (blue) has a tough climb just after Beckley Furnace, and heads south for an additional stop near Goshen, CT.
The 100-mile century (red) heads further south, with a 30-mile loop (and additional pit stop) before returning to Goshen and rejoining the 72-mile route.
Click here to view an interactive Google Map, with the individual routes in detail (draft)
Monday Routes
Monday's loops head west into New York State, exploring the Hudson Valley rather than the Berkshire Hills.
The 35-mile route (yellow) will pass through Sharon, MA and then head to Amenia, NY where there will be a rest stop at a small Synagogue.
The 50-mile (green) and 60-mile (blue) routes will have a 4-mile climb on the way to Sharon, MA and then head south to a rest stop at the World Peace Sanctuary. Each route has its own loop to get to the Amenia synagogue rest stop.
All routes end the day with a ride on the Harlem Valley Rail Trail and a pit stop in Millerton, NY before returning to Isabella Freedman.
We anticipate all groups returning to Freedman by 1:30 pm. Lunch and showers will be available before our closing ceremony at 2:30 pm and 3 pm departure.
Click here for an interactive view of the route
The Hazon Ride was a profoundly moving experience for me. Riding over one hundred miles that weekend is one of my greatest accomplishments. At the end of my ride I broke out in spontaneous and unexpected tears.