Join us in honoring Hazon board member and 16-year Ride veteran, Ruth W. Messinger
The New York Ride & Retreat is Hazon's longest-running program, and our largest annual fundraising event. Each year, the Ride brings together thousands of people from across the spectrum of religious observance to celebrate, advocate, and raise awareness around Judaism and the Jewish connection to environmental issues and food justice. The Ride also provides a vital source of funding for Hazon programming, scholarships, and grants.
This year, we are thrilled to honor Hazon board member Ruth Messinger for her lifelong dedication to environmental justice and the Jewish community. We are incredibly grateful to have her leadership, mentorship, and support at Hazon. To celebrate this special year, Ruth aims to raise $50,000 for her 2017 Ride and to help us bring together a record number of New York Riders this Labor Day Weekend.
The beauty of the Ride is this: Together we undertake an incredible physical challenge and participate in a weekend of education and advocacy. And at the same time, via our collective fundraising, we enable hundreds of Jewish communities and thousands of individuals of every age and denomination to become responsible stewards of the environment.
I believe that to be Jewish also means to work hard at creating a healthier world for everyone.
Click below to Ride with Ruth in support of environmental education and advocacy this Labor Day Weekend or to support her New York Ride campaign.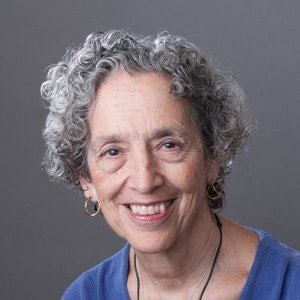 Ruth W. Messinger, a New York Ride & Retreat participant and Hazon Board member since 2003, is the former President of American Jewish World Service (1998-2016) and currently serves as the organization's inaugural Global Ambassador.
Ruth's remarkable 18-year presidency at AJWS began after a 20-year career in public service in New York City as a City Council member and Manhattan Borough President. Under Ruth's leadership, AJWS grew exponentially—granting more than $270 million to promote human rights in the developing world and launching campaigns to end the Darfur genocide, reform international food aid, stop violence against women and LGBT people, end land grabs, and respond to natural disasters around the globe.
A tireless advocate and social change visionary, Ruth mobilizes rabbis and faith-based communities throughout the U.S. to promote human rights and end poverty, and is currently a member of the World Bank's Moral Imperative Working Group on Extreme Poverty.
Ruth is also currently engaged in both international human rights work for AIDS Free World and local social justice work at the Jewish Theological Seminary of America and at the JCC of Manhattan.
Ruth has been honored for her leadership with awards from many national Jewish organizations and honorary degrees from five major American rabbinical seminaries, and has been cited as a prominent faith-based leader in publications from The Huffington Post to The Forward.
Ruth is an active member of her congregation, the Society for the Advancement of Judaism, and serves on several boards including Hazon and Surprise Lake Camp. She holds a B.A. from Radcliffe College and an M.S.W. from the University of Oklahoma. She is married to Andrew Lachman and has three children, eight grandchildren, and two great-grandchildren.