Welcome to the New York Ride & Retreat!
Aug 31 – Sept 3, Labor Day Weekend
The New York Ride & Retreat is a fully-supported ride, fundraiser, and community experience for people of all cycling levels and ages. Spanning Labor Day Weekend and based at the Isabella Freedman Jewish Retreat Center, guests enjoy delicious, kosher, farm-to-table food, engaging educational workshops, fun outdoor activities, and two days of cycling around the beautiful Berkshires.
The Shabbat Retreat and Community Experience 
Ease into the weekend with a Shabbat experience that brings people together in a diverse, vibrant, and warm community. From secular to observant, singles to families, kids to retirees – everyone is welcome! Enjoy organic Shabbat meals, take part in educational workshops, hikes, farm tours, lake activities, and more! This is a transformative experience you won't want to miss!
The Ride
The Route — Cyclists can select from seven different marked routes over the two riding days, with distances ranging from 25 to 100 miles. Ride past sparkling lakes, through quaint towns, over rolling hills, along green pastures, and on rail trails. Multiple route options keep it fun & challenging for cyclists of all levels.
The Support —  Every rider receives cue sheets (direction) and is supported with sweep cars, lead and sweep riders, mechanics, medics, bathrooms, snacks, and lots of encouragement. Bike rentals are available upon request. Ride days end with celebrations, great food, drinks, music & more!
The Fundraising — Riders pay a registration fee & commit to raising a min of $800 – $1200. Fundraising is due October 31st, allowing riders two additional months after the Ride to reach and exceed their minimums.
The Cause
Climate change, pollution, and the depletion of the world's finite natural resources are doing real damage to the planet & to our future. The New York Ride & Retreat:
Raises money for projects that are furthering Jewish Outdoor, Food & Environmental Education (JOFEE)
Allows us to give away more than $50,000 in annual scholarships for immersive retreats at Isabella Freedman
Provides vital support and seed money for new initiatives like the Hazon Seal of Sustainability
Significantly increases the number of Jewish people who are environmentally aware and active
Is a positive model for building inclusive, cross-denominational Jewish communities
Continues to serve as an entry point to organized Jewish life for those who are excited about biking, sustainability, the environment, and/or the outdoors
Pedaling together for a healthier planet!
For more information, contact ride@hazon.org
This page reflects the 2017 NY Ride schedule.
Stay tuned for more information on 2018.
Download the full weekend schedule here.
Sunday Routes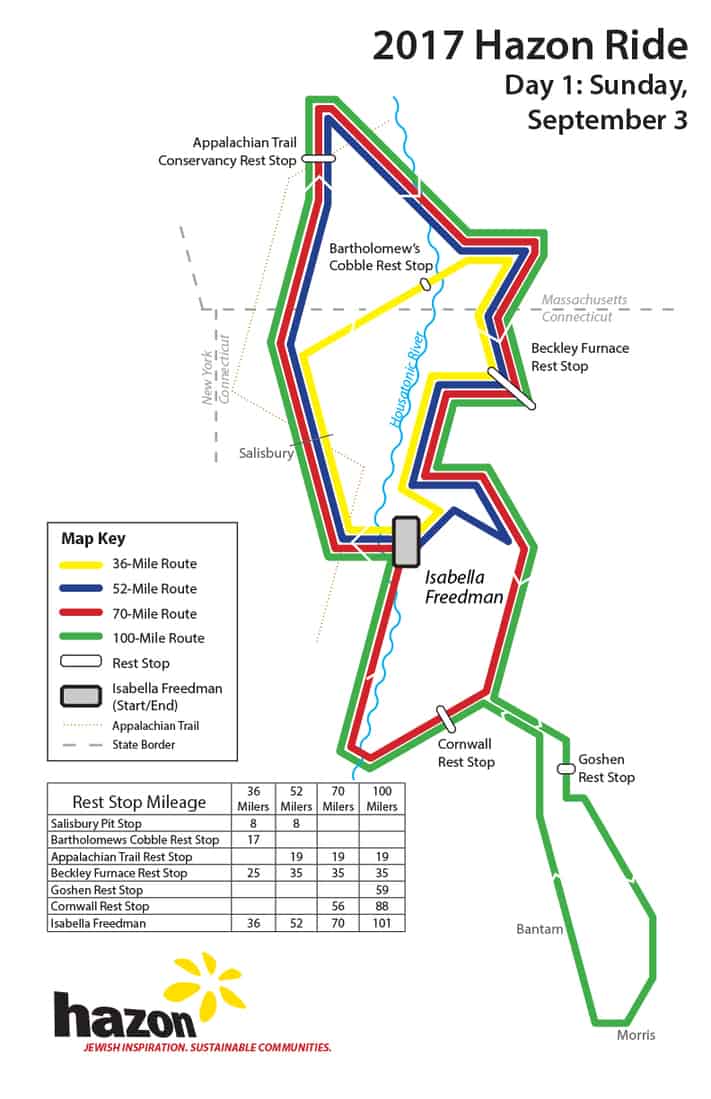 Sunday's routes explore the Connecticut and Massachusetts Berkshire Mountains. We are offering four routes – 36, 52, 70, and 100 miles – and each route will be fully supported and have its own highlights. There are decision points throughout the day where you can decide how long you want to ride.
The 36-mile route (yellow) will split from the other three routes at mile 12. This route will have rest stops at two parks – Bartholomew's Cobble, a forested park with a 15-mile loop trail to a bluff overlooking the Housatonic River, and Beckley Furnace, a 19th century iron blast furnace on the north bank of the Blackberry River.
The 52-mile route (blue) will explore more of the countryside, with picturesque roads alongside small creeks. This route will have the same first rest stop as the 70- and 100-mile routes at the Appalachian Trail Conservancy and a second rest stop where all routes come together at Beckley Furnace.
The 70-mile route (red) will split from the 52-mile route at mile 48 and continue the loop to the south. There will be an additional rest stop at a park in Cornwall, where riders can enjoy shade and picnic tables under a pavilion. It comes after a long steady climb into an incredible descent. From there, the route make its way back north along the river to Isabella Freedman.
The 100-mile century (green) will split from the 70-mile route at mile 54 and has a small dedicated rest stop at a camp in Goshen, CT. Afterwards, this route has a large loop even further south that wraps around Bantam Lake. It then heads back north to Cornwall to join the 70-mile route before heading back to Isabella Freedman. For those that need a break around the southern tip of the loop, there is an un-manned pit stop at a local ice cream shop.
Click here to view an interactive map, with the individual routes in detail
Monday Routes
We have three route options on Day 2, two of which are loops to the southwest of Isabella Freedman, heading into New York State. The third heads back down south to Cornwall.
The 30-mile route (yellow) heads south towards the town of Cornwall, mimicking the second half of the 70-mile route from Day 1. This route will slowly gain elevation over the course of the first 10 miles, leading up to a large descent into the first and only rest stop of the day. Afterwards, the route heads back north along the river.
The 50-mile (green) and 60-mile (blue) routes will make their way southwest through Sharon, CT before crossing the border into New York State. There are two rest stops on these routes. The first is at the World Peace Center and the second is at a temple in Amenia, NY. The routes are together most of the day, but after the first rest stop, faster riders can choose to head further south for a bonus 9 miles before rejoining the 50-mile route in Dover. Riders be on the Harlem Valley Rail Trail for 7 miles between the Amenia Rest Stop and Millerton, NY. After the trail ends, it is another 10 miles to return to Isabella Freedman for the celebratory BBQ lunch.
Click here to view an interactive map, with the individual routes in detail
Accommodations

 Attention all prospective participants! We have revamped our 2016 housing options in order to provide greater variety and accommodate a larger community. Now, in addition to our charming country lodging, you'll have multiple options to camp out under the stars! Check out all four housing levels in more detail to decide which housing option is best for you…
Weekend Retreat / Shabbaton
The New York Ride & Retreat Shabbat Retreat takes place at the beautiful Isabella Freedman Jewish Retreat Center. In this stunning setting, participants celebrate, eat, relax, and learn together in a welcoming, inclusive, and open Jewish community of all ages.
You should expect to end Shabbat feeling full; not only with delicious food prepared from the Adamah farm, but also feeling satisfied from the rich conversations, brilliant sessions, and incredible community. It's an event you will not want to miss!
Download a schedule of last year's Shabbat Retreat.
Highlights include:
Diverse Jewish community of all ages, backgrounds, Jewish observance, and practice.
Varied Shabbat service options including egalitarian, traditional, family-focused, and alternative.
Wellness sessions including yoga, hikes, meditation, and more!
Opportunities to learn about the relationship between Judaism and the environment.
Musical havdalah dance party- bring your instruments!
Organic, kosher and, consciously-prepared food.
Learning about the inspiring work of Hazon and its partners.
It is fantastic to spend shabbat with an inclusive community from all branches of Judaism and all walks of life, where everyone can bond in a quiet setting away from modern distractions.