Experience Israel from the Seat of Your Bicycle
The Israel Ride is an incredible opportunity for you to experience the beauty of Israel from the saddle of a bike. The Israel Ride will take you across Israel with riding routes of 150 – 350 miles over five days. All routes are fully supported with mechanics, lead riders, and rest stops. The Israel Ride experience also includes a day off for Shabbat, and educational opportunities to learn from our tour guides and environmental experts.
This is a great way to see Israel. It is unique and educational, and a great physical challenge. I would highly recommend it to others. Before I went, it was a once in a lifetime experience. Now I get why folks do this over and over again.
About the Ride
The Arava Institute & Hazon Israel Ride is the premier cycling experience in Israel. Enjoy five glorious days of biking, with route options for recreational riders and experienced cyclists. All routes are fully supported with plentiful local food, wonderful crew and mechanics, and great overnight locations.
The week-long Ride includes orientation, five cycling days, and a day off for Shabbat. Each cycling day of the Israel Ride offers new cycling opportunities and challenges, although the basic flow of each day is the same.
There is something for everyone on the Israel Ride – for those new to Israel or seasoned travelers, for those coming on their own, with families, or part of local teams, and for riders of all ages. Learn about the ecological challenges in the region as you explore the Negev desert, and support the work of The Arava Institute for Environmental Studies as well as Hazon.
Participants on the Israel Ride are mostly from the United States, as well as England, Canada, Israel, and Australia.  There are riders of all ages (including those celebrating a Bar or Bat Mitzvah), religious backgrounds, and cycling abilities.
Financial Information
Participants pay a registration fee and commit to a minimum fundraising level. Participants cover their own transportation expenses to fly to and from Israel. The Ride covers all costs in Israel including hotels, food, and ride support.
The Israel Ride is a fundraising event benefiting two organizations – The Arava Institute for Environmental Studies and Hazon. We offer incentives to those who raise above their minimum. We provide a series of fundraising tools to all participants, including a personalized donor website and information about both organizations.
For riders from outside of the US, we have developed partnerships in Canada, Australia, and Israel to facilitate fundraising.
Ride Experience
One of the great pleasures of the Israel Ride is simply riding in Israel! With full on-road support, including mechanics, rest stops, medical staff, tour guides, and more, all you need to focus on is enjoying cycling safely through the beauty of the country.
Past experience with long distance, multi-day rides is not a requirement to participate in the Israel Ride, but is recommended. The more you train, the better your experience will be. An average person in good health can train and do the Ride. But you will need to train. The best way to prepare yourself for this fun and challenging ride is to log time on your bike.
Riding Groups
On the 2015 Israel Ride, there will be three discrete riding groups. All routes enjoy full support, stocked rest stops, and expert tour guides and educators. While the main differences are mileage and riding speed, each route offers a unique experience. At the evening briefings we will explain the routes for each group for the following day.
Shomrim ("guards") ride an average of 35 miles a day, typically until lunch, and then have special bus tours in the afternoon.
Tzofim ("scouts") ride an average of 55 miles a day, from hotel to hotel.
Chalutzim ("pioneers") ride an average of 70 miles a day, with extra hills and distances between overnights.
Each rider receives a cue sheet with each turn on the route and rest stops marked. Groups tends to start together, and spread out between rest stops. However, this is not a "grab a cue sheet and go" ride. We have police permits which require us to keep our groups together. While we have designed our routes and riding groups to allow riders to spread out and ride at their own pace, we do use rest stops to gather the group together. In addition, there are times where we bunch the group up to allow for safer and easier cycling. This may mean that faster riders have to wait for slower riders to arrive before departing or that slower riders have a shorter rest period before hitting the road.
The Crew
The Israel Ride is a fully supported event. We provide a full SAG (support and gear) service on the road. Each riding group has its own crew team to help with rest stops, mechanical needs, and to pick you up if needed. We have medical personnel on the road at all times, and often local police support.
Lead riders pace (in front) and sweep (in back) each group as well as provide general bicycle support. There are few times when the gap between the lead and sweep riders is too great for safe riding. Riders in the back may be picked up and jumped ahead or driven to the finish line.
Bike mechanics help with flat tires and other minor incidents on the road. Our mechanics carry standard bicycle tubes and supplies, but we encourage riders to bring tubes that match their tires. We also have a few spare bikes in case of a major mechanical issue so you can get back to biking.
Finally, some crew teams run rest stops, cheer riders up tough hills, and take pictures. All the crew (and some lead riders) are alumni of either the Arava Institute or Adamah, a Hazon program. We encourage riders to interact with the crew to understand more about their experiences at the Arava Institute and Hazon.
Rest Stops and Pit Stops
We have a scheduled rest stop about every 15 miles. Riders must stop at each rest stop so that we can keep the riding groups together. Each rest stop has water, energy drink, and snacks. These stops either have natural shade or we build a shelter to provide shade. Especially for the desert riding days, riders are strongly encouraged to cool down in the shade at each rest stop. For areas without a bathroom, we create a private pop-up bathroom facility. While at the rest stops, our tour guide and environmental educators will talk about the geography, history, and landmarks of the area well as environmental issues of the region.
Between rest stops, there may be an optional pit stop. These stops are are a good place to refill water and snacks, or even to sit inside an air-conditioned car if it is extremely hot.
Throughout the Ride, we provide nuts, dried fruit, halva, and energy bars. However, the brands available in Israel are not the same as those in the US or abroad. If you have a particular energy bar that you prefer, we suggest bringing some to the Ride.
The ride surpassed all of my past bike tours in terms of route, safety, food, and above all a friendly crew and staff.
Mornings
Each of the five riding days begins the same way. Due to the short days in October and November, we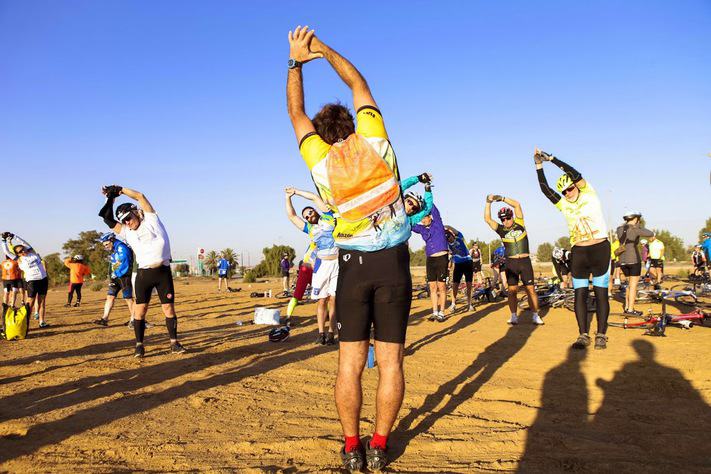 maximize sunlight (and beat the afternoon heat) by setting out very early.
We start riding around 6:30 am. Each rider is responsible for setting their own alarm to wake up each morning, so it is a good idea to bring a travel alarm clock. You will bring your luggage from your room to the designated areas in the lobby, so it is essential for you to pack light and in one bag. Laptops and tablets should be padded with clothing in your luggage bag.
Breakfast is usually at the hotel before we depart, but it may be at the first rest stop of the day on the road. If we are eating on the road, the hotel will have hot drinks and snacks available before we leave. Bike mechanics and lead stretching are available before our departure. Time is also set aside for morning prayers early in the morning.
Evenings
We aim to arrive at the hotel each afternoon around 3 pm when your room will be ready. You can claim your room keys and gather your luggage from the Israel Ride welcome desk (unless your luggage was already brought to your room) that will be set up in the reception area of each hotel.
Guests who arrive before 3 pm may not have rooms available.
Upon arrival, there is time to relax at each hotel (many of which have a pool or bar). All overnight stays have internet access, although there is a fee at the hotels. Dinner is followed by a short route briefing about the route of the following day. Some evenings will feature a presentation on an environmental topic, often by an alum of the Arava Institute who is part of the crew. Optional evening prayer services are offered after the educational program of the evening.
We encourage all riders to head to bed early, and to pack before going to sleep.
Accommodations
The Israel Ride stays at the best overnight accommodations available for each destination. Where possible, we use upscale hotels, which often include comfortable lounges and pool areas. For some evenings, we stay at kibbutz guest houses. Standard accommodations are double rooms, or occasionally triples where the hotels provide larger suites.
Single room upgrades are generally available to everyone. In some locations, room upgrades are limited and those who registered early will receive priority to reserve them. Please use our logistics form to upgrade to singles.
We can also accommodate a limited number of guests for most evenings of the Israel Ride. Details and pricing will be posted on the guests on the Ride page once we have solidified our itinerary.
Who Rides?
The Ride attracts a varied crowd, but we have something to offer everyone – recreational riders and experienced cyclists, solo travelers and families, Jews and non-Jews, people who live in Israel and those on their first visit.
Riders from across the United States, England, Canada, Israel, and Australia and beyond participate in the Israel Ride. Each year there are many singles and solo travelers, but also many family combinations, including parents and children, spouses, and other relatives.
In addition to being a bike trip, the Ride is an opportunity to meet some fantastic people. Participants span three generations, and about 20% of the participants are in Israel for the first time. There are also riders who have been to Israel many times before and are now experiencing Israel in a new and unique way.
All the programming during the Ride strives to make all participants feel comfortable and welcome by creating a special community for this exciting adventure.
Riding on Your own or with a Team
Riders can choose to come as individuals or join a team. open to people coming on their own or as part of a group or team. The Ride is welcoming to individual riders, with the hope that people will form new friendships. The Israel Ride staff can put you in touch with riders from your area to arrange training rides or social gatherings.
Friends, neighbors, community members, and congregations are encouraged to form teams, which can be done after the registration process is complete. Forming a team is an opportunity to build community before the Ride even begins. Teams often arrange for matching jerseys, train together, and host social events leading up to the Ride. Being on a team might be helpful with your fundraising.
However, being on a team does not change your fundraising commitment. Teams can opt to create a "team fundraising page" where community members can contribute to a joint pool. Distribution of the money collected on the team page to members of the team is up to the discretion of the team captain. Team members can also distribute money to other members who are short of their goal. Please note: This distribution must be done before the collection of incentives. Participants cannot use their fundraising to both collect incentives and help friends or family members.
Bar and Bat Mitzvahs
Many bar and bat mitzvah children have integrated the Israel Ride into their experience of becoming a Jewish adult. For more information regarding b'nai mitzvah, contact David Rendsburg.
The Israel Ride is a serious physical challenge requiring significant advance preparation and maturity. Children between the ages of 12-15 can join the Ride only accompanied by a parent or guardian, who will be required to cycle with the child at all times.
Some insights and reasons to choose a bike ride from past B'nai Mitzvah:
The Ride is an active, pluralistic Jewish, educational, and inspiring family vacation with outdoor fun and a challenging experience to work both mind and body for all involved
The Ride creates a supportive environment for riders of all levels
A great experience to challenge, grow, and learn Jewishly, with opportunities to participate in religious services
An added physical dimension to what is often only a spiritual journey
Prepare, train, and work, with support from family, community, and synagogue, towards accomplishing another layer of challenge to your rite of passage.
Connect your love of nature and your commitment to Israel to your b'nai mitzvah.
Read more about Gabe's 2011 Bar Mitzvah Israel Ride
Read about Biking and B'nai Mitzvah in the Union for Reform Judaism
The Cause
The Israel Ride is a fundraising event benefiting two innovative organizations –
The Arava Institute for Environmental Studies and Hazon. We offer incentives to those who raise above their fundraising minimum. We also provide a series of fundraising tools to all participants, including a personalized donor website and information about both organizations.
The Arava Institute for Environmental Studies is the premier environmental teaching and research program in the Middle East, preparing future Arab and Jewish leaders to cooperatively solve the region's environmental challenges. Through its activities, the Arava Institute encourages, fosters and supports the advancement of environmental cooperation between Israel and her neighbors. Learn more
Hazon works to create a healthier and more sustainable Jewish community and healthier and more sustainable world for all. Through a series of retreats, food educational programs, and a growing network of like-minded organizations, Hazon provides transformative experiences and innovated thought leadership within the Jewish community. Learn more
Ride Logistics
We understand that the Israel Ride can be a complicated endeavor, so we provide a checklist and tools to prepare you for an adventure-filled vacation. You are responsible for booking your own flight to Israel and arriving at the starting location. The Israel Ride is here to help with many of the logistics of the Ride, including:
Bike rentals
Bike transportation from the Israeli international airport before the Ride, and to the airport after the Ride
Pre-Ride and post-Ride touring options
Booking extra hotel nights before or after the Ride
Upgrading to single occupancy rooms at hotels before, during, or after the Ride
Inviting guests on the Ride
Domestic flights from Eilat to Tel Aviv (or a bus to Jerusalem) after the Ride
Eligibility for the Ride
Riders must meet the following criteria:
Commit to meeting the minimum fundraising requirement.
Be in good health. If you have a pre-existing condition, such as a pacemaker, we may require a doctor's note. If you have any doubts about your health, please see a doctor before you begin your training.
Be at least 12 years old. Please note that this is a very strenuous physical undertaking and your child should be mentally and physically prepared. All Riders 12-17 years old will need to cycle and remain with their parent or guardian at all times.
If you are participating in a gap year program before attending college, you must have parental permission.
Due to the nature of some of the hotels along the route, the ride is not 100% ADA compliant. If you have any maneuverability questions please contact us.