Hazon offers programming for those in their 20s & 30s in the New York metro area. This spring we will be offering the following series; Shabbat Dinners in New York, Roots & Fruits: Text Study and Dessert, and a World of Jewish Cooking Series. See below for our upcoming programs and join us for as many as you would like! If you have any questions, contact our Director of Education at elan.margulies@hazon.org.
Hazon is active throughout the New York area with programming for students and families, as well as Tribe Rides, our CSA program, and the Hazon Seal of Sustainability for institutions. If you or your organization are interested in custom programming, contact Elan Margulies.
Interested in getting away from the city? Isabella Freedman Jewish Retreat Center in the Berkshires is our home for the New York Ride & Retreat, Teva, Adamah, and other retreats.
New York City is also home to Hazon's headquarters at Makom Hadash (Hebrew for "New Space"), a hub for the Jewish innovation community in New York, and a residency center for second-stage Jewish non-profit organizations.
New York Area Events:
Jun 18, 2018 - 6:30 pm - 8:30 pm
Join us on a gentle walk to hear well-rooted legends and hone your tree identification skills in this outdoor workshop.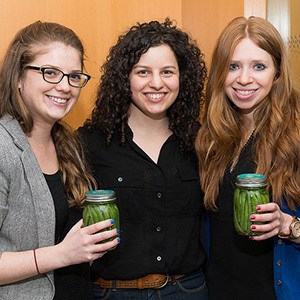 Jun 21, 2018 - 7:30 pm - 9:30 pm
Learn the art and science of fermentation – a process which keeps vegetables fresh and promotes healthy digestion.
Jun 22, 2018 - 6:30 pm - 9:00 pm
Join Repair the World, Hazon, Moishe House Footsteps, and Moishe House Park Slope for a Shabbat Dinner in Prospect Park!
Makom Hadash
125 Maiden Lane
Suite 8B
New York, NY 10038
212.644.2332
fax 212.868.7933