We work with local leaders and organizations to seed and support Jewish Outdoor, Food, Farming and Environmental Education (JOFEE) programs.  In order to make that work happen we:
offer 20k per year in Mini grants to support JOFEE programs
offer scholarships to attend national Hazon programs
provide consulting to help bring JOFEE into organizations through programs like the Hazon Seal, our Educational resources or Better Egg project
foster connections with the growing Jewish environmental community throughout the country.
Aug 9, 2017 - Aug 13, 2017
Isabella Freedman Jewish Retreat Center, Falls Village, CT
Expand your culinary expertise, experience the pleasure of harvesting your own organic fruits and veggies, unpack the complexities of our global food system, and connect to our ancient food tradition. The Kids' Food Conference, specially designed for young foodies, makes it perfect for the whole family!
Staff
Sarah Kornhauser
Director, Denver
Sarah Kornhauser is the Director of Hazon in Denver. Prior to joining Hazon, she was the Director of Birthright NEXT, Denver, a program that cultivated Jewish community for 20 and 30 somethings. Sarah has also worked as a consultant, community organizer, and yoga teacher. Sarah holds a Master's Degree in International Economic Development from the University of Denver. She is an avid home cook and traveler. Sarah lives in Denver with her husband Adam Buehler and their pup Mingus.
Denver, CO
| 303.886.4894
| sarah.kornhauser@hazon.org
Becky O'Brien
Director, Boulder
Becky O'Brien is Hazon's Director for Boulder, Colorado. She has worked for a variety of social justice causes in the nonprofit sector for more than 18 years. She has a background in volunteer coordinating, programming, political advocacy, fundraising, communications, and non-profit administration. She received a Bachelor's Degree in Religious Studies from the University of South Florida and a Master's Degree in Religious Studies from the University of Colorado, graduating summa cum laude from both. She enjoys her family, hiking and camping in the beautiful Colorado outdoors, gardening, knitting, and applying the principles of Voluntary Simplicity to her life.
Boulder, CO
| 303.886.5865
| becky.o'brien@hazon.org
Colorado Advisory Board
Tricia Bebber
Josh Dinar
Bryan Goldstein
Paul Gillis
Alan Greenberg
Bonnie Houghton
Susan Kodish
Andy Miro
Shari Blake Schnee
Ian Solow-Niederman
Rabbi Marc Soloway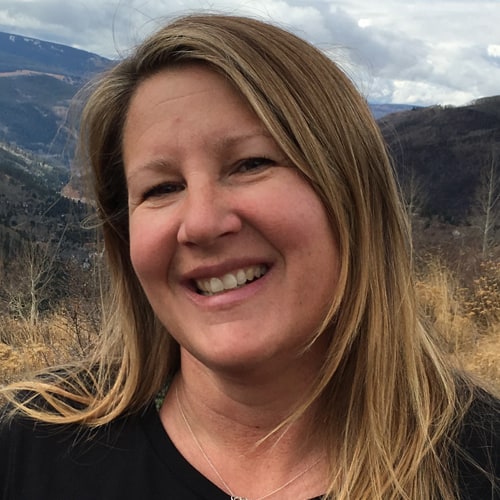 Tricia Bebber is the Kindergarten teacher at the Boulder Jewish Community Center (JCC) Phillips Early Childhood Center since 2010. Tricia also works as the JCC Farm and Garden educator through the Milk and Honey Farm. Tricia is a graduate of CSU Fort Collins with a B.S. in Natural Resources and completed her teaching credentials through Antioch University at Santa Barbara. Tricia loves the inspiration she gains as a steward of the earth through the farm and garden. This inspiration drives her passion as an educator, a mother, and an individual. She believes it is an honor and a joy to watch children have hands-on experiences that teach them where and how our food is grown, which encourages them to live a sustainable and healthy lifestyle. When Tricia is not teaching, she cherishes her time spent with her children. They love to hike, camp, ski, and play with their two dogs. This year they became members of the Milk and Honey chicken co-op and discovered…they love chickens!
Boulder, CO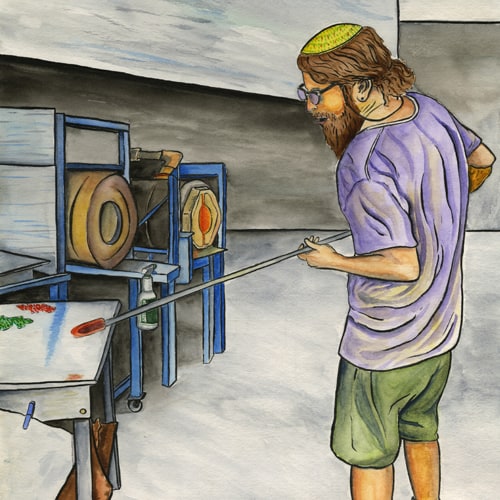 Bryan Goldstein has been active in the Denver music scene for the past 10 years, and upon last year's graduation from the CU Denver Music Business program (upright bass), he set out to be a farmer and Shepard of the earth. "They kept asking me how I am going to eat, being a musician and all" which is the question that we as a society continually have to face. As a current Moishe House Boulder resident, Bryan brings food consciousness, community gardening, and sustainable solutions to the young "professional" Jewish community in Boulder and abroad. While Bryan is still active on the music scene with Hadgaba, a Balkan-style Klezmer band, the honey comes from his employment at Highland Honey where he processes raw, local, real honey to share powerful food and healing herbal blends with the people. Bryan also works at a glass blowing studio teaching classes and creating hand blown custom works, including a series called "Sukkot," which was all sorts of realistic veggies and "Yadim" consisting of hand washing cups. Through working with various Hazon mini-grant projects and larger Hazon programs, Bryan has been inspired by the mission and is excited to be part of the team.
Denver, CO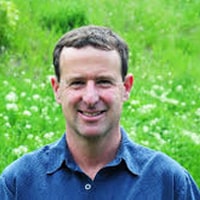 Alan Greenberg is originally from New York and moved to Boulder 20 years ago. Alan works as a nutrition consultant at his business, Restoration Nutrition. He holds a certificate as a Nutrition Consultant from the Bauman College of Holistic Nutrition and Culinary Arts and is Board Certified in Holistic Nutrition® (Cand.). Alan believes people can heal the underlying causes of their illnesses through better dietary and lifestyle choices. As a nutritionist, he brings a unique and skilled approach to the Board and looks forward to helping Hazon fulfill its goal of a healthier and more sustainable Jewish community. He also enjoys combining his passion for the outdoors and Judaism; attending services of the Adventure Rabbi at places like Copper Mountain for the last 15 years. Alan lives with his wife Catherine Greener in Boulder where they enjoy gardening, biking, and hiking.
Boulder, CO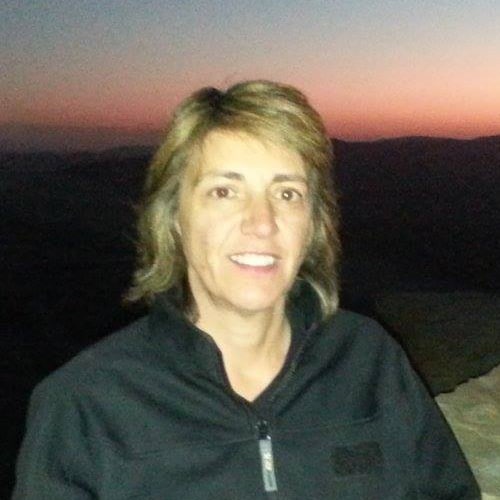 Having grown up in the Sierra Nevada Mountains of California, Bonnie Houghton spent both her youth and her career with the US Forest Service, living and working in the mountains and wild places of the West. As an outdoor enthusiast, mountain guide, ecologist, environmental planner and public issues collaborator, Bonnie brings mindfulness, vision and organizational leadership to her commitments of egalitarian, ecumenical and Earth based values. While participating in the 2014 Hazon Israel Bike Ride, Bonnie had the opportunity to spend the rest of the year studying at Pardes Institute for Jewish Studies in Jerusalem, and most recently with the ALEPH Renewal Rabbinic program. Bonnie practices and teaches Mussar in the Rocky Mountain Foothills area and is an active member of Congregation Beth Evergreen, a Hebrew School Teacher at Congregation Nevei Kodesh, as well as a student, and former rabbinic intern with Kabbalah Experience in Denver, CO.
Denver, CO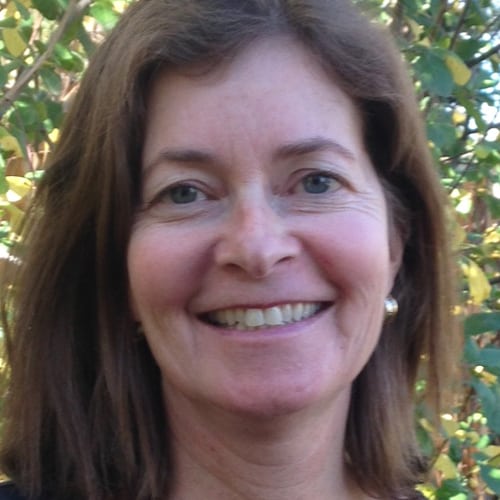 Susan Kodish moved to Boulder from Youngstown, Ohio in 1982 to go to the University of Colorado. Susan and her husband, Jeff, and their daughters, Lucy and Molly, share a love of the outdoors and being in the mountains. They are members of Congregation Har HaShem. Susan has worked as the Coordinator of Volunteers for Eco-cycle and as a Paralegal for The Nature Conservancy. Since 2011 she has worked for African Market Baskets. Her work provided her with the opportunity to visit Ghana, meet many weavers and their families and better understand the connection between weaving, food and community. She served on the District Attorney's Victim Compensation Board, helping distribute court ordered funds to victims of crime. She also volunteered with Jewish Family Services for four years. She has been a member of the Red Wagon Organic Farm Tuv Ha'aretz CSA for several years. She is excited about combining her interests in sustainable food production and the environment with her inherent Judaism to contribute to Hazon.
Boulder, CO
Andy is originally from New York. His first in-depth experience with farming was when he spent a summer working on Kibbutz Be'eri, located in the north-western Negev desert. The dedication and communal spirit of the kibbutz members and the love for their work made an everlasting impression on him. Since arriving in the Boulder area in early 2015, after his career in the high tech profession, Andy became involved in the Jewish community. Andy volunteers at Boulder Jewish Family Service and is an advisory board member. He volunteers at the non-profit Growing Gardens and has a community plot. Andy and his wife Terri are members of Har HaShem, live in Louisville and have two grown children. Andy is excited to be a part of the advisory board and to help Hazon locally to make a healthier, more sustainable community a reality so he can help improve the lives of others.
Boulder, CO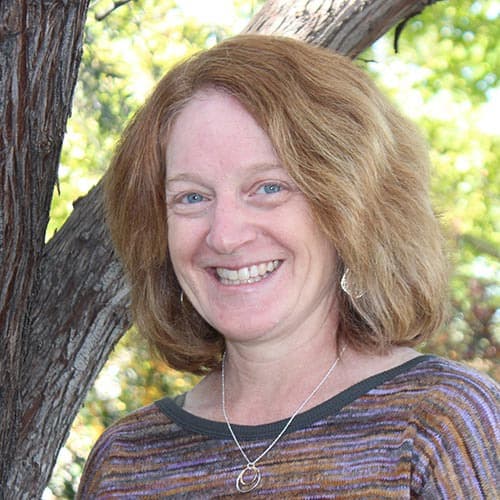 Shari Blake Schnee has been involved in the Boulder Jewish Community for almost 20 years and is currently the Specialty Camps Director at the Boulder JCC. Shari first became involved with Hazon through her job, but it immediately became a personal passion after attending a local Hazon Food Festival. It was inspiring for her to see the food and environmental movement through a Jewish lens. Shari and her family are members of Congregation Har HaShem and she is a past member of the Tuv Ha'Aretz CSA Steering Committee. She is a member of the Tuv Ha'Aretz Red Wagon Organic Farm CSA. Shari lives in Louisville with her husband Jonathan and her two teenage children, Jared and Mollie. She is excited to be part of the Advisory Board and to help Hazon create a healthier and more sustainable community in Boulder.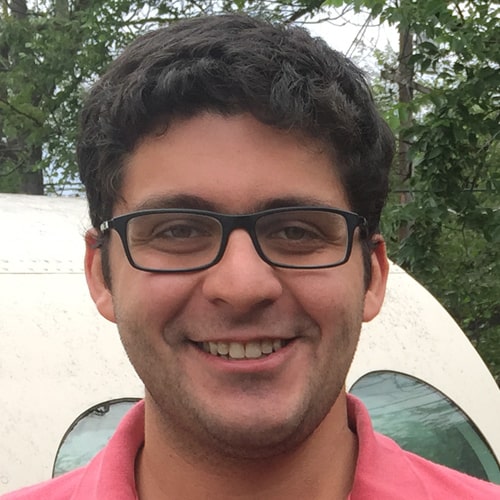 A Denver native, Ian Solow-Niederman has developed a passion for Judaism, food and education. While at the University of Colorado, he was lucky enough to intern for Hazon with the 2012 Rocky Mountain Jewish Food Summit, and continued as an advisory board member. After graduating, he spent time in Indianapolis as the Director of Alumni Engagement for Alpha Epsilon Pi Fraternity and as a Fellow at the American Hebrew Academy in Greensboro, North Carolina. Currently, Ian is the Regional Director for BBYO and is happy to serve with Hazon to ensure a better community and world for the teens he works with.
Denver, CO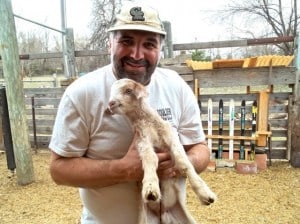 Rabbi Marc Soloway has served as the rabbi of Congregation Bonai Shalom in Boulder, Colorado since 2004. He has always loved food, perhaps a little too much, and in recent years has thought more deeply about where this food comes from, how it is produced and how all of that fits with deep Jewish obligations and values. Marc has ridden twice in the Hazon-Arava Institute Israel Ride in 2008 and 2010. Marc co-chaired two Hazon Food Conferences on the west coast in 2010 and 2011, he is on the Hazon Steering Team in Colorado as well as the Jewish Life team for the Rocky Mountain Jewish Food Summit in April 2012. Marc was instrumental in bringing Boulder's first Jewish CSA through Hazon, which is now a collaboration of five synagogues and the JCC with two weekly drop-off sites. Marc is also a proud member of a Jewish goat and chicken co-op across the street from his synagogue. Marc was very active with the Limmud Conference in the UK, serving as co-chair in 1996 and 1997 and he was a founding board member of Limmud Colorado in 2008, which has informed his work with Hazon. He was in Ghana as part of the second AJWS Rabbinic Delegation, volunteering with a grantee in the south, as well as a fellow of the Rabbis without Borders program with CLAL. Marc is also a graduate of the 5th Rabbinic Cohort of the Institute of Jewish Spirituality. Before becoming a rabbi, Marc was an actor, storyteller and massage therapist in his native London and currently is the narrator of a documentary film about the Baal Shem Tov.
Boulder, CO
Our work is made possible through the generous support of:
     
Hazon grants up to $20,000 total to seed new, local programs that help create a healthier and more sustainable Colorado. We also provide mini grants to expand, support, and grow existing programs.
learn more and apply for a mini grant
The Purpose of this grant opportunity is to inspire and grow a range of programs and initiatives in the Denver/Boulder area that utilize Jewish food, outdoor, and environmental education. This work in aggregate will strengthen and support the JOFEE (Jewish Outdoor, Food, Farming & Environmental Education) movement. It will support existing Jewish institutions and leaders, and bring new people into Jewish life, thus renewing Jewish life overall. To qualify, every project must help to create healthier and more sustainable communities in the Colorado Jewish community and individual Jewish lives.
2016-2017 Mini Grant Recipients
To help this "beyond organic" farm obtain water rights so that it can continue to provide a CSA and door-to-door delivery to the Denver Jewish community.

To help Jewish organizations in Boulder donate the abundance of leftover prepared foods from their events to needy in the community.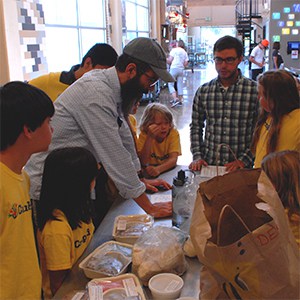 To help expand Camp Kind, a one-week summer camp where campers visit a local farm, local soup kitchen, learn composting, and make crafts with recycled materials.

For two family Shabbaton programs that incorporate food justice, animal welfare, food waste, environmental sustainability, and gardening learning and activities.
To support the "Growing and Giving" program that engages volunteers in growing and harvesting local, organic food for donation to Kavod (Jewish senior housing).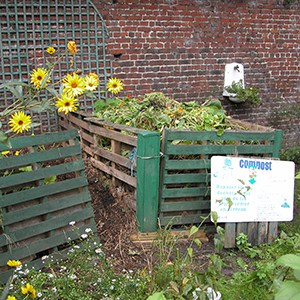 To enhance their Kitchen Science program by implementing a school-wide compost program, adding a rain barrel, and adding more food-related educational programs and activities.

For expanding the farm to include a Tzedakah Garden, which will grow food for donation and be a space to engage volunteers and JCC summer campers.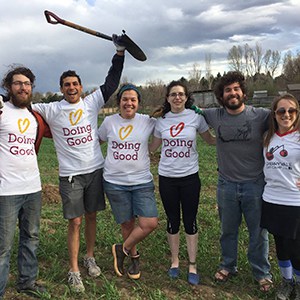 For a number of "greening" projects, including transitioning to green cleaning supplies, increasing biking, eliminating waste at events, and strengthening their existing garden.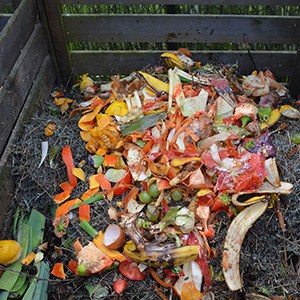 For significant expansion of their composting system and creation of complementary educational materials, which will reduce food waste and enhance their farming program.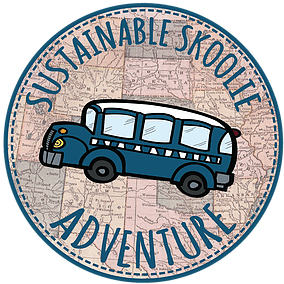 To help build the Sustainable Skoolie bus, support their online sustainability resources library, and for hands-on sustainable living workshops in the Jewish community.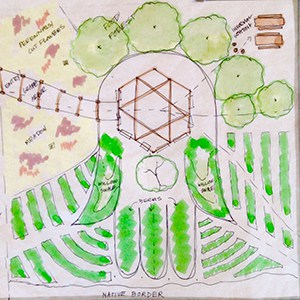 For a "JOFEE pod", a shade and storage structure housing supplies to support permaculture farming, environmental education, and safe food processing.

Hazon is pleased to offer scholarships for people from the Denver and Boulder areas to a selection of multi-day Hazon events happening around the country and in Israel.
As a scholarship recipient, we ask that you will identify specific ways to "pay it forward" and use your experience at the Hazon event to grow and strengthen the local Colorado Jewish outdoor, food, farming, and environmental movement.
Scholarships are first come, first served, and applications are accepted for all events at all times. You can receive up to $500 in scholarship and we will reimburse your expenses for attending the retreats (registration and/or travel). We have a limited pool of scholarships available, so please apply for only what you need!
Thank you for your interest in putting your values into action by exploring higher welfare eggs. Click here to learn more about:
why higher welfare eggs are important
how this is a Jewish issue
how we are – right now – at a tipping point toward compassion
In Colorado, Hazon has a mini-grant opportunity for Jewish organizations interested in switching to buying and serving higher welfare eggs! Grants range from $300 - $600. These mini-grants are designed to help Jewish organizations in Colorado offset the cost of switching to higher welfare eggs in the first year of transition, and incentivize and support related educational programming.
Grants are not competitive and are available on a first come, first served basis, so get started today! The first step is to sign Hazon's Higher Welfare Egg Commitment. Once we have received your signed commitment we'll share the mini-grant application with you.
Take Hazon's Higher Welfare Egg Commitment
JOFEE: Jewish Outdoor, Food, Farming & Environmental Education
I am excited, as a member of this community, to be one piece of this movement"
learn more about jofee
read about jofee in colorado (case study)