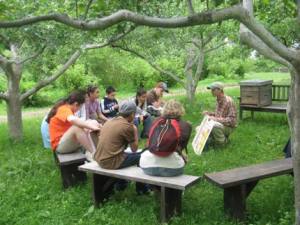 About Min Ha'Aretz
Hazon's Min Ha'Aretz student curriculum allows students from grades 5-9 to explore the question, "What is the relationship between Jewish texts, traditions, and practices and the food we eat?" More specifically, "How does Judaism relate to all the processes and choices involved in how we grow, harvest, prepare, and eat our food, as well as manage our waste?" At the beginning of Min Ha'Aretz, students encounter the driving question of this curriculum: what is the relationship between Jewish tradition and food? Over the course of eighteen lessons, divided into five units, the students explore this question and develop a deeper understanding of both the question and its myriad answers.
The Min Ha'Aretz curriculum includes:
Teacher's Guide
Family Curriculum.
Student Worksheets
Glossary
View the Min Ha'Aretz table of contents here.
View a sample lesson from Min Ha'Aretz here.
Download Min Ha'Aretz Purchase a hard copy
Goals of Hazon's curriculum:
Promote awareness of contemporary food issues that is infused with Jewish values and traditions, integrating both secular and Jewish curricula;
Increase the knowledge that students, families, and teachers have about healthy eating and create a Jewish framework for food choices;
Increase parents' involvement in their children's education and promote joint parent-child and family educational opportunities;
Create opportunities for the entire community–students, parents, teachers, administrators, rabbis, program directors, and others–to manifest their own Jewish, health, and environmental values and priorities by taking action around the ideas they learn.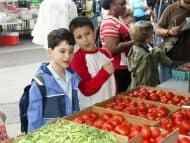 Benefits
For students, Min Ha'Aretz demonstrates how vitally relevant Jewish tradition is today and builds understanding of where our food comes from. Min Ha'Aretz strengthens students' Jewish identity by linking something they do every day eating with Jewish tradition and values. For families, this approach sparks conversations about food, Jewish tradition, and the world around us. Min Ha'Aretz strengthens Jewish life by bringing Jewish texts and values into the food choices families and students make everyday. For schools, synagogues, and other Jewish organizations, Min Ha'Aretz offers an innovative way to engage students and families. Min Ha'Aretz taps into community interest in food and the environment and stimulates community "greening" efforts.>
You can download or purchase Min Ha'Aretz in the Hazon Education Store
Digital Download – free
Hard Copy – $30 [currently out of stock]
Questions? Contact us at foodeducation@hazon.org or 212-644-2332 ext 325