Dec 28, 2016 - Jan 1, 2017
Isabella Freedman Jewish Retreat Center, Falls Village, CT
Digging Deeper into the Jewish Food Movement
Explore in-depth the dynamic interplay of food, Jewish tradition, and contemporary life at the only conference in the world where farmers and rabbis, nutritionists and activists, foodies and food producers come together to create a unique and inspiring community.
Featuring:
Celebrate Chanukah and Shabbat in a vibrant, pluralistic Jewish community with three flavors of prayer services for Shabbat
New Year's 2017 party with live music and 
mixology workshop
Brand new super-fun Kids' Food Conference (KFC!) 
for ages 5-12
An educational schechita (kosher slaughter) demonstration in partnership with the Jewish Initiative For Animals
Hands-on learning with leaders in the fields of:
Health, nutrition, and bike-powered kitchens
Jewish learning, history and culture
Food justice and environmental activism
Kosher cooking and do-it-yourself (DIY) projects
I'm so grateful to have gotten to meet like-minded people my age who are also looking to further contribute to the growing Jewish Food Movement. I really enjoyed spending time at the retreat center in general due its natural beauty. I honestly had a good time participating in any and all activities and sessions.
All-inclusive rates start at $520 per person. Click the "register now" button above for information, rates, and to register online.
Online registration is for full credit card payments only. You will receive a confirmation email once you have registered. If you do not receive the confirmation email within 24 hours of registering, please call us at (860) 824-5991 ext. 0
Come with the Family to Celebrate Hanukkah and New Year's at the Hazon Food Conference!
While adults and teens are participating in the Hazon Food Conference, the home of the Jewish food movement, kids ages 5-12 will be having their own memorable experience at the Kids' Food Conference! The Kids' Food Conference will give KFC a whole new meaning!
Children will engage with field experts in dynamic and age appropriate ways on the same topics as the adult programming, including:
Health and Nutrition
Jewish Learning, History, and Culture
Food Justice and Values
Cooking Demonstrations and DIY Projects
Hazon, means "vision," and works to create a healthier and more sustainable Jewish community, and a healthier and more sustainable world for all. In order for this work to succeed, we need young people to become involved in the movement towards a healthier food system. Youth have the power to take our society in a new direction and rethink the world into which they have been born.
It is up to us to make healthy food choices for ourselves, but in many ways our society puts us at a disadvantage. Youth do not have the buying power of adults, yet food advertisements are filled with exciting images of junk food. How do we ingrain the knowledge of healthy snacking into our minds so it is an easy choice to go for carrots and peanut butter instead of potato chips? How do we change the larger system so school food is healthy and tastes good? How can we grow food in our homes and communities? The KFC will address these issues and more in a dynamic, engaging, age-appropriate way.
I am planning to eat fewer processed foods at dinner times – i.e. things that come in a box – and work harder to prepare meals in advance that use whole ingredients instead, so I don't have to sacrifice the efficiency of having food ready to eat when I get home.
Lisa Anne Botnick Scholarship for Teens (13-17 years old)
Are you a young foodie? Do you dream about milking cows while in class? Are you interested in learning how to eat more sustainably? Are you curious about how to fight climate change at the grocery store? Then the Hazon Food Conference is for you! Learn, explore, and meet new people who are also excited about food! Bring back new ideas to your school and community. Through the generous support of a donor, Hazon is pleased to offer up to 2 scholarships to teens between the ages of 13 – 17, covering program fees and housing expenses. Please submit your application before November 15. Email arielle.aronoff@hazon.org for more information.
Scholarship For Rabbinical Students
Through the generous support of an anonymous donor, Hazon is offering scholarships to cover the conference fees of participants currently studying to be rabbis. Participants will be responsible for travel and personal expenses. We are especially looking for individuals who are looking to bring back Jewish food education to their communities and their studies. For more information, please email jessica.berlin@hazon.org.
Tamar Fund Scholarship
Thanks to a generous donation, a select number of individuals will be chosen to pay a discounted registration fee. For more information, please email registrar@hazon.org.
The Tamar Fund is in loving memory of Tamar Bittelman z"l who attended the food conference in Davis, California in 2011. Torah, Jewish community, ecology, and DIY food were values that Tamar held dear in her own life, and she very much appreciated the intersection of these values at the Hazon conference. Sharing a meal with Tamar, particularly a Shabbat or Chag meal, was an experience filled with kedushah, where one was effortlessly and joyfully escorted to "a different place."
Denver and Boulder Area Residents Scholarship
Through the generous support of Rose Community Foundation, Oreg Foundation, and 18 Pomegranates, Hazon is pleased to offer Food Conference scholarships for people from the Denver and Boulder areas. We are seeking a diverse group of applicants of all ages and religious backgrounds who want to get inspired by national programs and like-minded leaders so that they can return and continue to make Jewish food and environmental programming a vibrant part of the Colorado Jewish community. If you have any questions, please contact colorado@hazon.org.
Detroit Residents Scholarship
For the third year in a row, Hazon is pleased to offer scholarships to Detroit residents through the generous support of our donors and foundation supporters. This is an opportunity to be part of a cohort that will meet in Detroit pre and post conference, as well as at the conference itself. Those accepted to the Detroit cohort will pay a discounted registration rate of $100 as well as receive a $100 travel stipend. For more information, please email sue.salinger@hazon.org.
Sarah Shamirah Chandler
is the CCO (Chief Compassion Officer) and team leader at Jewish Initiative for Animals (JIFA) where she works to support Jewish institutions to establish meaningful food policies rooted in Jewish ethics and animal welfare. She recently served as the Director of Earth Based Spiritual Practice for Hazon's Adamah Farm and teaches, writes and consults on a national level on issues related to Judaism, the environment, mindfulness, food values, and farming.
Judith Friedlander
is the founder of the not-for-profit organization FoodFaith. This initiative emerged from her PhD research at the University of Technology Sydney's Institute for Sustainable Futures. As a journalist who has worked for over 25 years with a number of Australia's leading newspapers including The Sydney Morning Herald and The Australian and with current affairs television programs, Judith has always been passionate about connecting different cultures and faiths and raising awareness of environmental issues. FoodFaith, created in 2015, aims to forge connections between different faiths and cultures by celebrating food customs and practices and by drawing on shared wisdoms about sustainability. The "Planting Seeds" interfaith and community garden in Sydney is FoodFaith's cornerstone initiative and there are plans to create more of these gardens. By growing and tending food plants together and by sharing meals, bridges are built between different faiths and cultures. FoodFaith also facilitates educational sessions by leading faith and cultural representatives and is building a rich bank of educational resources for communities to learn more about their own and others' food and sustainable practices. FoodFaith's mantra is "Fertile common ground" with a focus to bring different people to the same table. More information on FoodFaith can be found at:
foodfaith.com.au
Ian Hertzmark
is a farmer, kosher butcher, and teacher based in Baltimore, MD. He farms small grains on 28 of the nicest acres in the Mid Atlantic Piedmont called Migrash Farm and is growing a community milling operation around local grains and a hard working stone mill. Additionally, Ian is the production manager and lead kosher butcher for Grow and Behold Foods as well as a STEM teacher of bright 6th graders at Ohr Chadash Academy.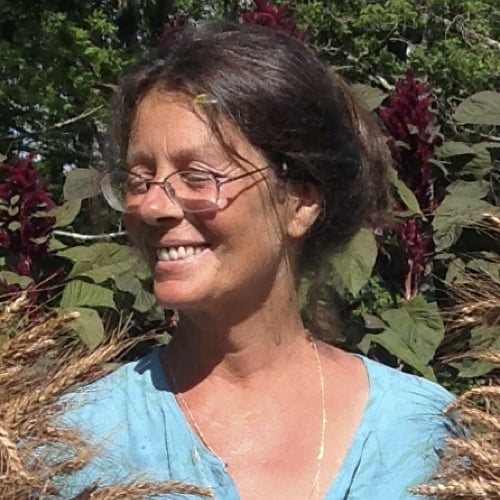 Eli Rogosa
is an Israeli farmer, artisan baker and anthropologist. She founded and managed the Jerusalem Cityfarm for seven years, worked in the West Bank as an extension for ecological water management and organic farming, and worked with the Israeli gene bank, Machon Volcani, to collect the almost-extinct ancient grains of Eretz Israel. She was funded by the European Union for 5 years to collect rare seeds in Europe with gene banks. Eli is author of
Restoring Heritage Grains – Culture, Biodiversity, Resilience and Cuisine
published by Chelsea Green, and manages the
Heritage Grain Conservancy
on her biodiversity farm in Western Massachusetts with her husband Cr Lawn. She bakes amazing sourdough einkorn bread from the einkorn seeds that she collected in Israel and now grows on her biodiversity farm.
Rabbi Shlomo Barya Nadiv Schachter
currently serves as the OU-JLIC Rabbi at the University of Illinois at Champaign Urbana. The son of Rabbi Zalman Schachter-Shalomi and ordained by Rabbi Shlomo Riskin, Rabbi Shlomo is heir to both Chassidic lineage and the intellectual legacy of Rabbi Joseph B. Soloveitchik. A trained and certified Shochet (Kosher slaughterer), Shlomo is experienced in the entire process of turning living animals into Kosher food, including the rare skill of removing the sciatic nerve from the hindquarters. He is an American Football Coach in Israel; defensive coordinator of the three time IFL champion Judean Rebels as well as the defensive line coach of the Israeli National Team. Shlomo specializes in creativity within Jewish texts, balancing Halachic examination with Chassidic insights and finding the "Holy sparks" in pop-culture. Rabbi Schachter particularly enjoys speaking on the subjects of Do It Yourself "DIY" Mitzvot, Football in the Torah, Organic Theology and the Halachic legacy of his father. Rabbi Schachter holds a degree in Modern Religious Thought from Oberlin College where he was a three year varsity letter winner at defensive end while still keeping Shabbos.
Ken Sonnenschein
, M.D. is the co-founder of Mitzvah Garden KC, a gardening project of the Kansas City Jewish community where volunteers plant, weed, and harvest produce which is then donated to local food pantries and shelters. This faith-based project works closely with other KC gardens and gardeners as part of Cultivate KC, KC Community Gardens, and The Giving Grove. The Garden engages 400-500 people annually of all ages in the Jewish and general community to grow food and learn about sustainability from using organic gardening techniques, capturing water for drip irrigation, using solar energy to power all equipment, large-scale composting, organic fertilizing, and beekeeping for pollination. Ken started the Mitzvah Garden in 2000 which expanded to Mitzvah Garden KC, with co-founders Andrew Kaplan and Larry Lehman in 2010. This allowed the garden to grow from 640 square feet to 20,640 square feet. Ken coordinates educational activities for individuals and groups that come to the Garden to teach about the connections between Judaism and agriculture.
In addition to his activities at Mitzvah Garden KC, Dr. Sonnenschein is board certified both in General Psychiatry and Child and Adolescent Psychiatry.
Nancy Wolfson-Moche
is a nourishment educator, counselor and writer guiding people in improving their health and well-being through making informed diet and lifestyle choices. She has created several Jewish and secular food awareness curricula for children and adults that she teaches in schools, community centers, camps and privately. Prior to this, Nancy was an editor on Style.com, Glamour, Seventeen, Parents, and Redbook, and her articles have appeared in scores of magazines and newspapers. Visit her blog at
www.vfbnancy.com
.
Jeffrey Yoskowitz
is the co-owner of The Gefilteria, a culinary venture that reimagines Ashkenazi cuisine, and co-author of
The Gefilte Manifesto: New Recipes for Old World Jewish Foods
. He fell in love with the art of lacto-fermentation while training as a pickler at Adamah. He has since worked in the food world as an entrepreneur, consultant, cook, public speaker, and a writer for The New York Times, The Atlantic, Slate, and Gastronomica. He was also featured in the Forbes' 30 Under 30.
More presenters will be announced soon!

ARRIVAL AND DEPARTURE
Check-in is from 2 to 5 pm on Wednesday, December 28. If you are arriving on a different day, you may check in with the retreat manager on duty anytime after 4 pm on your arrival day. You must be checked out of your room by 10 am on Sunday, January 1. The retreat will come to an end with brunch on Sunday.
TRANSPORTATION
For those coming from the New York City area, we are conveniently located just half an hour from Wassaic Train Station, the last stop on the Harlem Line of the Metro North. We offer a shuttle service at the following times for this retreat:
2:03 pm on Wednesday from Wassaic Train Station to IF
4:03 pm on Wednesday from Wassaic Train Station to IF
11:30 am on Sunday from IF to Wassaic Train Station
You will have the opportunity to reserve this shuttle service during registration. If you have not already reserved shuttle service during registration, please call (860) 824-5991 ext. 0 to reserve your spot.
For more information on getting here, click here.
RIDESHARE
Help to reduce the environmental impact of car trips to and from Isabella Freedman by checking out our carpool initiative! Upon registering, you will receive a link to a rideshare board so you can connect with fellow retreat participants. Offering a ride in your car will help reduce carbon emissions, cut down gas costs and make new friends! If you are looking for a ride, adding yourself to the wait list (on the right hand side of the page) is the best way to be notified when movements occur.
KASHRUT POLICY
One of our mashgichim (kosher supervisors) must pre-approve all food items that enter the designated dining spaces. If you plan to supplement our delicious, healthy, farm-to-feast meals, your items must be completely sealed in original packaging. Unapproved food and drinks may be enjoyed anywhere on campus besides our dining spaces.
PACKING LIST
You may want to bring:
Over-the-counter and/or prescription medications
Toiletries
Flashlight
Chargers for electronic devices
Rain gear (a jacket and/or umbrella)
Ritual wear
Comfortable, loose-fitting clothes for yoga
Closed toe shoes
Hiking boots to enjoy our many trails
Winter Apparel (gloves, wool socks, long underwear…)
We provide:
Toiletries like deodorant and toothpaste for sale in the bookstore
Extra kippot and tallitot, in addition to siddurim
Yoga mats, blankets, and blocks
Heat and A/C in all guest rooms
Linens and towels in all guest rooms
Alarm clocks in all guest rooms
Check out our Frequently Asked Questions.