The "If Not Now Society" honors outstanding individuals and organizations who have exemplified the ideals advanced by Hazon and by Hillel's timeless words:
If I am not for myself, who will be for me? But if I am only for myself, who am I?
If not now, when?
The evening, held April 1, 2014 at the Green Building in Brooklyn, NY, brought together both new and long-time friends in a beautiful location for a reception featuring artisan-crafted, kosher cuisine and cocktails from AdamahFoods, with produce grown by young Jewish farmers on our 10-acre organic farm in the Connecticut Berkshires.
What does "If Not Now" mean to you?
We asked each honoree what "If Not Now" means to them. Click their names to watch short videos with their answers.
Named by Newsweek as one of 2013's top 50 most influential rabbis in the United States as well as by The Forward as one of the 50 most newsworthy and notable Jews in America, Rabbi David promotes a renewed Jewish mysticism that integrates meditative mindfulness and physical awareness into mainstream, post-modern Judaism. A major 21st Century Jewish thinker and educator, his rich perspective, open heart and mind, and full-bodied approach to Jewish learning has brought him to speak throughout the United States and worldwide throughout Canada, Europe, and Israel.
Rabbi David's distinct approach to Torah, rabbinical teaching, and ritualistic practice is informed by his own personal seeking and learning from a wide cross-section of sacred traditions and faiths. He is enlightened by Jewish mysticism and Chassidut, fusing these beliefs with those of other ancient philosophies and world views. Particular influences include 18th Century Kabbalist and Founder of Chassidut, Rabbi Yisrael Ba'al Shem Tov; the great 19th Century Ishbitzer Rebbe, R. Mordechai Leiner; and leading 20th Century thinkers from Kabbalist, Rav Abraham Isaac Kook to psychologist, Carl Jung and integral philosopher, Ken Wilber.
Rabbi David has taught at such eminent institutions as the Academy for Jewish Religion, Columbia University, CUNY, Jewish Theological Seminary, Limmud LA, New York University, the 92nd Street Y, Pardes, The Skirball Center at Temple Emmanuel, and Yeshivat Hadar. He sits on the Board of Directors of Aleph and Synagogue 3000 Next Dor's Working Group of Sacred Emergent Communities, where he continues to teach.
Raised Modern Orthodox in New York, Rabbi David studied at several distinguished yeshivot in Jerusalem and New York including Yeshiva University, Beit Midrash L'Torah, Yeshivat Chaim Berlin, and Yeshivat Chovovei Torah Rabbinical School. He also studied philosophy, psychology, and religion at New York University. Reb Zalman Schachter-Shalomi, founder of Renewal Judaism, ordained Rabbi David in 2004. Prior to founding Romemu, Rabbi David was Rabbi-in-Residence at Elat Chayyim Retreat Center, what is now the program at Isabella Freedman that works to renew Jewish spiritual practices that form the foundation for sustainable futures in the Jewish community and beyond.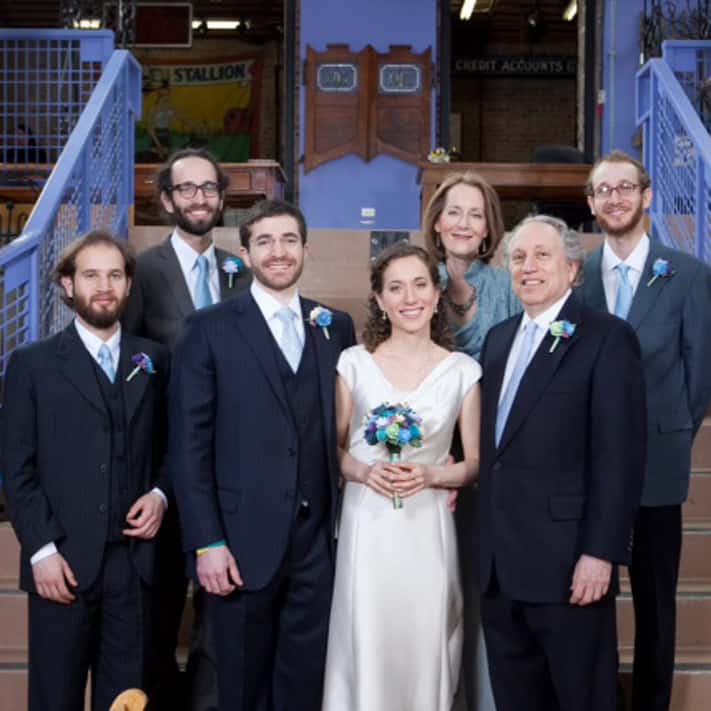 The Margulies Family: Rabbi Fred, Trisha, Elan, Ariel, Eli, and Daniel
In 2007, Fred and Trisha Margulies and their family attended the Hazon Food Conference at Isabella Freedman Jewish Retreat Center, which turned out to be a transformative experience.
They were so inspired by Hazon and the potential of the New Jewish Food Movement that they decided to start a small farm that has evolved into a center for Jewish nature education in the greater Chicago area. With the assistance of The Jewish Farm School, Hazon, and local farmers, they converted a 14-acre parcel of land next to their family envelope factory in Geneva, Illinois into Pushing the Envelope Farm.
The Margulies and three of their four children worked together to begin building the farm. Elan became the farm director, bringing his teaching experience from Teva and Eden Village Camp. He is now pursuing an M.S. in Forest Ecology at the University of Michigan. Ariel brought his permaculture education and vision for the farm, and is now studying natural healing as well as creating a Jewish intentional community in California. Eli became an Adamah Fellow, which led to a career as a natural foods chef. Daniel, a neuroscientist in Berlin, while not directly involved, was impressed with his family's transformation. Esther Shendelman, Trisha's mother, is a great source of Jewish recipes and cooking techniques. The family became actively involved in the wider Jewish environmental movement, taking seats on the Teva Learning Alliance, Eden Village Camp, and Hazon boards.
Pushing the Envelope Farm has grown into a place where goats, chickens, honeybees, berry bushes, fruit trees, and community farming thrive. Visitors get their hands dirty, and in the process they explore Jewish connections to the land. Their motto is "Have Seeds, will Travel." The farm programs serve a wide community throughout the Chicago area, reaching groups from synagogues, churches, and schools and partnering with institutions such as Kane County Health Department, Northern Illinois Food Bank, and the Jewish Federation of Metropolitan Chicago. PtEF has become a place where the community comes together to engage with the earth and renew their roots.
Barbara Ribakove Gordon went to Ethiopia in late 1981 with the first American mission of Ethiopian Jews. Defying the then-communist government's orders not to make contact with Jews, the group trekked through the rugged Semien Mountains to an isolated Jewish village. They went on to Israel to report to government officials what they had seen: appalling poverty, illness, and isolation – and awe-inspiring dignity, Jewish commitment, and desire to reach Israel.
In early 1982, NACOEJ, the North American Conference on Ethiopian Jewry, was born in Barbara's NYC apartment with four mandates: to help Jews survive in Ethiopia, to help them reach Israel, to aid in the absorption of Ethiopian Jews into Israeli society, and to preserve their unique and ancient culture.
In the 1980s, Barbara and other NACOEJ volunteers led 18 missions into Jewish villages, bringing doctors, clothing, supplies and hope. In 1991, Barbara and two NACOEJ staffers were summoned to Ethiopia to assist in Operation Solomon, the 36-hour airlift that brought 14,000 Ethiopian Jews to Israel from war-torn Addis Ababa. The NACOEJ group left on the last plane, returning a few months later, at Israel's request, to assist Jews left behind in Addis and Gondar. She was named "Unsung Hero of the Year" in 1986 by the New York Jewish Week,
NACOEJ provided food, education, employment, and religious facilities to thousands of Jews in Ethiopia during the following years, recently turning its facilities over to the Jewish Agency to facilitate aliyah. NACOEJ now advocates for eligible Jews left behind in Ethiopia and provides essential educational programs for Ethiopian-Israelis in Israel, enabling many to break out of poverty in one generation.
Each spring, Hazon hosts an Ethiopian Jewish Experience at Isabella Freedman. Presented in partnership with the Ethiopian National Project, Beta Israel of North American, and NACOEJ, this cultural retreat offers participants the opportunity to experience Ethiopian Jewish rituals, eat savory Ethiopian food, learn about the challenges of Ethiopians in Israel, and interact first hand with Ethiopian Israeli leaders.
Margot Seigle
Social Justice Enrichment Coordinator
Margot Seigle came to Adamah in Fall 2012 with a background in community organizing. While at Occidental College, she spent a semester running an Obama Campaign office in rural Virginia. Upon graduation, she was accepted to Social Justice Leadership's Transformative Organizing Program and placed at Good Old Lower East Side where she worked for 3 year as the Public Housing organizer running local and supporting state and national campaigns calling for the respect of residents and an investment in housing infrastructure.
Since 2010, Margot has been a member leader within Resource Generation and was part of a collective that started the Hummingbird Fund for Migrant & Border Justice. The fund is built up of a cross-class decision making body that will shift just about $500,000 by the end of 2014 to organizations in Arizona led by those most impacted by anti-immigrant policies.
Growing up with more than enough, she believes that we would all – even the 1%! – be better off if everyone had enough, and fights to shift this paradigm. An organizer at heart, she does this through supporting the leadership development of individuals and building collective energy and shared decision-making structures around projects that shift power and resources to those at the frontlines of injustice. Margot sees learning about the impacts of privilege and oppression as well as building tools to support the healing of this impact as crucial to being an effective change maker. Post Adamah, she participated in the Anne Braden Anti-Racist Organizing Training Program, and Generative Somatic's Somatics and Trauma course. Now rooted in the Jewish community, she seeks to bring her values, skills, and networks to thinking about what healing looks like with our complex history as well as expanding our concept of and strengthening our obligation to community.
Margot was born and raised in Elgin, IL, where her Great Grandpa arrived three generations ago, and where her parents met at the synagogue her Great Grandpa started. Valuing the importance of staying connected to roots, she plans to move back to the Midwest in the coming years with dreams of starting a collective farm centered around healing, cultural reclamation, community building, and resource re-distribution.
In her free time, Margot enjoys crafting, singing, fiddling, cooking, meditating, biking, and bringing people together to do any and all of these activities. Margot is currently the Hazon Transformative Experiences Fellow based out of Isabella Freedman.
Falls Village, CT
| 860.824.5991 x202
| margot.seigle@hazon.org
Richard Dale, Lay Leadership 2013
Nili Simhai, Environment & Social Justice 2013
Saul Kaiserman, Jewish Life & Learning 2013
Mira Schwartz, Alumni Achievement 2013
Reb Zalman Schachter-Shalomi, Jewish Life & Learning 2012
Ruth Messinger, Environment & Social Justice 2012
Laura Rothschild, Lay Leadership 2012
Leora Mallach, Alumni Achievement 2012
Becca Weaver, Alumni Achievement 2012